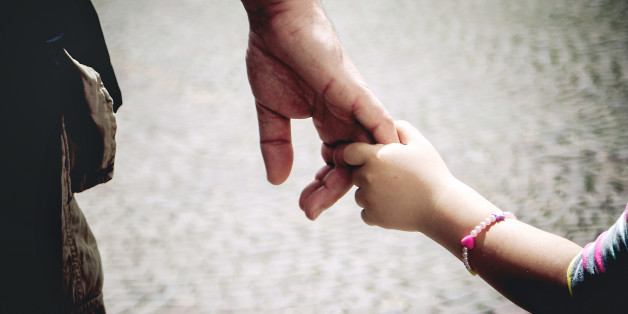 My desperate, senseless attempt to show him just how important he was to me. How much of him would continue to live all the same because I would carry him with me, within me. I, at the foot of his hospital bed, saying: "Because I'm like you, dad. I've got your character. I'm like you. I know I'm this way thanks to you." I smile, embarrassed and afraid of the possibility that he'll see through this awkward attempt of mine to endow his eternity, the awareness of his imminent end. But he already knows it. He knows it, he can feel it, but pretends otherwise so that he won't cause us pain or weigh down the last moments we'll share together. That's where my mind is. It's standing still, contemplating the distance between his dignity, his courage, his clear-headedness, his calm awareness; and my fear, my bewilderment, my need to figure out how to hold on to him forever, to keep him alive forever. In that precise instant, he taught me about pain.

It's a marvelous thing. I'll never be thankful enough to my father for showing me how to die. I was wandering carelessly through life, when nothing else seemed to make sense any more, when suddenly the word "cancer" knocked on my family's door. He fought back, convinced he could beat it, because an incurable illness couldn't do a thing against a great big man like him. I couldn't see the stars anymore, weeping over an ending that had yet to be written, and he reassured me. I was wrapped up in my own smallness, withdrawn into self-centered suffering. He, in his greatness, remained open and walking to face his destiny, whatever it might look like.

I was asphyxiated; he could breathe. I was absent; he present. I was in the dark; he shined. Not me, Noah. I didn't know how to live with my father's illness. I couldn't accept it. I didn't know how to be close with him. I didn't understand how to make his passing better, how to accompany him. I didn't know how to embrace him, didn't even know how to tell him that I loved him. I didn't want to let him go. I wasn't able to hold his gaze for fear that I might see sadness. I couldn't forgive him for being conquerable. Then I came to understand that he was teaching me the exact opposite: to be unconquerable. He was explaining how to live with pain, how to metabolize it, how to accept it. How you can feel lost and alone and then rediscover the path. How to fight back and deflect blows. How to start over, how to love, how to live. He was explaining what passion is, what pain is. What is life without pain, what is life without passion?

Not a day goes by that I don't look for him in other people's faces. Not a day goes by that I don't grasp to hold the memories together. Not a day goes by that I don't try to hear his voice again so that I won't lose it. Not a day goes by that I don't try to question him for the answers to my doubts. Not a day goes by that I don't curse life itself because none of my questions ever receive an answer. But within this cumbersome absence I can always glimpse the same advice: There's nothing that can beat you, Linda. Nothing. Not even defeat. Not even loss. Not even pain. Because he taught me what to do. Because along with life, he taught me death. And there's nothing greater any parent can do for his child.