Visit your farmers' market, not your pharmacist, for a safe and satisfying Valentine's Day frolic. A major study published in PLOS ONE last week found testosterone therapy doubles the risk of heart attacks for all men over 65 and doubles or triples the risk for younger men who have a history of heart disease. But as Dr. John La Puma recommends in his New York Times op-ed piece about the study, men can improve their hormone balance by staying slim, drinking water instead of alcohol, and eating more collards, broccoli, and other cruciferous vegetables such as turnips.
At the end of the day, eating more of the right foods and fewer junk foods improves mood and energy -- which may be the only fix many men need.
Indeed. That's the premise behind my practical romance: Fifty Weeks of Green. This spoof of Fifty Shades of Grey helps readers get healthy and feel frisky with 60 plant-based recipes, such as Sweet and Tart Collard Tangle (see recipe below).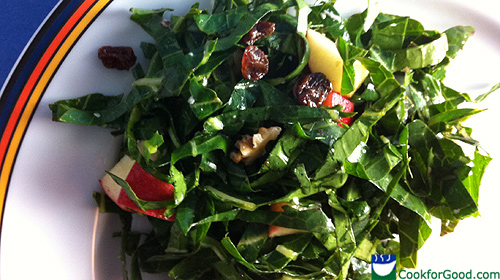 The high-flavor dishes surge with Cupid's own nutrients: glucosinolates in greens, zinc in beans, diallyl disulfides in garlic, and fiber and protein in pretty much everything. Fortunately, these recipes lack artery-clogging fat and cholesterol that slow circulation everywhere, even in your tingly bits. Using fresh, organic ingredients also avoids what La Puma calls "gender-bending chemicals like BPA."
So skip the steak house and the drugs this Valentine's Day. Consider toasting your sweetheart with sparkling cider, then sharing a big salad, roasted vegetables with hummus, some crusty bread, and this easy, make-ahead collards recipe from Fifty Weeks of Green. Top it all off with a piece of warm Cocoa-Coconut Flip Cake, also from the book. You'll be well fueled for whatever other delights come to mind.
Sweet and Tart Collard Tangle
Slice raw collard leaves thin and then massage and marinate the resulting tangle so it remains lively without being rebellious. Fruit and nuts add color, sweetness, and more protein.
Active time: 20 minutes. Total time: 20 minutes minimum, but best after marinating at least two hours. Yield: 8 servings.
12 ounces collard greens (340 grams or about 8 medium leaves)
2 tablespoons lemon juice (juice from one lemon)
1 teaspoon olive oil
1/4 teaspoon salt
1/8 teaspoon freshly ground pepper
1 sweet apple, perhaps a Gala or Fuji
1/4 cup walnut pieces (27 grams)
1/4 cup raisins (40 grams)
Cut or pull stems away from collard leaves and save stems for another use. Cut leaves into very thin strips and put into a glass, ceramic, pottery, or stainless-steel bowl -- one that will not react with lemon juice.
With clean and loving hands, gently squeeze and massage the collards five or six times until they relax a bit. Inhale their deep green fragrance and admire your wild collard tangle.
In a small bowl, mix lemon juice, olive oil, salt, and pepper. Pour this dressing over the collard tangle and toss until all the green ribbons are well coated and glossy. If convenient, cover and refrigerate for two to 24 hours before finishing the recipe.
Core apple, slice, and cut into small pieces. Chop walnuts if needed. Toss the fruit and nuts with the collard leaves, making sure to coat the apple pieces well so they don't brown.
Serve chilled. Keeps without browning or losing its chewy spring for at least twelve hours.
Visit my site Cook for Good for recipe photos and notes photos and recipe notes. Recipe © Cook for Good 2013, used by permission.
Stay in touch on Facebook, Pinterest, and YouTube.
For more HuffPo posts by Linda Watson, click here.
Sources