By Jack Swenson, Lindblad Expeditions photo instructor. This is a dispatch from one day in the Mala Mala Game Reserve in South Africa during a 2012 Lindblad Expeditions & Bushtracks photo safari by private air.
Leopard & Cub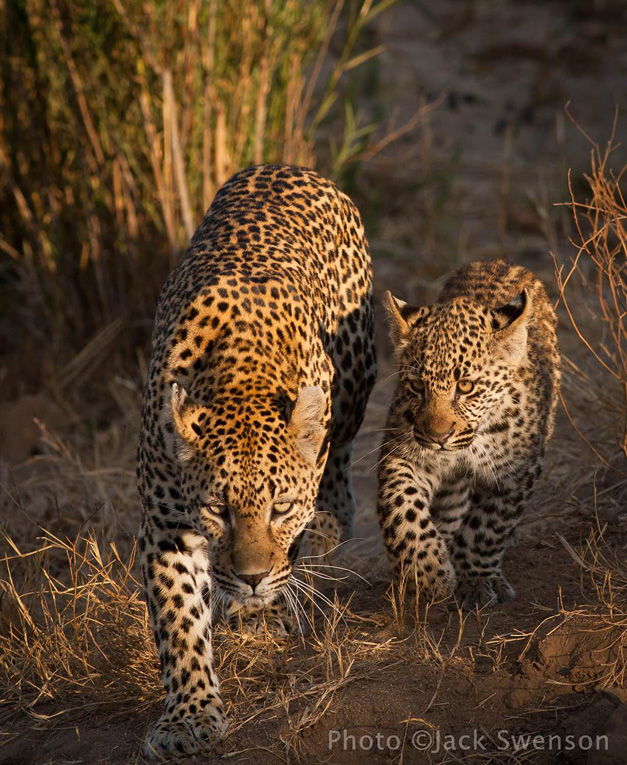 We began another beautiful morning at Mala Mala searching for lions that had been calling at dawn across the river from the Main Camp. Soon we got a radio call that Keith (the Main Camp Manager) had just sighted a leopard and cub from the camp's deck. We turned and headed to the edge of the river in the vicinity where they had been seen. When we found the mother and cub, they were in the shade behind vegetation near a quiet pool. We waited patiently, and soon the mother got up and began walking south along the shore. Our guide, Sean, moved the vehicle beyond them to an area where he suspected they might come up the bank. As they ascended the embankment, they came right into the morning sunlight and walked straight towards our vehicle. It was a stunning moment, and the view of their faces captured the seriousness of the mother (who had had her kill stolen the night before) and her charmingly innocent looking cub. As we followed them, this inquisitive cub wanted to climb up everything it passed; rocks, trees, and nearly onto the bonnet of our vehicle too.
Lions Ambushing an Impala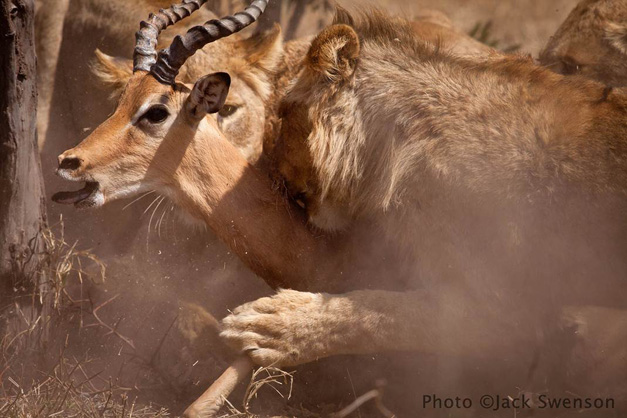 In classic Mala Mala fashion, after spending some quality time watching a leopard mother and cub, we let other vehicles have time with them as we headed off for our morning coffee and snacks. Afterwards, we started heading south to view the hippo pool, but got delayed by elephants clogging the road near the river. As we considered our options, a radio call said that lions were nearby, so we turned back northward. We found members of the Styx Pride, though it was now mid-to-late morning and the lions were alternately drinking at a pool and moving into the shade. As we were watching several adult females and large young, one female headed off into the bush, noticeably in stalking mode. We tried to follow, but lost her in the dense thorn bush. Our guide, Sean, circled back around to the other pride members who were still in the shade of a large tree where we had left them. They began moving, and occasionally looking interested in something farther ahead of them in the bush. We followed and when they paused, Sean slowed and parked us within view of them. As we watched, suddenly several lions jumped up and quickly headed away into the bush. An impala came careening past us, swiftly disappearing into the bush, and at that same moment the lions ambushed a second impala only about ten meters from our vehicle. I swung my camera, aiming at the thrashing impala, and began shooting as the lions swiftly pulled it to the ground. The impala made this last gasp with no chance of escape. I only got a few frames before the antelope was completely surrounded by the hungry pride. Within minutes, the impala was devoured.
Jack & Rikki Swenson sail aboard our ships as naturalists and certified photo instructors, and they'll lead three Lindblad Expeditions & Bushtracks photo safaris in 2013. Two still have space available. You can see more of Jack & Rikki's work online at Expedition Gallery.