This entry is part of a contest by HuffPost Books and The Buried Life. Click here to read more about it.
My name is Lindsay Durflinger and I'm from Columbus, OH.
When I hear the question what do I want to do before I die, I automatically think about my dad. My dad is the most amazing person I have ever known.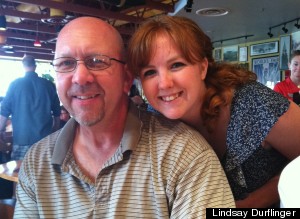 About 2 1/2 years ago he was diagnosed with stage 4 melanoma, terminal cancer. It came as a complete shock and our lives were immediately changed. He had to see so many doctors and quit his job as a police officer. After about 1 1/2 of chemotherapy treatments, a couple surgeries, a big change in diet and the positive attitude of my dad and our family, he was considered cancer free and now only has to go back for checkups.
To me, my dad has done the impossible, even the doctors are amazed! He is truly an amazing person and so that brings me to my request.
Before I die, I would like to get my dad to meet and play a game of basketball with Michael Jordan. First of all, I'm pretty sure my dad knows every move, play and fact about Michael Jordan that there is to know! He watched him when he played and still watches him on his "Best of Michael Jordan" DVDs.
I just really feel like my dad deserves so many things for being my hero and this is one thing I know would make him so happy! I would be so thankful if I was chosen and I know my dad would be too! Thanks for reading my entry :)