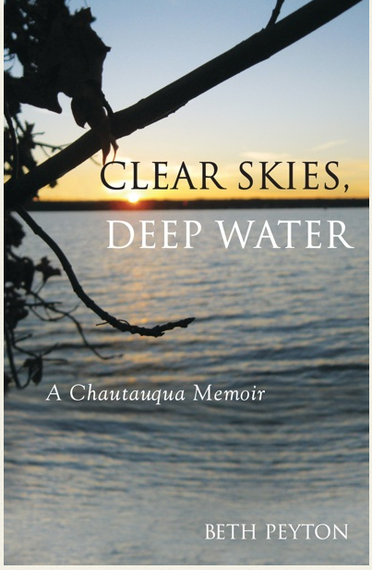 In early July I found Clear Skies, Deep Water in the Chautauqua Institution bookstore. This beautiful memoir is about finding the place where you belong and having the courage to do something about it. At the bottom, it is about choosing to love.
Peyton and her husband Jeff Hunter had to make a choice when they found themselves falling for each other after the grief and pain of failed first marriages. They had been hurt. They both had children. They lived thousands of miles apart. There was no time. But --
As we fell into each other's arms, tentatively at first, complications simply fell away. Something in me shifted, broke, and then broke open. My self-protective walls tumbled down, and the ice that had formed scar tissue in my heart began to melt: a glacial retreat. We were enveloped by a sort of liquid love that filled us up and spilled over into the room, the house, the world. This love did not feel of our own making. It came to us, fell on us. . . .
Their choice to move to Maple Springs, New York, was similarly unreasonable. It came on the heels of the deaths of both their mothers. (Peyton was her mother-in-law's caregiver for several years.) Then came the failure of Jeff Hunter's business. Peyton calls this period in their lives "our fifty-car pile-up."
They knew they loved Chautauqua, having been seasonal renters for several years. But the move was a midlife gamble, with reason and common sense planted firmly on the opposing side. They did it anyway. They entered wholeheartedly into village life.
Peyton is good at conveying the specialness of the place, even during their hard first winter:
The lake froze before Christmas, and it froze rough. The freezing didn't wait for the waves and wind to calm, but captured them in their full force, waves in motion set in ice.
.
They bought a modern townhouse, then sold it to buy an abused and neglected 1916 cottage. Through the hard work of restoration, most of which they did themselves, they restored themselves.
The memoir begins with a description of that miserable cottage. "The house was hideous, but had potential, potential we unearthed inch by cruddy inch." It ends with a epilogue where Peyton walks you through the restored cottage room by room. "When you come to my house, I'll take you upstairs and show you to your room. You'll be comfortable there."
My favorite passage describes an event that occurred well before Peyton and her husband decided to move. The family visits an old amusement park called Midway, where they encounter a fortune-telling automaton named Princess Doraldina:
She creaked as we watched her eyes move, her head nod, and her chest lift and fall with each robotic breath. . . . A paper fortune fell through a slot into a brass receptacle. The card was marked with arcane symbols and mysterious runes. The fortune itself was baffling: "You have gotten the big card. This means you will gain something great in the near future. All men's gains are the fruit of venturing . . . "