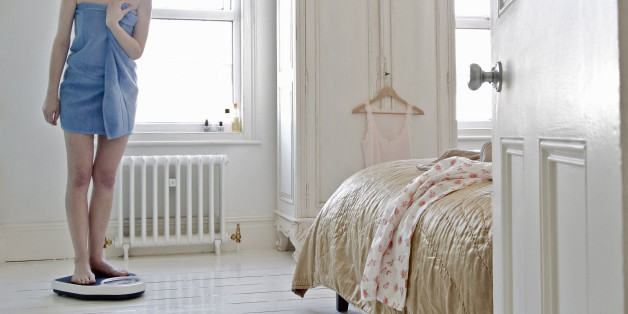 In the wake of the Santa Barbara tragedy, the hastag #YesAllWomen appeared as a response. Not only were people devastated by the six dead and 13 wounded as a result of the shooting, we were shocked and appalled by the shooter's misogynistic beliefs and attitudes.
In the few days after the Santa Barbara shooting, #YesAllWomen started trending. Women and men went to social media to start a dialogue about sexism and how our culture needs to change.
Also trending alongside #YesAllWomen? Jessica Simpson in a bathing suit.
On Tuesday, the celebrity posted a photo to her Instagram account. She captioned it with: "If I'm in a bathing suit I should pose proudly." And the blogs went wild.
What does this have to do with the hashtag? Because a female celebrity's worth is not her weight.
#YesAllWomen because Jessica Simpson's body does not represent her worth. Her body is not news.
This is a woman who own a billion-dollar company. She went from a pop singer to a reality TV star to a successful businesswoman. Do the blogs write about how she owns the number-one celebrity clothing empire? Or that her clothing and accessories are sold in hundreds of stores? No. They write about her pregnancies, who she's dating and, the worst of it all, her weight.
#YesAllWomen is a trend we need, because right as this discussion on feminism and sexism was getting ramped up, tabloids decided to report extensively on a celebrity's body, based off of two photos posted on Instagram.
This is not the only instance, either. The media is a cruel monster to women especially. Try to read one article about Angelina Jolie that doesn't mention her partner and their children. She has so much to highlight: her years-long career, numerous awards, humanitarian work, her captivating onscreen performances, her transition into directing. Instead, journalists want to know about how she parents, what it's like living with Brad, if she's planning on expanding her "brood" (they always use "brood") and of course, how she does it all.
While it makes me angry that Jessica Simpson's bikini body is trending the same time as #YesAllWomen, I'm not surprised. For years, Simpson's body has been under a microscope and picked apart by the media to the point where she's had to make up excuses for herself. During her pregnancies, she defended her weight to the media countless times. It's almost like people forgot how pregnancy works.
In case you need a refresher: a baby grows inside of you, causing you to gain weight. Then the baby comes out of you and some of the weight you gained stays on your body.
OK, it's not that simple, but in the constant race to win the lose-the-baby-weight competition, it's almost like we've forgotten that it takes nine months for the body to change and host another human. It's not going to take three weeks to get that all back.
I'm glad Jessica Simpson is proud of her body, however. It looks like she put a lot of work into it and as long as it isn't hurting anyone, her hard work should be rewarded. Applause to you, Miss Simpson. But despite all that she has done, all the other hard work she's put into her life and career, this is the nicest the tabloids have been to her in years.
This is just one of the many reasons why we need the hashtag, the discussion, the cultural movement. Because even though we're in the middle of a worldwide conversation about misogyny, sexism, rape culture and the general way women are treated, Jessica Simpson made headlines by wearing a bathing suit.