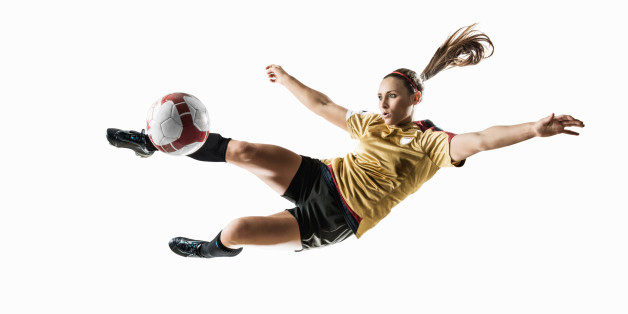 Rebecca Adamcheck lived in two worlds.
In one, the 22-year-old was a Division I athlete who competed for DePaul University's track and field team. She trained for at least two hours five to six days per week, running and lifting weights to make her body stronger and able to run faster.
In another, Adamcheck was a pageant contestant who took part in Miss American Coed competitions. She modeled satin evening gowns, walked in heels and spoke about the importance of education to impress judges.
Adamcheck excelled in both worlds. She became Miss Illinois Coed in August 2012 and competed at the Big East Indoor Track and Field Championships in February 2013. Even so, she struggled to reconcile her athletic career with her life as a pageant contestant.
"That was a really weird dynamic, when those two things were sort of coexisting," Adamcheck says. "In my pageant I always felt weird. There was one time when I put my dress on, and this girl was staring at me. She was like, 'You're so muscular.' And I'm like, that's OK, but I'm in an evening gown right now. That doesn't make me feel pretty, per se. It makes me feel accomplished, but in a different world. I'm not in that world right now; I'm in pageant world, and you're telling me how jacked I look in my gown."
Adamcheck faced the same dilemma female athletes deal with constantly. Lipsticked, magazine cover-ready women with just enough muscle tone may pass as athletes in magazines, but culturally perfect models aren't built to win Olympic gold in the 100-meter dash. In reality, women are accepted as athletes, but only when they fit a certain gendered mold.
As a result, female athletes receive only a tiny slice of the sports coverage pie. According to the University of Minnesota's Tucker Center for Research on Girls and Women in Sport, 40 percent of all sports participants are female, but women's sports get just 4 percent of all sports media coverage.
Sports media also helps to maintain cultural standards by objectifying female athletes and largely ignoring women's sports.
Although sportswomen are frequently portrayed in the nude, in swimsuits or in lingerie, they draw less media attention for their athletic competence than their male counterparts. Tennis players Serena Williams and Maria Sharapova, skier Lindsey Vonn and NASCAR driver Danica Patrick are just a few who have stripped down for publications like Playboy or Sports Illustrated's Swimsuit Issue.
Mary Jo Kane, director of the Tucker Center and sport sociology professor at the University of Minnesota, thinks interest in women's sports would grow if, in turn, outlets covered female athletes.
"What you get a lot, especially in media critiques sort of defending the lack of coverage, from members of the media, is, 'Well, we only cover what people are interested in,' ignoring completely that the media builds audiences all the time," Kane says. "They're not these sort of passive observers."
Female athletes have dealt with societal stigmas since the beginning of their participation in sports early in the 20th century, when the growth of bicycling made physical activity for women more widespread . Due to strict gender codes that labeled athletics as male-only activities, most people thought the idea of sportswomen was absurd.
"It was just a real sense of threat that women were trying to do something that only men were supposed to do," says University of Buffalo history professor Susan Cahn. "Like if we decided that kids could drive at age 8. It would seem that ridiculous to most people."
Conventional wisdom held that sports took away from women's natural femininity and hurt their reproductive systems, which kept female athletes from competing at the same level as men. It took until 1984 for the International Olympic Committee to hold the first women's marathon, an event that had been open to men since the first modern Olympics in 1896.
In 1972, President Richard Nixon changed women's sports forever by signing Title IX into law. Part of the Education Amendments of 1972, Title IX prohibits educational discrimination on the basis of sex at schools receiving federal dollars. As a result, schools, colleges and universities began to integrate sports teams for women and girls into their athletic programs.
According to the National Federation of State High School Associations, between 1971-72, only about 294,000 girls played high school sports, compared to nearly 3.7 million boys. More than 40 years later, between 2012-13, about 3.2 million girls competed athletically at the high school level, while nearly 4.5 million boys did.
The same trend can be seen at the college level. According to NCAA data, between 1981-82, 74,239 women played college sports at the Division I, II and III levels, compared to 169,800 men. About 30 years later, between 2012-13, there were 203,565 female student-athletes and 265,645 of their male counterparts.
"You can't compare women's sports to men's sports. The analogy would be like comparing a start-up tech company to Apple," Kane says. "You have a very unfair comparison given the relationship between traditional gender roles and ideologies and practices."
Although American women now have access to sports, society still has mixed feelings about female athletes.
Vikki Krane, a sport psychology professor at Bowling Green State University, co-authored a 2004 study that looked at the conflict between "sport culture" and "larger social culture." Now, 10 years later, Krane says there are more female athletes, but the disconnect between sportswomen and society's expectations of feminine behavior has grown more pronounced.
"As women have made greater strides, and there's more and more women participating in sports, there's almost like more of an emphasis on being feminine... than there used to be," Krane says.
Olympic swimmer Amanda Beard writes about her own experiences with this conflict in her 2012 memoir, In the Water They Can't See You Cry. At one point, the directors of a photo shoot force Beard to lose 10 pounds in two weeks, causing her to realize being both a perfect woman and a competitive athlete is impossible"
[In pictures] I represented the ideal athlete, super slim and defined. Only this type of definition came from lack of muscle as well as a lack of body fat. My look was completely unrealistic for anyone truly competing in a sport. It put me in an impossible situation: be skinny and be strong.
Media depictions of sexualized female athletes -- and the lack of coverage women's sports receive -- continue to reinforce these gender dynamics.
"When there is so little coverage of female athletes, and then within that coverage, the focus is not on their athleticism, but on how pretty and sexy they are, the question is, how does that move the ball in terms of interest in and respect for female athletes as highly gifted athletes?" Kane asks.
Excluding Swimsuit Issues, between 2012 and 2013, women athletes appeared on only two of 191 Sports Illustrated covers. The only cover that depicted women alone was a 2012 issue featuring the Olympic women's gymnastics team, made-up and in leotards.
"When you're marketing magazines to a heterosexual, male audience, one of the ways you do that is sexism sells, skin sells," says The Nation sports editor Dave Zirin. "I also think disempowering empowered women sells to some men, magically."
So what does all this mean for the future of women's sports? Cahn sees the potential for positive changes, but not all at once.
"It's in increments. Like the last [2014] Winter Olympics was the first time women were allowed to do ski jumping," Cahn says. "But at a kind of fundamental level, that association of masculinity with sports... that's really deeply embedded and probably won't change much, unless people are challenging sexist beliefs through a movement."
Zirin also links women's sports to cultural norms, and sees encouraging shifts in societal attitudes.
"Our society has always had different gradations of certain oppressions that are OK and that are not OK," Zirin says. "The mockery of gay athletes that took place as recently as five years ago would not be acceptable today. These shifting social norms, as they relate to gender, and homophobia, as well, have huge effects on women athletes."
So far, the Sports Illustrated magazines produced in 2014 have featured more female cover athletes than the past two years combined. Of the 94 non-Swimsuit Issues, six covers have highlighted sportswomen, including one depicting Little League baseball pitcher Mo'ne Davis.
And what about Adamcheck? After completing her reign as Miss Illinois, she shifted toward the athletic world, and left her pageant days behind to focus on track during her senior year before graduating from DePaul in 2014 with a double degree in psychology and political science.
And so the question remains: As more and more girls like Adamcheck move toward athletics, will society accept a different idea of what it means to be a female athlete?
Pop star Beyoncé addressed this question when she talked about the power of cultural perceptions of women in her HBO documentary, Life Is But a Dream.
"At the end of the day, it's not about equal rights -- it's about how we think."