Along with many feminists, I started this election season a proud supporter of Senator Hillary Clinton. And I believe it is because of her commitment - to the Democratic Party, to a better future, to a government that serves and cares for all Americans - that last night was possible. But it was not until this morning, reveling in the reality of our historic Democratic victory, that I realized how and why I made the jump from Hillary to Barack in this election.
From the start, I knew Hillary was the candidate for me. In addition to desiring a qualified, feminist woman as President, I wanted to help elect someone who could actually carry my country forward. Freedom, equality, and justice have been under unrelenting attack over the past eight years; I just wanted someone who would protect and care for me - someone who would assure me that we could get to a better place. And Hillary provided me this comfort. She is a mother on so many levels - in her own family, in New York, in the Democratic Party. She offers matriarchal leadership, knowledge, and ability to protect and care for everyone in the United States. I felt safe with Hillary, trusting that she could and would in fact carry us to a better future.
So when Hillary bowed out and asked us to support Obama, to come together for our country's future, I trusted her. I dusted off my copy of "The Audacity of Hope" and began to embrace Obama's vision for the future. I had reason to trust Hillary's encouragement to vote for Obama, but wasn't so sure that I could campaign for him the way I had for her.
Later, when so-called leaders in the women's movement decided to endorse an unqualified, anti-woman female candidate, I had a choice to make. Governor Palin had no record of supporting women; indeed, she had a history of taking rights away from America's most vulnerable women - survivors of sexual violence. She didn't believe in a woman's right to reproductive autonomy. She benefited from the women's movement without supporting or protecting it in any way. The presence, on a major-party ticket, of a woman who openly opposed the recognized feminist agenda threatened both the goals and the spirit of Hillary's historic campaign. And those who supported Palin refused to see past her biology to her ideology; to me, this struck at the very heart of the women's movement.
Feminism, as I and countless others construe it, means equality and balance between women and men. I was proud and encouraged to see that Barack Obama was committed to pursuing this ideal. Included in his vision was a promise of healthcare for women, protection of the benefits of Roe v. Wade, a platform commitment to CEDAW and the ERA and an active support of the Ledbetter Fair Pay Act. This stalwart support of feminist goals, paired with Joe Biden's authorship and support of VAWA, meant Obama represented the best viable presidential ticket for women - perhaps of all time.
My mission was clear: to demonstrate my commitment to the feminist agenda during this election season. I bought the pins and wore the shirts and posted the signs declaring Obama '08. I interviewed and blogged about why supporting Obama was the best way to support the feminist agenda. I knew I had to do everything I could to make sure the feminist ticket was elected. While most of my friends were partying like rock stars on Halloween, three of my friends and I drove to Las Vegas to canvas, determined to ensure Nevada went blue. I am very proud to say it did. I could not believe the numbers of people who stayed, after Obama's incredible speech, to volunteer for his campaign the weekend before the election. Like me, a large percentage had traveled from California to make sure Obama was our leader into the future. There were student groups from USC and UCLA. There were local residents who had never VOTED, let alone attended a political rally, but were certain that this was the most critical election of their lives. And as I canvassed around my former hometown, I was inspired by the reach of Obama's vision - and by how strongly it had been embraced by voters.
I realize now that I became an Obama supporter because I am inspired by how much he believes in America, in our ability to bring about real change. He believes in America's future because he believes in us. Instead of protection, he offers the assurance that our unity and commitment to one another will positively shape our communities, our country, and our future. It is unnerving to think that the future of our nation rests on all of us but it is inspiring, too.
And it is not surprising that Obama won the support of women. Obama's victory is also a victory for the women's movement. For years, feminism has championed the cause for equality on every level, and we truly are in a defining moment in history to demonstrate our commitment to justice. Breaking the color barrier in our society shows that progress is possible. By holding Obama accountable for his promises and platform for women, we will be that much closer to equality for all.
I remain committed to seeing a woman elected president, but until then, I am proud to follow Barack Obama. I am honored that he will serve our country with his profound leadership. I am inspired that our country has embraced change for the future. And I am committed to being the change we wish to see in our world.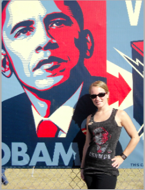 Thank you, Senator Clinton.
Thank you, President-Elect Obama.