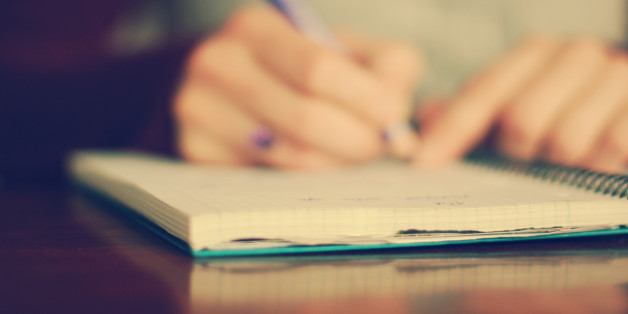 Let us not lessen the impact a single life can have in this world. Like moments in history before today and surely for moments yet to come, this day is decidedly a day I shall forever remember. Unlike any other author, artist or individual, my life has been most influenced by Maya Angelou.
Her passing feels equal to the loss of a family member due to the innumerable instances in which the writings of Maya Angelou taught me, encouraged me, opened my heart and mind and pushed me in the direction of being true to myself, recognizing always that nothing else matters but love and that "God loves me."
It seems my life has been laced with distinct experiences and lessons yielding directly from the words of Maya Angelou, from grade school until now. I remember the day Maya Angelou entered my life. My first awareness of the author was born when Mrs. Myrna Sam and Dorothy Gray introduced her 1993 inaugural poem for President Bill Clinton, "On the Pulse of Morning," to a co-instructed honors English course I was taking in the small, sleepy town in Texas where I was raised.
I felt overwhelmed by the words of the inaugural poem and my lack of understanding them, while Mrs. Gray & Sam spent several days dissecting them line-by-line for our fresh minds to comprehend.
I doubt I was aware that she was only the second person in history to read a poem at a presidential inauguration or that she was the first African-American and woman to present, but rather, it was my inability to grasp the poem, while being conscious that her words carried a grand power, that I became enamored by her. For years following, and at a young age, I purchased her books and read her poetry, often wishing someone could analyze the pieces alongside me. While "On the Pulse of Morning" won Angelou a Grammy Award for "Best Spoken Word" for a later audio recording of it, the poem had mixed reviews from critics.
It was never a favorite of mine, but it was the hook that buried itself under my skin and never broke free. Years later, after college, I was working as a news anchor and reporter for a small ABC affiliate television news station in the Upper Peninsula of Michigan, when I learned that Maya Angelou would be speaking at a town over two hours away. I knew I had to go. I began a lobbying effort likely unseen at this station, making a selfish case for my attendance and making promises to return in time for my newscast, even with the chance of timely return being slim, especially considering the high snowfall levels that often hit that part of the country. To the dismay of my news director, I received a green light to cover her talk, and was all but punished for it by being assigned three additional stories to cover that same day.
Somehow, as is with any of the things we take on fearlessly and without inhibition, I managed to file the requested stories and still make it backstage in time where Ms. Angelou would be entering the auditorium. It was my first time in life -- and still the most significant time -- that I felt the confusing rush of seeing someone who I very much felt I knew -- having read her timeless words again and again -- and whose words had become a safety net at times, with chapters from "Wouldn't Take Nothing for My Journey Now" dog-eared for quick reference, who did not know me. For years, I had wrapped myself around her vulnerability, strength, passion for her heredity, humor about the simple insanity of life, attention to style and love of God.
We briefly made eye contact, and that's when I realized that she did not know me at all. The relationship was one-sided. The woman before me had changed my life more significantly than any other human being, and yet, she would likely never know me. I began to tremble. It is an almost eerie feeling to have a moment such as that, but through the years, that moment has served as a reminder to me of the impermeable influence one person's words could -- whether good or bad -- have over another individual.
The video I recorded in the five allotted minutes for media that day was ultimately and basically unusable footage due to the uncontrollable vibration of the video from my trembling. But I still remember the large winter coat she had draped across her shoulders, her red lipstick, the grandness of her person, the slowness of her speech and the "wise owl" impression I felt in the fleeting seconds that had slowed, even paused, so that I might breathe in the time near her and recreate the vision in my mind later.
I felt a small sadness that she would not know me after that encounter, but especially today, I feel a responsibility to continue loving her for her contributions to our world and a responsibility to live freely, honestly, and creatively for her. I live a good life and a meaningful life, but in part due to her influence.
Some of the highlights and teachings I believe we can all take from her:
1. Know always that you are loved. "God loves me!" she yelled out to the world and to herself in one of her essays, learning the lesson as she repeated the phrase, raising her voice gradually each time.
2. Take time for yourself.
Every person needs to take one day away. A day in which one consciously separates the past from the future. Jobs, family, employers, and friends can exist one day without any one of us, and if our egos permit us to confess, they could exist eternally in our absence. Each person deserves a day away in which no problems are confronted, no solutions searched for. Each of us needs to withdraw from the cares which will not withdraw from us.
3. Dream big. "A person is the product of their dreams. So make sure to dream great dreams. And then try to live your dream."
4. Don't complain. "What you're supposed to do when you don't like a thing is change it. If you can't change it, change the way you think about it. Don't complain."
5. Rise. Facing bigotry directly, describing humankind as more alike than unlike, Angelou cried out for a perseverance applicable to all of life.
Out of the huts of history's shame
I rise
Up from a past that's rooted in pain
I rise
I'm a black ocean, leaping and wide,
Welling and swelling I bear in the tide.
Leaving behind nights of terror and fear
I rise
Into a daybreak that's wondrously clear
I rise
Bringing the gifts that my ancestors gave,
I am the dream and the hope of the slave.
I rise
I rise
I rise.
For her, I too shall rise, feeling grateful for her persuasion and joyful that she is finally home.