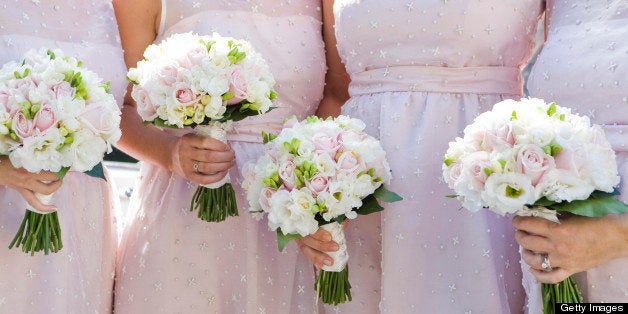 It's the day after your best friend's wedding. As you revel over last night's festivities, you glance down at the bridesmaid dress that you wore, taking up space on your bedroom floor. While you ponder where to hang your dress the choice soon becomes obvious -- the bedroom closet will suffice, knowing that you will probably never wear it again!
Twelve months later, the former bride announces she is pregnant and the date for the baby shower is set. You could always play it safe and get her a present off her baby registry, but what about something more personal? Like a custom gift made from the very same bridesmaid dress you wore to her wedding? A bridesmaid dress certainly tops the list of unique baby shower gifts!
Repurposing the fabric from your bridesmaid dress is so much more eco-chic than giving it away or selling it on eBay! A typical bridesmaid dress can be used to create a baby blanket, a throw blanket, pillows, a sachet bag or picture frames. The fabric color and style of the dress is what makes the bridesmaid dress sentimental, since brides spend countless hours seeking out the perfect dress that she feels will flatter her bridesmaids and compliment the theme and colors of her wedding. While it likely isn't a dress that most bridesmaids will wear again, the bridesmaid dress is something that brides would love to see again displayed in their homes. After all, they chose the dress -- so it's a safe bet that they would like to see it again.
When upcycling a bridesmaid dress, no amount of fabric is too much or too little. One of our customers gathered all her left over scraps from her bridesmaid dress because she wanted to create something special for the birth of her niece. The fabric from her bridesmaid dress was used to create a nameplate on the baby blanket, documenting the baby's name and her date of birth. The fabric was also used as piping along the blanket.
Another customer wanted to use the pink bridesmaid dress from her friend's wedding to serve as the front side of a pillow for her friend's baby. For that project, even the pink and tan groomsman shirt was used for the backside of the pillow, which made an adorable and one-of-a-kind shower present.
So, instead of letting that bridesmaid dress take up space in the closet, repurpose it for your friend, the mommy-to-be, to capture all the special memories from her wedding day and serve as a symbol of the next step in her life -- motherhood. And, you can be certain that no other guest will arrive at the baby shower with the same gift!