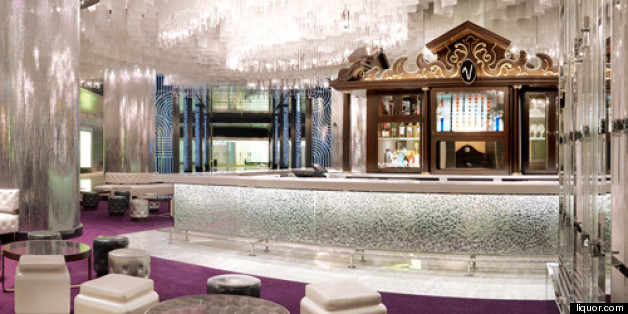 With countless 24-hour bars and restaurants, and free drinks on every casino floor, you'll never go thirsty in Las Vegas. But Sin City is far from a cocktail-lover's paradise: All too often, ordering a beverage can be, well, a roll of the dice.
So we turned to a pair of local mixological luminaries for some advice: Tony Abou-Ganim, master bartender, author and Liquor.com advisory board member, and Tobin Ellis, founder of cocktail consultancy BarMagic. From high-end lounges on the Strip to hidden gems off the beaten track, any of these watering holes are a sure bet.
Carnaval Court, Harrah's, 3475 Las Vegas Boulevard South, 702 369 5000:
With bottle-flipping "flair" bartenders, raucous cover bands, DJs, and even a set of blackjack tables, this place is everything you'd expect in a Las Vegas bar. The potent drinks might not be quite up to cocktail-snob standards, but, Ellis says, "if you can't have fun here, you're just a miserable human being."
What to Drink: Tim's Purple Skittle (Bacardi Limón Rum, Chambord, pineapple juice, sweet & sour mix, Sierra Mist)
Culinary Dropout, Hard Rock Hotel & Casino, 4455 Paradise Road, 702 522 8100:
Just off the casino floor at the Hard Rock is Ellis' favorite spot "to escape the ridiculousness that is Las Vegas and feel like I'm in a slightly more normal city." There's a menu of gastro-pub bites including charcuterie, burgers and a great grilled artichoke, along with a long list of creative concoctions.
What to Drink: The Persuasion (Martin Miller's Gin, yuzu, honey syrup, Zipang Sparkling Sake)
Double Down Saloon, 4640 Paradise Road, 702 791 5775:
Vegas has plenty of dank, dark and dirty watering holes, but, according to Ellis, the Double Down isn't your run-of-the-mill dive bar. For one, it never closes, the walls are covered with...less-than-savory murals and the house specialty "cocktail" is something called Ass Juice. On any given night, you'll find tourists, bikers and off-duty bartenders rocking out together to live music.
What to Drink: Miller High Life Beer
Downtown Cocktail Room, 111 Las Vegas Boulevard South, 702 880 3696:
50 years ago, downtown was the center of the Las Vegas nightlife, but today the area plays second fiddle to the glitzy Strip. However, Abou-Ganim says, "this is the place that brought proper cocktails--along with the art of making them--back to downtown." The mixological haven boasts a list of original tipples that wouldn't be out of place in New York or San Francisco, and it's just a block from the Fremont Street Experience's famous light show.
What to Drink: Don't Fig with Me (applejack, fig, orange, molasses)
Fireside Lounge, 2985 Las Vegas Boulevard South, 702 735 4177:
"This is the Vegas lounge you wish still existed," Ellis says. The kitschy, '70s-inspired joint in the back of the Peppermill restaurant serves standards of the period like Brandy Alexanders and Grasshoppers, and what Ellis calls "the best Pousse Café I have ever seen in a bar."
What to Drink: Blue Hawaiian (vodka, blue Curaçao, pineapple juice)
Herbs & Rye, 3713 West Sahara Avenue, 702 982 8036:
"If anyone has truly embraced the pre-Prohibition golden age of cocktails and the art of mixology, it's Nectaly Mendoza and his staff at Herbs & Rye," Abou-Ganim says. "This is the place to go if you're looking for lost and forgotten treasures made right." Located in a neighborhood most visitors never see, it's easy to miss but well worth the trip.
What to Drink: Corpse Reviver #2 (gin, Lillet Blanc, triple sec, absinthe, lemon)
Nora's Italian Cuisine, 6020 West Flamingo Road, Suite 10, 702 873 8990:
"When you find a joint off the Strip where you can get great Italian food, a wonderful wine selection and a perfect Negroni, it's not hard to understand why this is one of my favorite spots," Abou-Ganim says of this establishment on Vegas' less touristy west side. (Ellis recommends it, too.) The skilled bartenders here do a great job with the classics but also have a nice set of original concoctions if you're feeling adventurous.
What to Drink: Negroni (Plymouth Gin, Campari, Cinzano Rosso Vermouth)
Parasol Down, Wynn Las Vegas, 3131 Las Vegas Boulevard South, 702 770 7000:
A day at the craps table can be stressful. Take your mind off the dice and relax at this calming lounge overlooking the Wynn's 3-acre Lake of Dreams. It's "one of the most beautiful rooms in Vegas," Ellis says. "Nothing Earth-shaking as far as cocktails but some solid drinks without all the typical Vegas nonsense."
What to Drink: Cucumber & Ginger Cooler (Hendrick's Gin, Domaine de Canton Ginger Liqueur, cucumber, lime juice, agave nectar, club soda)
Petrossian Bar, Bellagio, 3600 Las Vegas Boulevard South, 888 987 6667:
The Bellagio's luxe lobby bar has "the best people-watching in town," Abou-Ganim says. The comfortable spot overlooks the resort's gorgeous Dale Chihuly glass installation and features live music courtesy of an impressive Steinway grand piano from 10 AM to 1 AM every day. Order a vodka sampler with some caviar or try one of the concoctions made with house-infused spirits.
What to Drink: Tennessee Highball (Jack Daniel's Tennessee Whiskey from Bellagio's house barrel, lemon juice, orange bitters, ginger ale)
Vesper Bar, The Cosmopolitan, 3708 Las Vegas Boulevard South, 702 698 7000:
Though this spot (pictured above) is in one of the city's newest resorts, it's all about the classics, offering a rotating menu of old-school (and old-school-inspired) tipples. Before you leave, Abou-Ganim also recommends stopping by The Chandelier, The Cosmopolitan's more modern cocktail bar.
What to Drink: Vesper (Citadelle Gin, Belvedere Vodka, Lillet Blanc, orange bitters)
More from Liquor.com:
The 7 Strangest Spirits You Can Buy
Cheap Thrills: Great Liquor Under $25