It must be fun belonging to a family where every member is an artist and though there is a precedent in the Los Angeles art world -- the Saar family comes to mind, Betye, Alison and Lezley -- it's rare.
Besides the Saars, there's Lou Beach and the the Lou Beaches. Everyone knows Lou Beach -- whose name is phonetically derived from his given last name, Lubicz -- and his dynamic work as a collage illustrator and artist over four decades.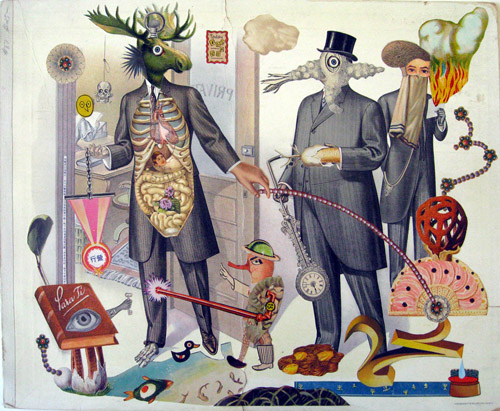 Lou Beach, The World of Men C 2009, collage, 12 x 15 inches. Collection of Mark Parker, NIKE. Image courtesy of the artist. ©2010 Lou Beach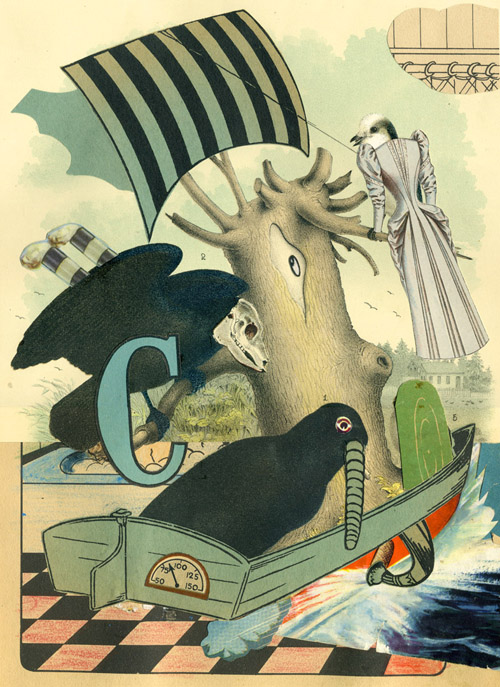 Lou Beach,
Big C
2010, collage, 15 x 11 inches. Image courtesy of the artist. ©2010 Lou Beach
He's self-taught and he's famous, seriously famous. His work is in the collections of NIKE and Matt Groening and he might be best-known, back in the day, for a Weather Report album cover. But what I didn't realize was that Lou belongs to the Lou Beaches, an entire family of artists who mostly make collage. I became aware of their collective talents in an exhibition aptly titled Gene Pool, currently at the Nickelodeon Animation Studios in Burbank, California that runs through December 3rd.
The Lou Beaches cast stars, the mom: Issa Sharp, the daughter: Alpha Lubicz, the son: Sam Lubicz and of course Lou, as the dad.
Let's look at Issa Sharp's work, the only member of the cast who is not a collage artist. She's a photographer, a damn good one, who attended the Art Center College of Design in Pasadena, California and who's worked for decades as a photojournalist, including for the LA Weekly. As a native of Hollywood, she is currently working on a photo essay titled The Dichotomy of Hollywood: The Glamour and the Grit.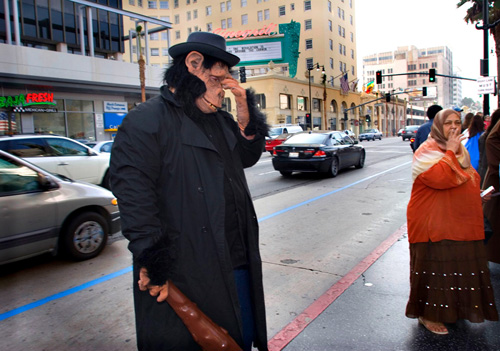 Issa Sharp, Hard Day In Hollywood 2006, C-print, 16 x 20 inches. Image courtesy of the artist. ©2010 Issa Sharp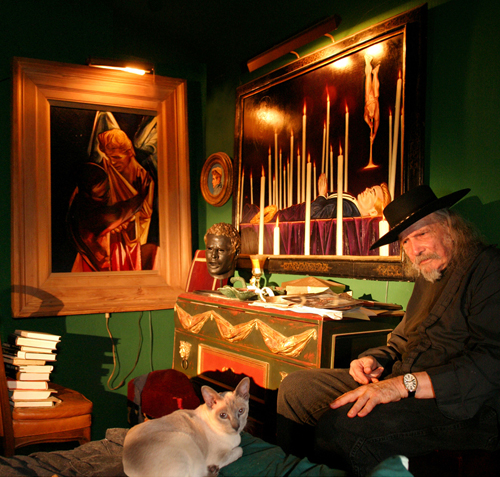 Issa Sharp,
Kenneth Kendall, Painter Obsessed With James Dean
2006, C-print, 20.5 x 20 inches. Image courtesy of the artist. ©2010 Issa Sharp
Her self-proclaimed role in the family is that of a stabilizing force for the others--the glue, in other words. She is the person who gives feedback--solicited or not-- keeps everyone on an even keel (if that's possible) and nurtures. Every group of artists desperately needs an Issa.
Then there's Alpha Lubicz, unknown to me before this writing, who particularly captured my eye. First, how could you not love her name, Alpha (already a positive reflection on her parents) and then her work, which is both smart and obliquely autobiographical. In 2003 Alpha graduated from Cooper Union with a B.F.A. and is thought of by the other family members to be "the intellectual one." Since Kindergarten she knew she would be an artist and while she is formally trained in drawing and painting has always favored collage as her medium, cutting up her own art work at times to include in collages. Alpha maintains that she came to collage as a way of "apprehending many things at once." She also recognizes there was a magic to her family.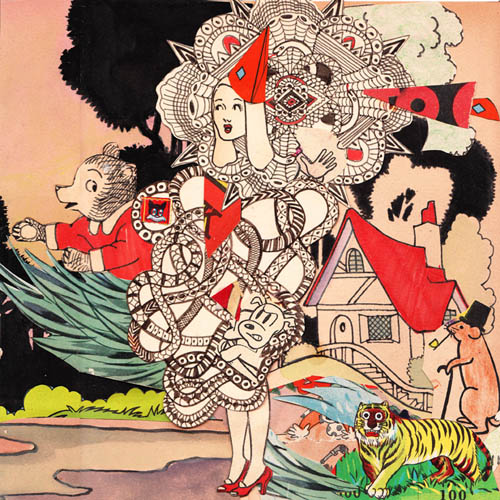 Alpha Lubicz, Veronica Lake 2010, ink, watercolor and vintage paper, 10 x 8 inches. Image courtesy of the artist. ©2010 Alpha Lubicz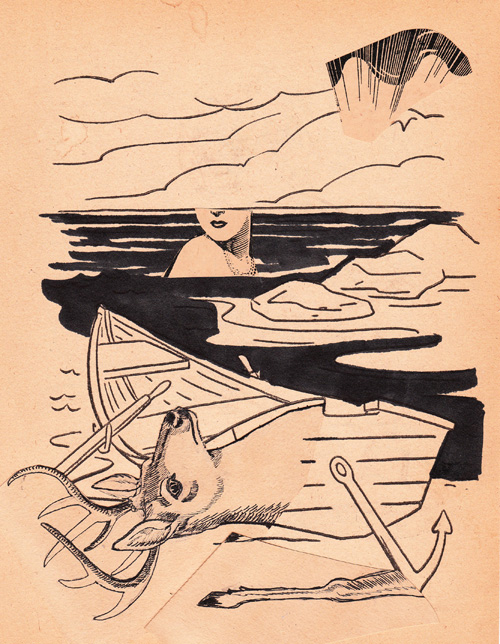 Alpha Lubicz,
Man Down
2009, ink and vintage paper, 9 x 7 inches. Image courtesy of the artist. ©2010 Alpha Lubicz
Sam Lubicz, the baby of the family at 21, spent a year at the School of the Art Institute of Chicago. He feels that watching his parent's dedication to their work helped him form his own direction in art. Sam first started experimenting with collage in his teens as well as other art forms including photography and music, but it wasn't until a few years ago that he started making collages regularly. He acknowledges similarities in process to his family members--those of obsessive collecting and organizing, digging through boxes of images, making selections and then cutting. "I spend a lot of time in my head, and collage-making seems to serve as a release of those inner-ramblings."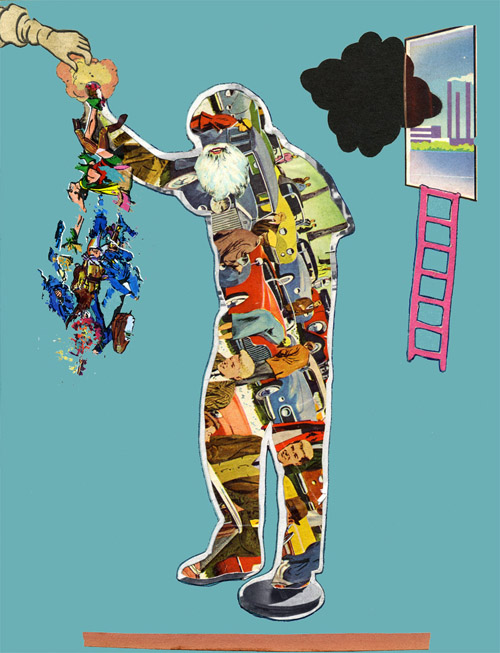 Sam Lubicz, Handsome Payoff 2010, collage, 15 x 11.5 inches. Image courtesy of the artist. ©2010 Sam Lubicz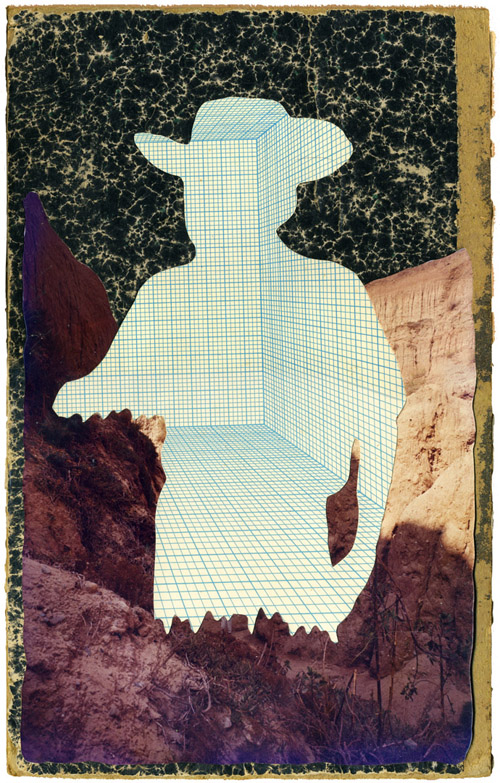 Sam Lubicz,
Western Theory
2008, collage, 15 x 9.5 inches. Image courtesy of the artist. ©2010 Sam Lubicz
(Note to parents: both children are products of the tuition-free Los Angeles County High School for the Arts located on the California State University, Los Angeles campus. I like the tuition-free part.)
Alpha and Sam recount unifying activities such as Exquisite Corpse, the turn-this-shape-into-something game, family gift-giving of various vintage papers and images and, as adults, attending paper goods and vintage book shows together. There were also lots of road trips and trips to Europe to visit museums. It definitely sounds like an art family affair.
While their work is distinct from one another, they do share common influences and inspiration such as the works of Max Ernst, John Heartfield and Tadanori Yokoo, Surrealism, the use of animal imagery and a love of narrative. They all agree that the Internet has been a real game-changer in that they are able to share favorite sites with each other quickly and that the use of Facebook has allowed them to sell work and make significant contacts.
I learned from speaking with each family member that, while Lou has been a prominent influence on his children, his children have also influenced him. He believes that after years of working in a client-driven industry his kids remind him how to be playful and make art for himself again, where his pictures act as a stage and the elements are characters.
Being an artist myself but never having worked in the medium of collage, I've always thought that collage was a window into the subconscious that lent itself perfectly to offering and soliciting narrative. It is therefore no surprise that Lou Beach has now taken to writing as well as collaging.
His upcoming book published by Houghton Mifflin Harcourt titled 420 Characters will be available in Fall of 2011. It is the quite possibly the first ever published volume of fiction to have originated on Facebook. The stories of 420 characters in length first appeared as status updates on Lou's Facebook page.
There is definitely an argument for working in close proximity to other artists -- that's why they invented art colonies. Being an artist can be an isolating business, but what better way than to be born into one?
The Lou Beaches demonstrate that the family that glues together sticks together.