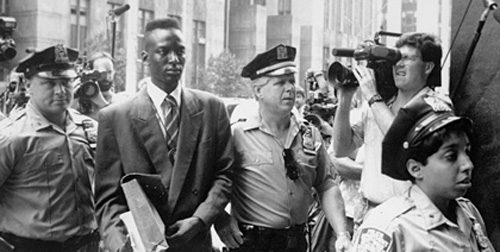 Still image from the documentary The Central Park Five
First and foremost, this is not a movie review. There will be no cinematic judgments on the new Ken Burns documentary, The Central Park Five.
With that said: go see The Central Park Five.
With stomachs full from this week's holiday turkey, and the warmth of satisfaction that comes with replete bellies, it is easy to feel thankful and look benignly upon the world.
With such satisfaction comes contentment, and contentment is dangerous. Contentment leads to complacency. And complacency leads to forgetfulness.
No New Yorker should ever forget the 1989 Central Park jogger case, not for the media attention it received, but for the gross miscarriage of justice it represents. In 1989, in the early hours of the morning in Central Park, a young white female jogger was brutally raped, beaten, and left to die. The case quickly set off both a media and political firestorm, and caught in the middle were five young teenage boys: Raymond Santana, Antron McCray, Yusef Salaam, Kevin Richardson and Korey Wise. Subjected to brutal police interrogation, the five were intimidated and coached into confessing to the crime. Arrested, convicted, and sentenced to prison, each spent at least 6 to 13 years incarcerated. Only in 2003 were the five convictions overturned, due to both DNA evidence and the actual perpetrator Matias Reyes confessing.
You may read this and think, such a shame, but it could never happen today. New York in the 1980s was a completely different place: crime ridden, dirty, and suffering from widespread poverty. Look at all the strides we've made. Their convictions were overturned, isn't that enough?
Clearly it isn't. To this day, the NYPD has never admitted to any mishandling of the case. Both lawyers Linda Fairstein and Elizabeth Lederer, whose careers were made by their prosecution of the boys, have never publicly acknowledged their mistakes. Additionally, according to American Lawyer Magazine, in 2003 the five men brought a civil suit against the City of New York for $50 million each, claiming civil rights violations and malicious prosecution. At present, not only has the case not been settled, but in September the city served a subpoena againt the filmmakers of The Central Park Five. As detailed by CBS News, the subpoena demanded footage and notes from the documentary.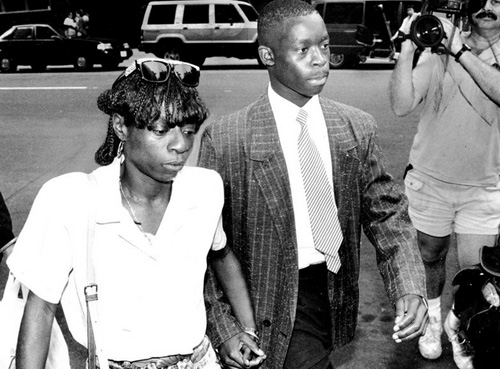 Still image from the documentary The Central Park Five
Here is a city seemingly unrepentant to their injustice against five teenagers. Here is a media not nearly as interested in upholding the innocence of the men as they were in vilifying them. Here is a people intent on forgetting.
These five who were so betrayed by their police force, their justice system, and their city deserve more. They deserve to be remembered. They deserve to be heard. They deserve an apology from every New Yorker then and now for the time they lost serving for a crime they had not committed.
Most of all, they deserve an acknowledgement from all of us that this could very well happen again. We are not immune to the prejudice, racism, classicism and fear that led to the five being convicted. If we do not take to heart the warning of their fate, none of us should hold our heads high when we walk among the greenery of Central Park. For we will not have learned our lesson, and their pain and their suffering will have been in vain. That would be the ultimate crime.
Go see The Central Park Five. Watch the interviews of Kevin Richardson, Antron McCray, Korey Wise, Yusef Salaam and Raymond Santana. Look into their eyes. Hear their voices. And work, by writing to the city, by appealing to the government, and by spreading their story to ensure that this city never betray five of its children ever again.