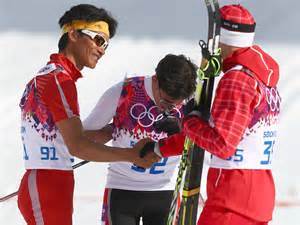 The Olympics bring us far more than competition; they bring us stories, and from those stories, we have the chance to learn how to behave toward each other.
Although the Olympics is ostensibly about who wins and who doesn't, the vast majority of the time is taken up with the stories -- the narratives -- of the athletes, their challenges, and how they handle them.
These stories are delivered by announcers as they give us play-by-play, by athletes in interviews, and in pre-packaged video pieces. All show us the athletes are far more than what we see in the few minutes they're competing.
Most of us don't know much about the intricacies of the sports, and we're not likely to ever execute a triple axel or a halfpipe, but we know the intensity level of competition at the Olympics is high. And it's the stories that rise from that intensity that help us understand the athletes as people we can relate to.
Canadian freestyle ski coach Trennon Paynter described a "stealth mission" to spread some of Sarah Burke's ashes in the Sochi halfpipe. It wasn't exactly a sanctioned event, but the Canadian team wanted to remember Burke, who died in a training accident in 2012. Athletes had no idea they were skiing over the remains of Burke, a pioneer who led the effort to get X-Games sports into the Olympics.
We can all relate to losing someone we look up to and wanting to honor them. We also recognize respect in all its forms.
Dario Cologna of Switzerland, gold medalist in cross country skiing, waited 28 minutes to shake hands with the last competitor to complete the race. He congratulated 43-year-old Roberto Carcelen of Peru, who was competing with broken ribs.
While the standings and the scores can be delivered in only a few minutes, or by scrolling through a list on a website, it's the stories that stay with us.
Through their narratives, we found a connection to the super humans of the Olympics. They showed us how to persevere against odds, how to show respect, and if those in fierce competition with each other can show kindness, maybe we can learn to do the same.