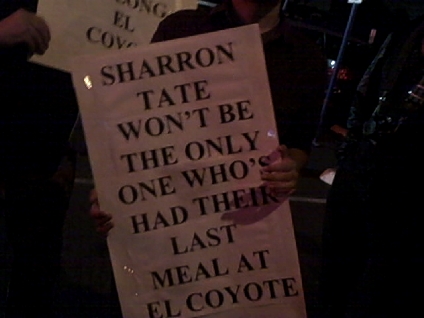 El Coyote's red neon sign flickered above the angry crowd of nearly 100 demonstrators last night as their shouts of "Hate on plate! Hate on plate! What do we want? Civil rights!" filled the night. But privately, many expressed regret at the situation which could force the closure of this beloved landmark:
Someone here, who knows us, who professes to love us, made the decision to take away our civil rights. But I love the staff, I love coming here. And I don't know what can fix this.But it needs to be fixed.
Timothy Kinkaid of Box Turtle Bulletin joked about the conflict:
What do you want? And instead of saying something like "civil rights," I keep thinking "Number two, soft chicken taco with cheese enchilada."
But the anger was apparent as the few customers of the evening walked in, including a lesbian couple. They were met with angry chanting of "Shame on you, shame on you, shame on you!"
At issue: a $100 dollar donation to the Mormon Church to Yes on 8 given by Marjorie Christoffersen, the daughter of the owner. Marjorie herself is not an owner, as has been often erroneously reported; she like other managers draws only a salary from working at the restaurant. Her mother, the sister of El Coyote's founder, is not Mormon, according to longtime restaurant staff. Christoffersen had listed El Coyote as her place of employment on her donation form, per campaign disclosure requirements.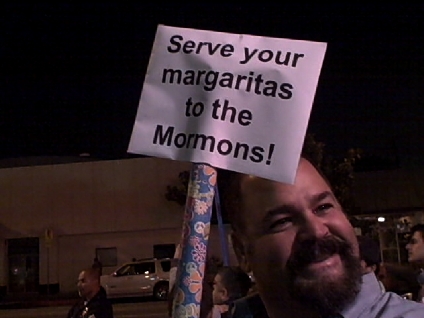 Last night manager Billy Shoeppner distributed copies of a letter from Equality California thanking El Coyote for their $500 donation to continue the fight to restore marriage rights. The contribution came from the restaurant's workers, many of whom are gay. El Coyote will be giving another larger donation to the Lambda Legal Fund.
But protesters, the majority of whom were El Coyote patrons until Christoffersen's donation to Yes on 8 became public, were not swayed and vowed to protest tonight, Saturday and every Thursday until there is a resolution, something some activists are calling for:
There has to be a healing, a reconciliation. We love the restaurant, we love it here. But not with Marjorie behaving this way, not with knowing our money goes to take away our civil rights.
The restaurant, normally crowded, had fewer than 50 patrons--including a busload of French tourists. One protester slipped $100 to the wait staff to make up for lost tips, stating:
It's not their fault, I know this is hurting them, but we have to take a stand.
Shoeppner frequently stepped outside the almost deserted landmark restaurant, saying that he understood why the demonstrators were there, and exchanged hugs with his protesting customers, several of whom were crying. In the background the crowd chanted:
Hey, hey, ho, ho, Marjorie has got to go!
Many feel that if Christoffersen does not return to the restaurant, they will be able to patronize it again, while others said that El Coyote is ruined for them forever:
It's like Coors beer--they came out against us gays, and now even decades later, no gay bar will serve Coors beer.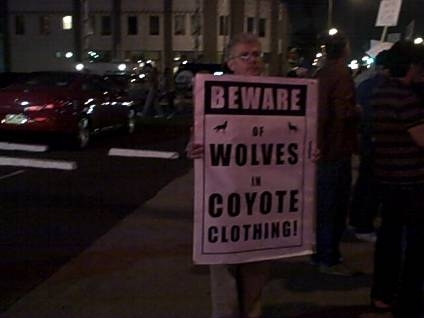 Recalled a former patron turned protester:
When one of the guys died from AIDS, Marjorie paid for his mother to fly out for his funeral. She is not a bad woman, she just listened to her church and couldn't see, didn't undertand. There's a disconnect. But our money went towards taking away our rights.
One longtime customer commented that he had been coming to El Coyote for over forty years, and the same waitress who carried him as a baby is still working there:
It would be a tragedy to loose this place, to see it close, be torn down, become a strip mall. Tori Spelling comes here without body guards, Madonna eats here because she can and no one cares. It's a family. I believe that Marjorie has seen the effect of her donation, and will stand up to her church and say what happened, what they did was wrong. I hope she does that. If one woman can make a difference, she can. She's seeing how her church hurt her friends, people she loves that she calls her family, people who have known her since they were children, people who have worked here for decades and have been coming here for decades. I think, I hope she will speak up and speak out and fix this.