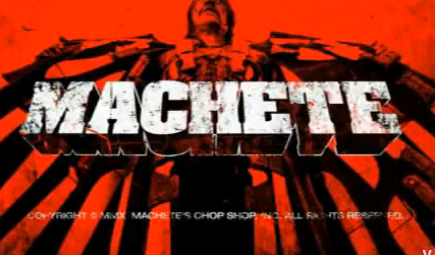 A very special Cinco de Mayo card to Arizona from director Robert Rodriguez, starring Jessica Alba, Robert De Niro, Lindsay Lohan, Don Johnson, Cheech Marin and Danny Trejo as the title character Machete.
Calling it an "illegal" trailer, Rodriguez takes the best of Mexplotation, using subjects ripped straight from the headline, and slams out a fast paced "trailer" which he "leaked" to Aintitcool.com:
MACHETE has some Cinco De Mayo words for you!!!...Rodriguez is calling this his "Illegal" trailer. You see, Robert talked Fox into letting him put together a Cinco De Mayo message for ARIZONA - given. Well, the way things are in Arizona at this moment - it is kinda insane that there is a movie that was shot over a year ago waiting to be released that is about - THIS EXACT ISSUE...