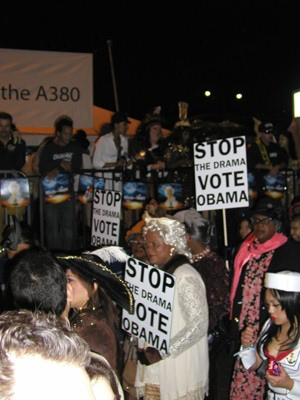 The West Hollywood Halloween carnival attracts over a hundred thousand visitors to the tiny city. Known for the participants' outrageous and creative costumes, the WeHo Halloween stroll is always full of political satire and social commentary.
This year anticipation was high over the idea of dozens of drag Palins escorted by Todds, Sarah with some Joe Six Packs in running shorts showing off their six pack abs, and maybe Mrs Palin with a moose or a surrounded coterie of leather daddy bears. But election burn-out seemed to have overtaken the crowd. We spotted only one drag Palin, and just six girls as Gov GILF, though props to the straight duo who dressed as Sarah and Todd before the RNC stepped in and bought their clothes.
Explained one of four men dressed as dead, texting Metrolink train crash causing engineers:
People are over Palin as a joke. They want to vote, but the point of Palin has been made, she's not funny, she's scary. Now everyone wants to have fun, and make sure No on 8 happens.
The big focus las night was No on 8 to stop the ban on same-sex marriage--complete with signs, a mini parade and lots of brides and grooms--and Yes on 2 to provide better conditions for farmed food animals. Also popular: dressing as the anti-Scientology protesters Anonymous, zombies, and lingerie models, and there was some play given to the financial crisis as well.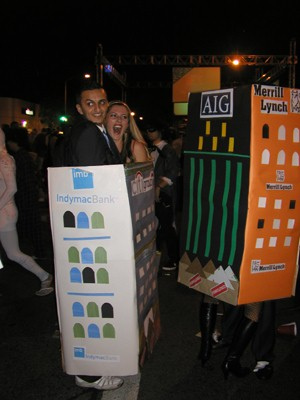 The grimmest sight: Several fundamentalist Christians with 10 foot tall hellfire and damnation signs stood on the meridian, attempting to avoid the hordes of semi-naked revelers. They looked really unhappy.