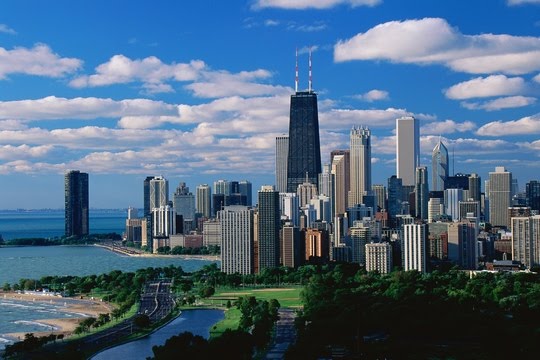 Contrary to popular belief, Chicago is a wonderful year-round destination. Yes, Chicago's nickname is "The Windy City," which conjures up images of being blown down city streets by an icy wind off of Lake Michigan. Actually, that nickname comes from our long-winded politicians. As a lifelong Chicagoan, I can attest to that.
Some of the varied things to do in Chicago this winter include:
Museums
Three of Chicago's best museums are located on a museum campus: the Field Museum, Shedd Aquarium, and Adler Planetarium. This means you can park or take public transportation once to visit all three. In addition to their outstanding permanent exhibits, each museum offers special exhibits, events and tours.
There are currently four special exhibits at the Field Museum: "Maharaja: The Splendor of India's Royal Courts" (through February 3, 2013), Titans of the Ice Age 3D movie (through December 31, 2013), "Fashion and the Field Museum Collection: Maria Pinto" (through June 16, 2013) and "Images of the Afterlife" (through June 9, 2013).
"Extraordinary Experiences" are three programs conducted by the Shedd Aquarium that any animal lover will enjoy. The experiences include a beluga whale encounter, trainer for a day with a Shedd marine mammal trainer and penguin encounter with the Shedd's adorable penguins.
Have you ever wanted to visit a planetarium at night? You can at the Adler Planetarium. Every third Thursday the planetarium offers "Adler After Dark," an evening event for adults over 21 which combines cocktails with amazing views and exhibits. For families, there are monthly Astro-Overnights. Upcoming Astro-Overnights are February 1, March 1 and March 15.
Another of Chicago's outstanding museums, the Museum of Science and Industry, is running a special exhibit about Charlie Brown through February 18, 2013.
Dining
Chicago is a fabulous restaurant city with many fine dining and ethnic restaurants located throughout the area. If you want the opportunity to sample food from many of Chicago's most well-known restaurants at a discount, don't miss Chicago Restaurant Week (February 1 to 10). According to Meghan Risch, vice president of communications at Choose Chicago, Restaurant Week is "a celebration of our culinary industry." During Restaurant Week, over 250 restaurants offer prix fixe menus for lunch and dinner starting at $22 for lunch and $33/$44 for dinner.
If you are interested in sampling a larger variety of food and drink in one location, check out First Bites Bash, the official kick-off event of Restaurant Week. First Bites Bash is a culinary tasting event that brings together more than 50 of the city's most celebrated chefs and restaurants. It's held January 24, 2013 in the Great Hall at Union Station and tickets are available for purchase at www.firstbitesbash.com.
Theater
Chicago is a great city for theater with over 200 theaters offering everything from full-on Broadway shows to small regional productions. For the latest in big Broadway productions, see the schedule at Broadway in Chicago.
Some of Chicago's more celebrated regional theater companies include the Steppenwolf Theatre Company, Lookingglass Theater Company, Goodman Theatre and Chicago Shakespeare Theater.
Finally, no discussion of Chicago-based theater would be complete without mentioning Second City, one of the world's premier comedy clubs where many of the all-time greats got their start, including Dan Aykroyd, Stephen Colbert and Tina Fey, among many other well-known names in comedy.
Beyond theater, the city also has renowned dance companies and operas, as well as Chicago's symphony, which features over 100 musicians.
Sports
You can enjoy numerous sporting activities during Chicago's winter months. Ice skating and hockey are especially popular with opportunities for spectators and participants.
The Chicago City Classic at Soldier Field provides the chance to spectate and to skate. February 17, 2013 features the showcase event, two outdoor college hockey games. Notre Dame faces off against Miami at noon followed by Minnesota versus Wisconsin at 3:30. On February 2 and 18, there will be free public skating at the Soldier Field rink, however, you must obtain tickets in advance. For all ticket information, see Chicago City Classic.
Other outdoor rinks are located at Wrigley Field through March 3, 2103 and Millennium Park through March 17, 2013. If you prefer to skate indoors, go to the John Hancock Observatory where you can skate 1,000 feet in the sky through April 8.
If you're a hockey fan you may also enjoy going to a professional hockey game. Chicago Blackhawk tickets and schedules can be found at http://blackhawks.nhl.com. Chicago also has a professional AHL hockey team, the Chicago Wolves.
Other Upcoming Events
• Navy Pier Snow Days, January 25 - 27, 2013.
• Chicago Auto Show, February 9 - 18, 2013.
Planning Your Trip
Chicago area hotels offer many packages for families, couples and special-interest visits like girlfriends' getaways. And, because fewer people visit Chicago in the wintertime, you can get some great deals.
To save money on some of Chicago's best destinations consider purchasing a CityPASS. With a CityPASS you can visit the Shedd Aquarium, Skydeck Chicago, the Field Museum, John Hancock Observatory or the Museum of Science and Industry, and the Adler Planetarium or the Art institute of Chicago all for one discounted price.
For more information about Chicago and planning your trip, go to Choose Chicago, the official Chicago visitors' site.