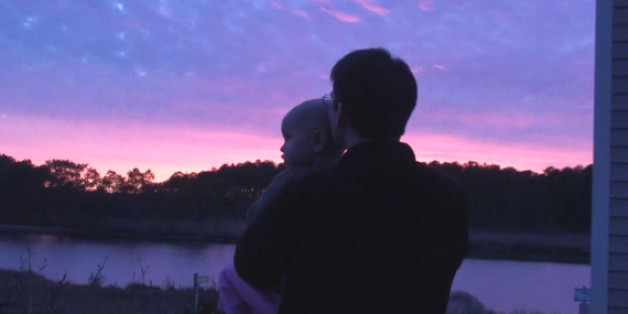 The pink dress hangs on a hook on the back of my door. I brought the dress out of its hiding place in the way-back depths of my closet several weeks ago while looking for an outfit to wear to a mother-daughter luncheon. It is a beautiful dress -- the only pink dress that I have ever owned. I bought it six years ago for a dinner to celebrate my birthday at our favorite restaurant in Great Falls. My daughter, Kiley, was going through her "pink princess" phase, and she and her younger sister, Katie, were thrilled with the dress, as well as with the hot pink, high heeled, strappy sandals I bought to match. The birthday dinner was lovely. The shoes were fun and funky. The dress was a perfect fit. And I realize as I look at it hanging against the door, that it will never be worn again.
I can't erase the image of that same pink dress thrown across a bedroom chair on the day my youngest daughter was diagnosed with Stage IV Burkitt's Lymphoma -- a rare but most aggressive form of cancer.
I remember making a note to add a trip to the dry cleaner to that day's "to do" list, as I rushed out of the house to work that Thursday morning. I was worried about Katie, who had been sick for several weeks. Even as I watched her flipping and running around the yard, I felt a sense of unease, but pushed it aside, thinking that she couldn't possibly be sick if she could still be that active. Right?
As a mother, and, admittedly, one prone to anxiety, worry plagued me. None of the pediatricians at the large practice group could give us a logical answer as to why Katie kept getting sick; they "diagnosed her" with allergies, sinus or ear infections, and just a plain, old cold. But I knew. I knew that she just "wasn't herself." I looked up her symptoms on the Internet. Surprisingly, only one page popped up with the word "cancer"; the other pages were less sinister. So, I did my best to accept the simple explanations that the doctors provided, and to disregard the outlying website. I even tried to listen to my own, rational voice.
But fear continued to poke me. One night, I noticed that her stomach was hard, distended. Her belly felt like mine at eight months into my pregnancy. Something was not right. I made yet another appointment.
The next afternoon, I received a call from Katie's preschool -- she had a bloody nose that wouldn't stop. "Nothing to panic about," her teacher explained, but I literally ran out of the office to my daughter. I didn't realize that this phone call from the preschool marked the beginning of the nightmare that would change our lives.
We were admitted into the hospital, and I shortly joined the approximately 35 other mothers that day who heard those dreaded words: "Your child has cancer." My own mother dropped everything and rushed to our home to take care of a confused and frightened Kiley so we could spend every moment at the hospital. My husband and I took turns sleeping with our tiny girl in the single hospital bed, wrapped around her, almost cocooned by the IV cords, and surrounded by incessantly beeping monitors.
This is where I awoke on Mother's Day, 2008. Shortly afterwards, I met the woman who would become Katie's oncologist. A mother herself, she was extremely frank and upfront. Her words thrust us into the harsh reality of what we were facing as a family. Burkitt's Lymphoma is an aggressive, fast-moving disease, and there is no time to waste upon diagnosis. In shock, I ran home briefly to grab some more clothes. It was the worst Mother's Day of my life, and I'm sure the same could be said for my own mother. The two of us stood together -- stunned -- in the unusual silence of a toddler's bedroom. I hugged Kiley, finally forcing myself to break free from our clutching grasp, ran back to the car and put the key into the ignition.
But I wanted to run back inside the house and hide. Just days earlier, I was celebrating a birthday with my husband and some friends, wearing my lively pink dress and my strappy, fuchsia heels. And now, one of my babies was fighting for her life, the other was terrified and I couldn't be there to comfort her. I could not even comfort myself.
A week later, with my father remaining at Katie's hospital bedside, we left the hospital again to watch Kiley's dance recital. The recital theme was The Wizard of Oz. The story of a girl who wanted to find her way home again... a girl who dreamed of life "somewhere over the rainbow." My heart nearly exploded; I'm sure the people sitting near me in the audience could hear it pounding. I walked out of the theater when Katie's group was on stage, while my husband and mother remained. They were the brave ones that day. Immediately following the performance, we said quick hellos to friends who greeted us with distressed, questioning eyes, and kissed Kiley goodbye, once again. I remember little else from that day, other than the (now) haunting music, the routine that was missing one dancer, and the exploding heart.
I still mourn the life we had before cancer came crashing in the door. It wasn't perfect, but it was good. It felt safe. It was a life I'd dreamed about after meeting my husband in our early 20s; I considered myself blessed to have him, two wonderful children, a meaningful career and wonderful friends and family.
While I had allowed myself to imagine the worst, even in the face of the doctors' initial reassurances, I never dreamed I'd have to confront the prospect of losing a child; watch someone I loved in intense physical pain while I stood by, helpless; share such a complicated and emotional crisis with my husband; contemplate how to help my oldest child through such a terrifying experience, hiding the tears I cried almost daily at the thought of her losing a much loved little sister; and learn how to be afraid while acting strong and clear-headed as we made high stakes decisions. And finally, I never thought I'd have to figure out how to put the pieces of our lives back together, and move forward toward a "new normal" after a life-altering crisis.
So, every year in the beginning of May, I try to allow myself some space to mourn the loss of that pre-cancer life, the time when I could still try to rein in my anxiety and fears with a rational voice, when I could still comfort myself with statistics about the "rarity" of childhood cancer.
But as the years go by, I have begun to slowly celebrate this time of year, and the rebirth and renewal spring represents.
Because strewn across my bedroom floor as I write this piece are the bright pink shoes that I wore to celebrate my birthday six years ago -- left behind by an energetic Katie and a thriving Kiley who were playing dress-up in them this morning.
Because hanging right next to that pink dress that will never be worn again is a glitzy blue and silver leotard that Katie wore to the Virginia State Gymnastics Competition last spring, and again this past weekend.
Because my room is plastered with pictures snapped over the past couple of years of two young girls, hugging and laughing with each other.
And, finally, because sitting across from my husband last week at our favorite restaurant in Great Falls for the first time in six years, wearing a bright blue dress, and strappy blue heels... I celebrated the best birthday, and early Mother's Day, that I have ever known.
Like Us On Facebook |

Follow Us On Twitter |

Contact HuffPost Parents