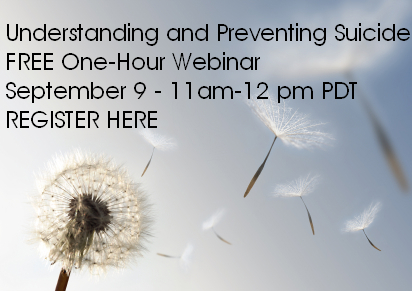 With September 5-11 marking National Suicide Prevention Week, I would like to use this blog to encourage everyone to learn the CPR to prevent suicide. Because people who feel suicidal are ambivalent--part of them wants to die but part of them wants to live--it is possible to reach out to them, and connect with, support and strengthen the part of them that wants to live. By learning how to detect risk and reach out effectively, we can all help to save a life.
This year you may have noticed more headlines involving suicide. Though commonly a subject swept under the rug, speculation about an increase in the national suicide rate makes bringing the topic out in the open more important than ever. Though statistics on 2010 suicide rates aren't yet available, there has been a notable increase in calls to the National Suicide Prevention Lifeline since the start of the recession. In addition, it's recently been reported that there have been more military lives lost to suicide than to the wars in Iraq and Afghanistan. The concern over the possibility of increased suicides may correlate not only with military service but also with the economic state of our country, considerations that bring the subject of suicide closer to home than we may have believed it to be.
According to statistics from the American Association of Suicidology (AAS), suicide is the 11th leading cause of death in the United States, with more deaths by suicide than homicide occurring in the US every year. An average of one person completes suicides every 15.2 minutes, while one person makes a suicide attempt every 38 seconds. For every suicide, there is an average of six people who are intimately impacted. It has been estimated that 4.6 million Americans have survived the loss of someone close to them to suicide.
Keeping the subject of suicide in the dark can lead to lives lost that could have been saved, and to survivors ignored and left to deal with their complex emotions in isolation. So what actions can each of us take to help save a life? This month on PsychologyToday.com, I have outlined a list of directives for preventing suicide that include:
- Help identify people at risk early
- Recognize the warning signs
- Learn the Helper Tasks
- Don't let it be a taboo topic
- Don't glorify or glamorize suicide
- Support a comprehensive community response
- Restrict the means for suicide
- Reach out to survivors of loved ones lost to suicide
You can learn more about each of these preventative measures by watching "Understanding and Preventing Suicide" this September 9 at 11 a.m. PDT. I will be hosting this free one-hour webinar designed to help the public and professionals learn the warning signs of suicide as well as the helper tasks that can save a life. You can also read "Let's Put a Stop to Suicide" on PsychologyToday.com.

For a comprehensive guide to preventing suicide visit PsychAlive's Suicide Prevention Advice page
Remember, if you or someone you know is in crisis or in need of immediate help call 1-800-273-TALK (8255). This is the National Suicide Prevention Lifeline, a free hotline available 24 hours a day to anyone in emotional distress or suicidal crisis or who is worried about someone they love.