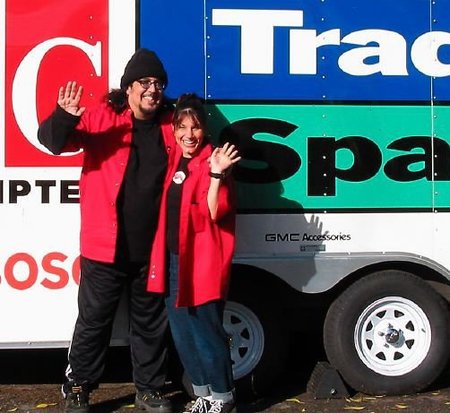 You're standing in Home Depot, and a stranger approaches and asks, "Hey, how would you like me to come home with you and renovate your kitchen... for free?!" If you're a fan of home improvement TV shows, you know your answer should be, "Let's go!" because you're in for the makeover of a lifetime. Free stainless-steel appliances, free tile, free granite countertops, and all finished in three days? Sign me up!
Its been over a year since the HGTV trucks rolled out of our cul-de-sac, leaving behind our fabulous new outdoor room. The Outdoor Room With Jamie Durie was our second foray into home-decorating reality shows. Nine years prior, my husband and I (self-admitted home show addicts) were fortunate enough to get picked for TLC's hit show Trading Spaces, along with our neighbors. At the time, Trading Spaces was the first show of its kind. To be chosen was a feat in itself. We were part of the show's third season. The show was hitting its peak and had a huge audience of homeowners like us, wanting tips on how to redo our living spaces inexpensively and with style. We considered ourselves very lucky to have been chosen, and we are grateful to this day.
People constantly ask, "How do you get on these shows?"
My answer is always that it's a combination of luck, logistics and these five tips that can help you get that home makeover of your dreams.
1. Comb the network websites for casting notices.
All reality networks have pages where they conduct casting calls for their shows. Visit these pages regularly to see what shows are casting, what locations they're shooting in and the types of renovations they are doing. Some shows pay for makeovers in full, while some require you to front the money, usually with discounted materials through the show. If the show is shooting in your area and it's a renovation that meets your needs, it's certainly worth a shot to make contact. The links for the HGTV and DIY casting pages can be found below:
2. Write a compelling cover letter.
Just like with a job interview, your cover letter is your initial foot in the door. Make it good. Make it memorable. Make it shine. Plead your case, and let your personality come through. Personally, I have always steered clear of desperation, assuming that the shows get more of these letters than anything. I have simply stated my love for the shows (which has always been genuine, never fabricated) and how important it would be to my husband and me to have the team's guidance in making our dreams a reality.
3. Submit photos that show your home/room/yard in all of its non-glory.
You're applying for a home makeover show, not a spread in Better Homes and Gardens. So don't clean up that mess in the kitchen or try to patch the holes in the living room walls before taking your photos. Show your rooms as they are in real life: kids' toys, dog hair, dirty dishes and all. You want your rooms to look the absolute worst they can look while still giving the show a glimpse at what could be a good canvas for them to work with. They need locations. You need a makeover. Do your best to make your pictures reflect their needs.
4. Let your personality shine through in your initial interview.
If you make it past the cover letter and written application stage, your next step will be a call from the producers of the show. I cannot stress enough how important this part of the process is. This, in my opinion, is the make-it-or-break-it link in the chain. The minute you hear the person on the other end of the phone say, "Hi, this is so-and-so from HGTV," you most likely won't have to muster up excitement -- you'll already be over the moon that they made the call. Tell your story. Talk with a smile. And make your conversation intriguing enough to get to the next step, the in-person on-camera interview.
5. Cameras love enthusiasm (read: give a good reveal)!
So you've nailed the phone interview. The producers have made an appointment to come to your house to scout your location and see how you look on tape. Now you really need to shine. To push an episode through, you need enthusiastic participants. It's time for your close-up. Be big! Be happy! Be interesting! Smile a lot and do your best to sell yourself during the on-camera interview. Walk the producers through your home/yard, pointing out its flaws, giving them insight into how you envision it looking with a little TLC. Good preparation for this step is to watch these shows closely to see the types of people they cast. It's not often you'll see someone who is quiet or speechless or not camera-friendly. If you have any interesting hobbies, this is your time to talk about them. Have an unusual job? Share your story! You really need to bring it during this stage of the process. If you do, you just might find yourself roasting marshmallows over your new custom firepit or hosting a dinner party in your newly renovated kitchen.