November is the roll out of the holiday season, which is filled with anticipation of get-togethers with family and friends, sharing great food and wine, opening your home to others, and celebrating a sense of gratitude and abundance.
Of course, Thanksgiving is the "heavy-hitter" holiday of the month, and always requires a little planning. Whether you are hosting the entire family, playing it loose with a group of friends, or you've decided to invite everyone over for a pre-Christmas bash, now is the time to prepare your home for entertaining. In short, for me, early November is about getting organized!
How you plan to entertain informs how you need your home to perform for your guests, so a quick evaluation of what you'll do is important. Do you want to sit around a table in the traditional style? (For many of us, that can definitely limit the number of people you're able to entertain.) Or, are you planning on a buffet with mixed seating in all your public spaces? Both options are solutions where your personal style can shine, and knowing how to combine things will make all the difference.
If you've got the large-scale dining table, Thanksgiving is its raison d'être, and going all out can be fantastic fun! Dig out all your best tableware, or even mixing and matching with repurposed pieces from antique stores can look great. The key to pulling off this concept is to make sure you keep one detail consistent, such as color or pattern. I love the tension created by this contemporary plating and the very traditional English Christmas Cracker. This combination works well, as they have kept the colors to a simple white and silver.
Andrew Bret Wallis/Photodisc/Getty Images
Now a centerpiece is nice, but tricky. You either need to keep it low enough so everyone can see over it or commit to something on a pedestal, that brings it up and out of the visual line of sight. If you have higher ceilings, a full blown candelabra can be fabulous, but then let it be the feature, and keep all your other details and color statements simple, acting as background. In the image below, I kept the table very clean as the room was quite ornate, and added the classic candelabra as the feature statement.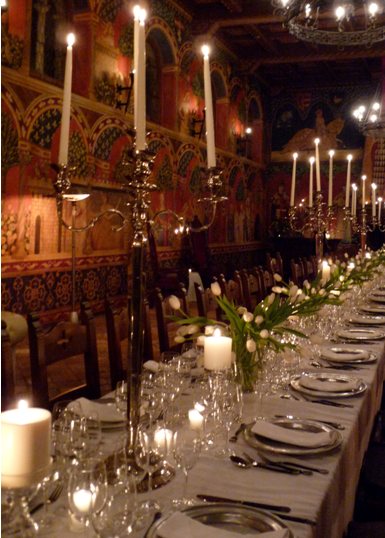 David Shapiro/LHDG Images/Lisa Holt Design
Spare seating to accommodate extra guests at the table can come from other rooms of your home, but make sure that what you have will give your guests the right seat height to be at the table comfortably, with no need for the proverbial "phone book"! For a nice spare chair, I like these little woven leather ones; they are lightly scaled and have a great seat height!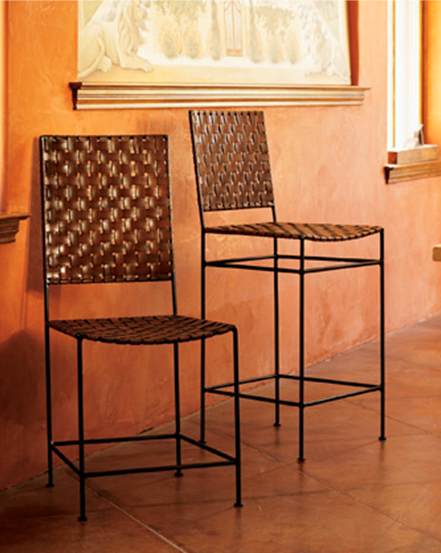 Courtesy of NapaStyle
Lighting your dining area is also very important, and is a reflection of the mood you are creating. A hanging pendant is a traditional solution, but the piece itself can be very contemporary.
For example, this interesting piece could be great paired with a broad range of table styles.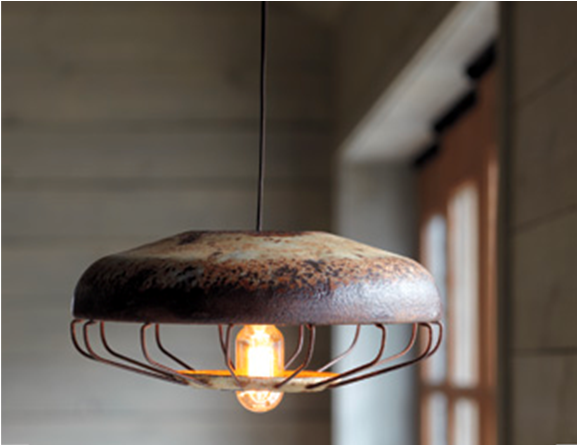 Courtesy of NapaStyle
I also really like the tension created by this very ornate crystal chandelier over a clean, contemporary table...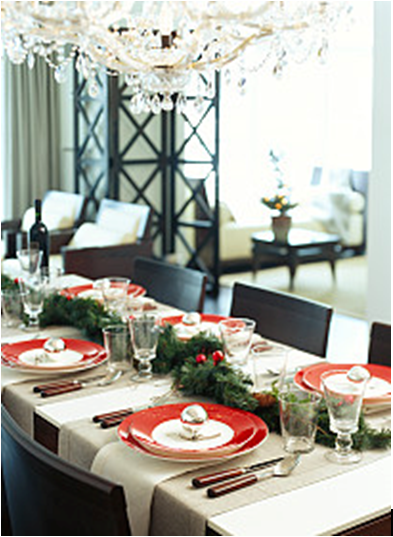 Radius Images /Radius Images/ Getty Images
Most importantly, make sure you have any overhead fixture on a dimmer! You always want to be able to lower overhead lighting levels if you are entertaining in the later hours of the day. Candlelight is also important, but be sure you have them placed so they are not in the way of the food or festivities, and absolutely no scent if they are in the dining areas!
Your guests will usually inquire as to what they can bring, which can open the door to some odd menu conflicts. My solution is to invite guests to bring a bottle of their new favorite wine or bubbly. I like to gather all the bottles together, placing them on the table for an impromptu tasting! This is a great way to discover new flavors and vintners. Just be sure to have plenty of glasses available for everyone to do a little sampling....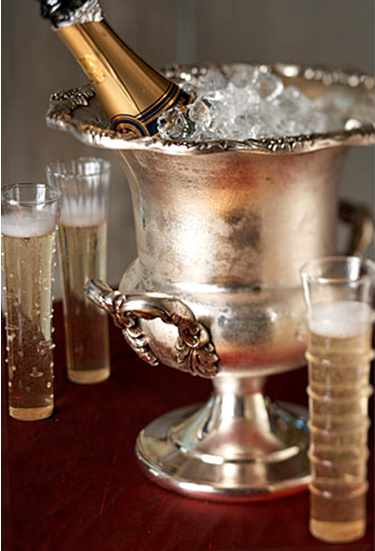 Courtesy of NapaStyle
Wishing you a stylish and fun holiday season!
Learn more about Lisa and her design work at www.lisaholtdesign.com/.