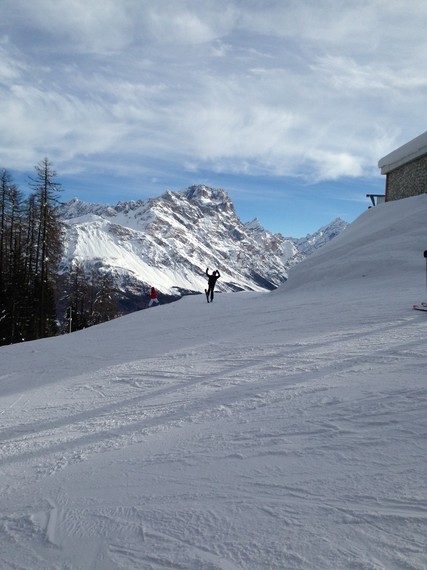 My son Zack skiing in the Alps, even during the holidays, ski areas in Italy were amazingly uncrowded. Scenery was really beautiful.
If you are planning a trip to Italy or Europe with the kids, it is a wonderful opportunity to expose your family to many new and exciting traditions, foods and people. My family of five (three boys) just returned from a wonderful holiday skiing trip to Cortina d'Ampezzo and wanted to share these tips for other families!
1. Mangia Bene! Eating out in Italy
Italian food may just be the most famous and popular foods in the world. Italians think so too, which is why when you go to Italy, be prepared to only eat Italian. Be aware when you go there that there are very few other choices of cuisine unless you are in a very big city like Milan. We are of Italian heritage and eat many traditional dishes, so we love the choices, but if your child's version of Italian is pasta with butter, try to expand his or her palate before they visit Italy. Italian food is so much more diverse than just pasta with wonderful meat, chicken, fish, risotto, pizza, polenta, grilled vegetables and more to choose from. Prepare your kids before you go so when you get there, they understand not everything will taste the same as at home.
Learn the different types of dining options before you go -- trattorias and pizzerias are casual and affordable, while ristorantes are more formal, require a reservation and can be an expensive night out for a family. Italians space their day out much more than Americans: Shops are open 10 a.m. to 1:00 p.m., close for lunch from 1:00 p.m. to 4:00 p.m. and reopen at 4:00 p.m. to 7:00 p.m. This means expect long lunches and dinner that doesn't begin until 7:30 p.m. The good news is, unlike many cultures, children are welcomed into every dining situation and it is not uncommon to see children eating out late with their families. It is my most favorite part of their culture, the enjoyment and pleasure of eating out with family over long meals.
Insider Tip: If you go in the winter, order Italian hot chocolate. Cioccolata Calda is more like a chocolate pudding but out of this world, my children couldn't get enough of it!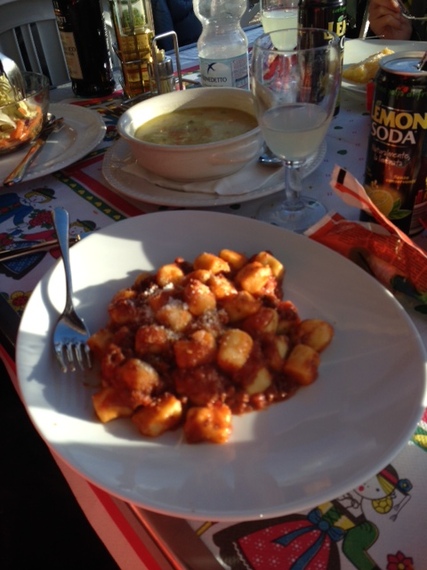 Homemade gnocchi at a restaurant on the slopes of the Italian Alps is a big change from American ski areas, delicious!
2. Fashion, fashion, fashion
Even at a young age, Italian children learn to dress well. For Italians, looking good and beautiful clothing is almost as important as eating well. When you pack, be sure and include some clothing for nights out that go well beyond t-shirts and jeans. Italians love jeans, but they have some of the most beautifully-crafted apparel in the world and dress up virtually every outfit. From the elderly couple to the tiniest tot, you will see them at night walking before or after dinner in their towns to socialize -- and they dress the part. These evening walks through a town's main street or center are a pleasure and terrific people-watching for kids and adults alike. Bring collared shirts, dresses and a nice pair of shoes, it is nice to see everyone doing their best to look their best.
Insider Tip: Leave space in your luggage or bring an extra bag to buy something. All of that strolling is for window shopping! From clothing to handmade local items, choose something for your child to remember their trip by. We bought three handmade ornaments for our Christmas tree that we will cherish forever and mom picked up an item or two as well!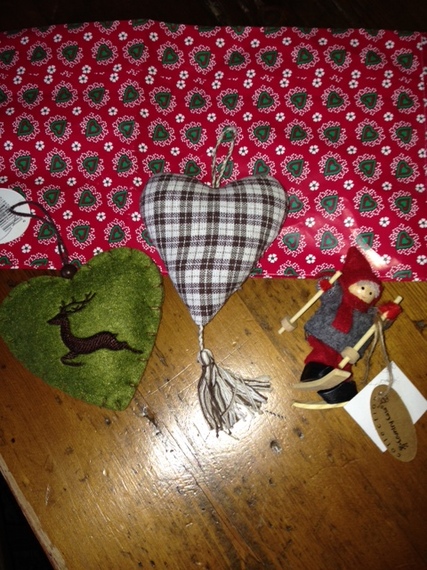 Handmade ornaments bought on our trip for just 10 Euro or about $13 U.S. total, reminded us of The Sound of Music, with pretty paper bags and a lifetime of memories.

3. Learn a Little Bit of the Language
Like any country you may visit, cultures always appreciate it if you use at least a little bit of the language when you are there. It is part of the learning experience for kids and it is easy to teach them the basics. Greetings for day and night -- Buon giorno! (good day), Buono Sera (good evening) and Grazie (thank you) and Prego (you're welcome) etc.... Learning these greetings are part of good manners and also gets them to interact with people. Many Italians do not speak English and, in fact, can seem unfriendly until you greet them in their native tongue.
Insider Tip: There are so many types of pasta beyond spaghetti. Pick five types to teach your children before you go so they can have fun with the alliteration of the language. Ask for menus in English when you are there if you need them, they almost always have them, but don't always give them out.
4. Do Your Travel Homework
We have been to Italy in both the summer and winter with kids and just don't assume things are the same as the U.S., which is of course, the main reason you are going. In my opinion, Italians are not forthcoming about any inside information, they like keeping that information to themselves. Google articles like this one that will give you any inside info, check out travel review websites for info about hotels, tourist activities to see what they cost, if they are good for kids etc... Consider your hotel location and style carefully, in town or outside? There are bigger hotels outside of smaller towns but you miss the romance of everyday life. If you stay at an international hotel, they will be very helpful with tourist info, a small family owned place? Maybe not so much, so you need info before but on the plus side, the charm and ambience may be spectacular.
For instance, unlike the U.S., where you could buy lift tickets at the gas station if you wanted to, lift tickets in Cortina were available in only one place. To buy them was quite a distance from the lifts and required our passports (who knows why), we then only found out about a special pass that you could buy and only be charged for the days you ski (in other words, didn't need to buy a pass everyday) because my husband was in line with another American couple. Even when he requested the pass, the attendant said there was no option like that, he insisted... only to find out she just didn't want to fill out the paperwork. It saved us a ton of time and money and of course, was a great story, but very typical.
Inside Tip: You are on their time. They start late and take their time. They are also aggressive, cut lines and negotiate anything. Take time to see how they live and by the end of your vacation you will have a completely different perspective on their culture, one I think you will adore.
5. Entertainment in Italy
My children, like most American children, love their phones, video games etc... but on this trip, there were very few Americans where we vacationed, and I literally saw no Italian children with these anytime we dined out. Italians love their phones, there is no mistaking that but you won't see kids at dinner using them or handhelds so leave them at the hotel. Back at the hotel, there won't be any movies to rent, games to borrow so bring anything travel size that you can for the downtime. Cards, mini versions of popular games (Monopoly, Scrabble etc...) are all great for when you want to relax or enjoy your book.
Insider Tip: If you go in the summer, every village has a market day or night of music and food which is amazing for the whole family. Find out which night your village has one and plan your schedule around it since you are often there a limited time before you go. Also, please note If you go during a holiday period, many places have a seven day minimum so off peak is best but the magic of a holiday in another country is equally rewarding.