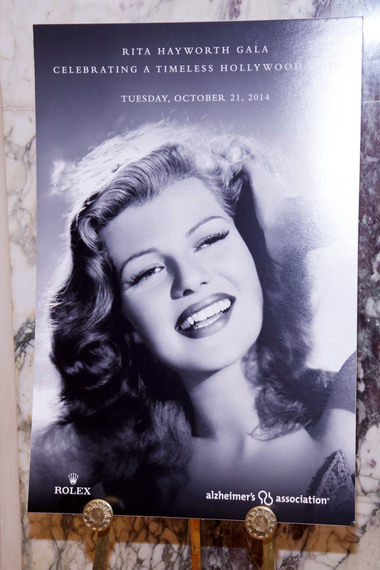 <
The 2014 Rita Hayworth Gala Celebrating A Timeless Hollywood Icon, Patrick McMullin photographer
Last week, I had the pleasure of attending the Rita Hayworth Gala in New York City as a guest of my dear friends Robin and Roger Meltzer. This year, marks the 31st anniversary of the Rita Hayworth Gala, which Princess Yasmin Aga Khan established in honor of her mother, legendary actress Rita Hayworth, who lived with Alzheimer's for many years before succumbing to the disease in 1987.
Since the inaugural Rita Hayworth Gala in New York, more than three decades ago, the New York and Chicago events have raised more than $65 million to support Alzheimer's Association's critical care and research programs. It is a tremendous achievement for Princess Yasmin, who I believe is one of the most significent game changers in how we think about Alzheimer's. The theme of this year's Rita Hayworth Gala was Celebrating A Timeless Hollywood Icon, and it could not have been more fitting. Today, the Rita Hayworth Gala is one of the most anticipated events in Manhattan, attracting a wide range of celebrities and benefactors.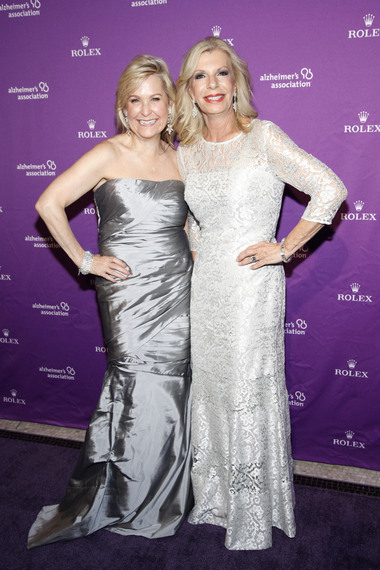 Gala Co-Chair Nicole Sexton with Gala Chair Princess Yasmin Aga Khan, Patrick McMullin, photographer
The Rita Hayworth Gala is a glamorous, spectacular affair, but Alzheimer's is not glamorous. Not in the least. The true beauty of the Rita Hayworth Gala, is that for so many of the people who support and attend the event, they know first hand the tragedy that is Alzheimer's and they are determined to fight it. Beginning of course, with Princess Yasmin. It is because of her courageous decision to tell her mother's story, that so many people began to speak openly about Alzheimer's in a way they never did before.
I first met Princess Yasmin more than four years ago when my public relations firm was asked to assist with the New York event. After I began working with the Alzheimer's Association and Princess Yasmin, she quickly became a hero to me for many reasons. Contrary to today's celebrity obsessed culture, Princess Yasmin has always shied away from the spotlight despite her famous lineage. She is a gracious, kind, and elegant woman, with impeccable manners. But make no mistake about it, she is a giant in the fight to find a cure for Alzheimer's. Especially passionate about the ravages of the disease on women, and the fact that caregivers are overwhelmingly, women, Princess Yasmin has used her considerable influence, energy and passion to motivate and mobilize action.
Four years ago, in her piece for the Huffington Post entitled, Waking up to the Realities of Alzheimer's, she wrote, "It's time to harness the power and ability of women helping other women to start a dialogue around this disease. We've made great strides around treatment and prevention of other diseases, such as breast cancer, AIDS and heart disease. Why not Alzheimer's?"
I did not know Princess Yasmin 31 years ago, but I can imagine that when she stepped forward to raise awareness, talk openly about her mother's disease, and advocate for the need for a cure, she captured the attention of the media and her friends, with her grace and determination. This may be what I treasure about her the most. This unique quality of putting people at ease, while motivating them to action is not something that comes easily to most people, especially people who live in the public eye.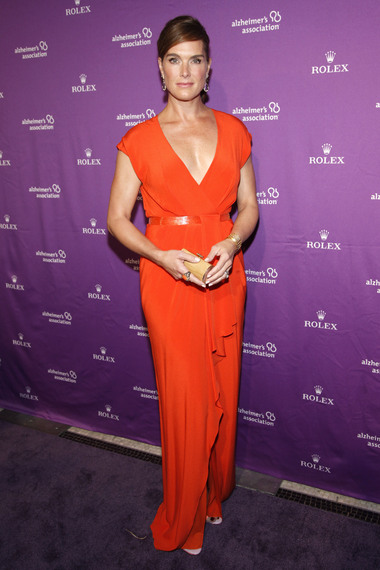 Brooke Shields is one of many celebrities who attend the Rita Hayworth Gala and support the Alzheimer's Association, Patrick McMullin, photographer
Perhaps Princess Yasmin inherited this unique quality from her mother Rita Hayworth, who's charm and beauty captivated men and women alike, but more likely, it is her personal experience as the daughter of a mother who suffered from a terrible disease, that sparked her determination to end Alzheimer's. My own grandmother suffered from Alzhiemer's and now, my mother lives with dementia. It is horrifying. Imagine a disease that is taking your mother away day by day, moment by moment. As a family member, you watch helplessly as you see your loved one struggle to put their thoughts and words together, to grasp on to their mind and their memories, and you see the sheer terror in their eyes because they realize on some level it is happening. Whether you are a movie star or a teacher, Alzheimer's does not discriminate.
As mothers, daughters, sisters and grand daughters, we all need to use our voice and energy to finding a cure for Alzhiemer's. When I look in the eyes of my mother I see myself and I am afraid. I am afraid for her and I am afraid for myself.
Last year, I retired my firm to take on some personal philanthropy projects. Like most Americans, I am deeply affected by this disease. According to the Alzheimer's Association, 1 in 3 seniors dies with Alzheimer's or another dementia. Alzheimer's disease is the 6th leading cause of death in the United States. Three out of five of those living with Alzheimer's are women, in comparison to one out of 11 in men. Three out of Five.
If that's not an epidemic I don't know what is.
Let us all, men and women alike, help finish the work that Princess Yasmin began 31 years ago and find a cure to end Alzheimer's and to give families and caregivers the support they need.To learn more or to make a donation, please visit www.alz.org.