If your family is like my family, you sort of pair off. A couple of you like football. A couple of you like Breaking Bad. A couple of you like broccoli.
A couple of you like musical theater.
Now, in my family, the musical theater divide is an impassable one. My younger daughter and I? We're passionate about it. My older daughter and my husband? They would rather be thrown into a pit of scorpions.
But that divide has resulted in some of the best times my 13 year-old and I have ever had. Once or twice a semester, I play hooky from law school and she plays hooky from middle school, and we take the bus from Philadelphia to New York to see a Wednesday matinee.
We don't tell anyone where we're going. We just tell my husband and my high schooler that we won't be home until late, and so they should eat all the broccoli they want (yep, they love it and we hate it).
For years, since my little one was 9 or so, this has been our modus operandi.
But then I accepted a job as a visiting professor for a year.
In Colorado.
About 2000 miles from Broadway.
And when my husband and I paired off against the teens and said, "We have the coolest news! We're going to Denver for a year!" my 13 year-old was not amused.
"That's way too far from New York," she said. "What about our hooky theater days?"
"We'll figure something out," I promised.
And so, as soon as we got to Denver, I started researching musical theater opportunities. Turns out, the Denver Center for the Performing Arts has a Broadway series that brings in the best of the national tours.
When I told my daughter, she was mollified. Just barely. "It's not Broadway," she said.
"I think you'll be surprised," I said.
Ever heard the expression that "mother knows best"?
Last night was our first Broadway-in-Denver experience. Evita. The national touring company.
And today, after an evening spent watching and listening and cheering, I haven't heard one single complaint about living in Colorado.
It wasn't just that the production was vibrant and passionate and charismatic. It wasn't just that the dancers exuded energy from the stage, and the singers hit notes at both ends of the scale that I couldn't sing in my wildest dreams.
It was that this cast, mostly young (Caroline Bowen - Evita - is only 25), mostly fresh on the theater scene (for many, it was their first tour), mostly bonded (at a talk back after the performance, you could feel the affection they felt for each other), obviously loved what they were doing. That passion flowed off the stage, and it resonated with the audience. And so this political musical about a woman we're not sure whether to love or despise - just like the Argentinians of her time - because less of a history lesson and more of an experience. An experience of watching the transformation of a young girl from the slums into a First Lady. The transformation of talented kids into veritable stars.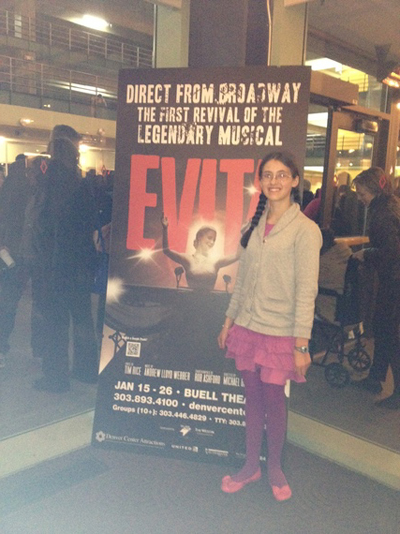 Driving home, late into the night, my daughter asked me, "What do you think it's like to be one of them?"
"One of whom?" I asked. "A soldier? A desperado living in the Argentinian slums?"
"An actor. In a musical." she replied.
"I think it must be fun," I answered.
"I think it's fun, too," she pondered. "But I think it must be really hard work. To sing like that. To dance like that. And at altitude! How did they breathe?"
"I think they just probably feel like they live and breathe musical theater," I answered. "Oxygen is sort of secondary."
My daughter smiled. "Us, too, Mom. We live and breathe musical theater, too."
"We sure do, honey," I replied. "Sounds like you're OK with the altitude?"
"Colorado's cool," she said. She was quiet for the next 10 miles or so. Then I heard her ask, quietly, wishing she didn't have to admit how great Broadway-Denver could be. "What's our next show?"
We'd managed to resolve our impasse. And Evita made it so.