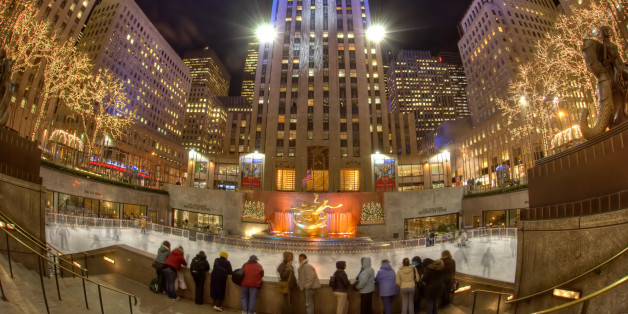 "NYC, what is it about you? You're big, you're loud, you're tough... Still I can't get enough." -- Annie
It's early fall, and I've got itchy feet. The kids and I are back in school, and my husband's adjusting his schedule to do the afternoon ice skating/French horn lessons/playdate/orthodontist/haircut runs. It's time for a romantic break -- and from our Philadelphia home, there's no better spot than New York. We call the sitter, pack an overnight bag and hit the road.
If you're anywhere on the East Coast, you must know about Bolt Bus, and if you don't, you should find out now. The economy bus line zips us from downtown Philadelphia to midtown Manhattan in about two hours, fairly comfortably and with free wi-fi. I can work on the way up, then leave my laptop in the hotel room for the rest of the weekend; for me, that's the perfect balance between work and play.
And New York City is such a fun place to play.
We've never been hotel loyalists, at least not in New York. There are just too many new hotels opening each month, it seems, and so many neighborhoods we want to experience. This trip, we check out the newly renovated Hotel Roger, a boutique hotel with a tiny, trendy bar and a breakfast buffet with homemade granola, baguettes and Sarabeth's jams. Our room isn't huge -- what NYC hotel room is? -- but the bed is comfortable, the decor is on trend and the bathroom and carpets are squeaky clean, something we care a lot about after all the horror stories you hear on the internet about bedbugs and mold.
The neighborhood around the Hotel Roger really makes it. We're a block from Vezzo, cracker-thin pizza some say is the best in the city; two from Penelope, a diner that looks like your grandma's kitchen and serves macaroni and cheese like she used to make and about four from Magnolia Bakery, where Carrie and company indulged in cupcakes on Sex and the City. It's a short walk from the Empire State Building (if you're a super touristy sort) and not far at all from Grand Central (ditto). In short, the hotel and the neighborhood are good choices for a weekend that's all about bonding and sleeping and hanging out.
Speaking of hanging out, we've heard great things about Cloud 9 Living, an experiential gift company that books adventures in a number of cities. We're lucky to nab a spot on a New York City Lights sail, a nighttime look at the New York skyline from an 82-foot, 1929 vintage sailboat. There's not much that's more romantic (corny, yes, but romantic) than sailing around the Statue of Liberty, all lit up at night and snuggling with a glass of wine in hand.
We head home refreshed -- back to work and school we go.
Two weeks later, I take a different kind of New York trip, this time with my theater and art crazy 11 year old. She and I make our way up to "the City" as often as we can. While my older daughter and husband are cool and everything, art aficionados they are not. This trip has a special purpose, though: my puppet-loving daughter has heard from a teacher at school that any aspiring puppeteer has to see War Horse at the Lincoln Center. I'm a little bit worried -- I've heard that it's sad and even a little bit violent -- but I'm persuaded when she says she knows about "guns and blood and stuff" and begs to sit up close to see how the giant puppet horses move.
The show runs late -- until almost 11 p.m. -- and there's no way I'm putting an 11 year old on the bus that late, so I spring for a mother-daughter sleepover at the Grand Hyatt. For a New York loving kid, it's the perfect venue, with its two-story lobby and many escalators and shopping and rooms with beds ideal for bouncing. What's more, Hyatt has recently rolled out a new, healthy but appealing kids menu, and she's game to try it if it means I'll take her to the theater afterwards. She digs into the grilled chicken with pesto and grins, saying, "This tastes too good to be healthy." Mission accomplished. Theater, here we come.
As it turns out, I was right. War Horse is sad, and it is violent. It is also absolutely captivating; even though the puppeteers are right there on the stage, moving the giant horse puppets around, I somehow forget they are there. I forget that these are not real horses, suffering through war. I forget that I had told my little girl that she was too young for this. I join her when she jumps to her feet, clapping, at the curtain call. I want to protect her from seeing horses die, but I want to enable her experiencing the feeling of catharsis from theater that rips her inside out. That's New York. That's what will bring her back again and again and again. I just hope she'll keep bringing me along for the ride.
Cabbing it back to the Grand Hyatt, my daughter curls up next to me and puts her head on my shoulder. She's working up to her last must-do: A trip to the Metropolitan Museum of Art. It doesn't matter how often we visit, there's something about walking up those front steps that's fun and New York-y all on its own, especially when (like the day we visit) it's raining and you have to huddle together under an umbrella.
Still, she's disappointed (and so am I) when she tells the volunteers at the information booth that she wants to visit the angel from The Mixed Up Files of Mrs. Basil E. Frankweiler, and they sneer and say, "Well, that was fiction, dear." We settle for the instrument exhibit and some costume gazing. As we leave to catch the bus, my daughter tells me, "Next time, let's come up and spend a whole day at the Met."
Never has a mother had so wonderful a child.
Next trip: We're going to eat some cupcakes and see a musical. And if my daughter has anything to say about it? We'll be back at Lincoln Center and, yes, the Metropolitan Museum of Art.
And the trip after that? I'm sure there will be some new surprises in store.