In wet years, California wildflower displays are spectacular swathes of yellow, pink, orange and purple. People drive vast distances to see wildflowers so abundant the landscape seems incredible, like something possible only in one's imagination or an animated film from childhood. This year, however, there are few wildflowers. The La Nina rains came early in the season, and only fitfully. California hills that are often astounding expanses of orange poppies and purple lupine are, this spring, as brown and dry as September. "Don't bother" is the essential message people receive when inquiring about visits to traditional wildflower viewing places.
But, this spring, you should bother to visit the Carrizo Plain National Monument. Yes, the Plain has only scattered clumps of blooming locoweed and owl's clover. Yes, the main dirt road that, in wet years, is crawling with caterpillars searching for forage is, this year, as still as a stone. Yes, Soda Lake that often hosts migrating flocks of whooping cranes is now only a crust of salt crystals. In comparison with the extravagant displays of years past, it is a dismal year. But there is still much to see: kangaroo rat precincts, the San Andreas Fault made visible in cliff faces and a stream bed offset by dozens of feet, a vast grassland emblematic of what once covered the great Central Valley, ephedra woodlands, and an expanse of earth and sky so open it would be disorienting but for the heartbreakingly beautiful song of the larks.
A few weeks ago, members and staff of the Theodore Payne Foundation were fortunate enough to be hosted on a tour of the Plain by BLM Botanist Denis Kearns and Wildlife Biologist Kathy Sharum. Denis and Kathy have experienced the Plain in its abundant and lean extremes, and Denis and Kathy's stories about the Plain reflected how worthwhile it is to experience a place when it is not in its heyday, when all is not lush and luxuriant. And here, I think, is something useful for the way we inhabit Southern California, for the attitude we adopt toward the land and its seasons.
In Southern California, many of us try to impose an artificial, unending Spring on the landscape. Many complain that Southern California has no seasons, but then install plants that are not native, plants that do not reflect the complexities of our varied geology and climate and do not nourish the seasonal butterflies and birds that would give us that authentic sense of seasons and place.
We long for authentic beauty -- for the autumn colors of the deciduous forests of New England or for the groves of redwoods further up the California coast. But Southern California has its own beauty to offer. Southern California is a place of some of the most rich and varied native plant life in the world. Yes, the world. Plant life that gives us that authentic sense of beauty if we would only take time to appreciate where we are. Not where we think we'd like to be, but where we are. Honestly.
Go to the Carrizo Plain and experience the deceptively spare landscape. Delight in the fuzzy red beetles, annual buckwheat, circling hawks and uninterrupted sky. Relish the Plain for what it is now, so that next year or the year after, when the flowers bloom again (and they will), you will feel the glory of the landscape because you have taken time to witness more than just one type of Spring... a Spring beyond wildflowers.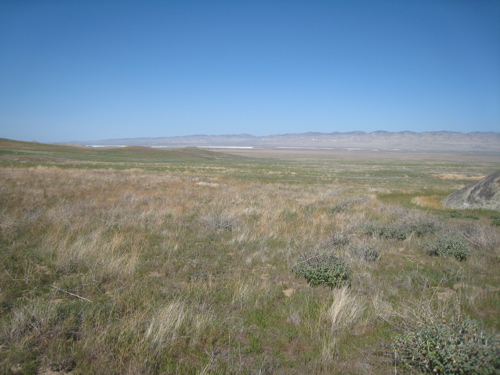 For more information about the Carrizo Plain National Monument, go to the BLM's website.