It's all the rage to be sustainable, but I've noticed that most people practice sustainability through gadgets rather than nature. People use low-flow shower heads, smart irrigation systems, compact fluorescent light bulbs, fabric shopping bags, electric cars -- all good! -- but rarely extend that consciousness to the way they garden. Here in my home town of La Canada, for example, I see Prius drivers pulling out of driveways surrounded by lawn and other water-thirsty, non-native plants.
Don't these people see the disconnect? I don't mean to pick on Prius drivers -- I'm just illustrating my point that being sustainable means that we must do more than buy manufactured objects. We must act like we're part of nature and must support nature by gardening with the native plants of our region. And we should do this wherever we live, in every urban and suburban landscape across the planet. Non-native gardens are the "elephant in the room" that too many people ignore while otherwise working hard to live more sustainably.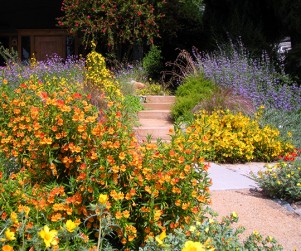 Garden 34, Los Angeles, Mid-city
Over the past year, I've written several pieces for the Huffington Post about the unique benefits of gardening with native plants, and on April 6 and 7 there'll be the opportunity for people to visit native gardens and learn, first hand, from those who've made the shift. Forty-two private and public native plant landscapes throughout the Los Angeles region will be open for viewing on Saturday and Sunday, April 6 and 7, through the
10th Anniversary Theodore Payne Native Plant Garden Tour
.
Ranging from edgy to sophisticated to cottage to Zen, these are patio, front and back yard gardens that are at least 50 percent native and showcase innovative spaces with edibles, water storage and recycling, butterfly and bird habitat, plants for clay soil and erosion control, imaginative container gardening and much more. Owners, designers and docents will be at each garden to answer questions and interpret the garden's beauty and rationale. These are the gardens that we should emulate full throttle to move beyond gadgets, support biodiversity and make our water and energy use plummet.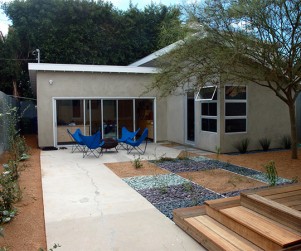 Garden 37, Mar Vista
In the United States, 55 percent of our land is devoted to urban and suburban uses (Bringing Nature Home, Douglas Tallamy. Timber Press, 2007). Imagine the support we'd provide to nature, and all the ecosystem service benefits we'd reap, if this 55 percent were landscaped native. Imagine the bird and butterfly species that would rebound from their current breathtaking decline and the water we could reallocate to our rivers and aquifers (if we didn't then spend it on new golf courses or master-planned communities with hundreds of acres of mandated lawns). Imagine the change for the good that would occur if we all extended being sustainable to how we treat the land where we live.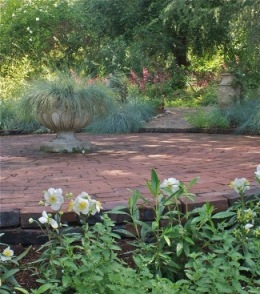 Garden 7, Altadena
I urge everyone to attend Theodore Payne's Native Plant Garden Tour and I'm calling on everyone, especially Los Angeles fashionistas, landscape architects, taste-makers, trend-setters, city planners and movie people to get hip to the profound good we can do for the planet right here, right now, through gardening with native plants. Visit some of the gardens on the tour, then make native plants a thread running through everything so that native can become mainstream. Film, art, cityscapes and fashion should translate native gardens into something for everyone, because everyone needs functioning ecosystems and their beneficial services in order to survive. Do fashion shoots that play on the architectural character of native oaks and deer grass, or reflect the luminous blooms of our native sage and lilac.
For movies, choose residential locations that show the graceful beauty of our no-mow native grasses rather than Downton Abbey-type lawns that have no place in Southern California. In design and architecture, accessorize and landscape with native flora so that the public becomes familiar with its beauty. For only through familiarity, in a broad range of contexts, will native plants gain acceptance and be used at the level we need for our own well being.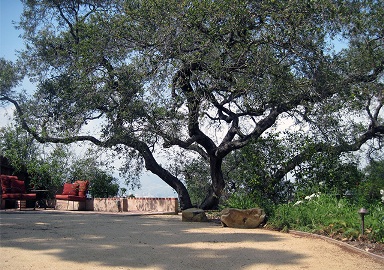 Garden 20, Echo Park
All across Southern California, the elephant in the room is the water-thirsty garden mammoth that stunts biodiversity. Let's consign these mammoths to history. Let's make history by becoming a city that makes enlightened choices to live more in harmony with our natural surroundings.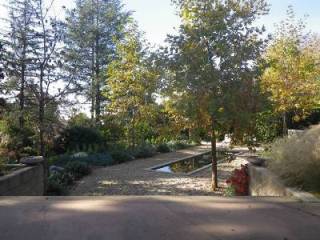 Garden 6, La Canada Flintridge