As I mentioned in another article, Ruin and Rising is one of the most anticipated YA finales of the year.
It's the final book in The Grisha trilogy, which I've absolutely obsessed with. Shadow and Bone was one of my top reads of 2012, and Siege and Storm left me speechless. This is a series to read immediately -- especially because Ruin and Rising will be available June 17.
I recently chatted with the author, Leigh Bardugo, about the final Grisha trilogy novel, George R.R. Martin and what she's up to next.
How do you feel knowing the final book of The Grisha series is coming out in a few short weeks?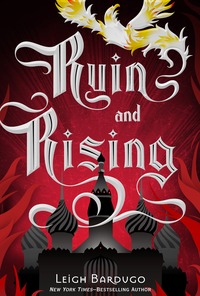 LB: I bounce between excitement, terror, and relief that I won't have to worry about giving away spoilers anymore. It feels great to finally share the last piece of the trilogy, but endings come with so many expectations.
Your characters, especially Alina and Mal, go through a transformation throughout the last two books. What type of trials will they face in Ruin and Rising?
LB: All I can tell you is that I put them through hell, but I always do it for a reason. It's funny, people talk about George R.R. Martin killing off characters, but the best lesson I learned from his work wasn't murder and mayhem (or wasn't just murder and mayhem). It was to take away the thing a character believes most defines him or her -- Jaime's hand, Theon's name -- and see what happens next.
In Siege and Storm, I loved the addition of Sturmhond. Was that character inspired by anyone real or fictional?
LB: Thank you! I thought Sturmhond was my Han Solo character, but I suspect he's actually a little more Lando. He was also heavily inspired by Dorothy Dunnett's Lymond and by Orczy's Scarlet Pimpernel. To be honest, his character took me by surprise a little. He began as just a note in an outline: "A privateer." But he leapt onto the page and wouldn't shut up.
I love your use of Pintererst to gather images of outfits, settings and symbols. How has doing this helped your write/develop the story?
LB: With the first two books, the Pinterest boards were really just a way for me to communicate ideas to artists and designers. But I found it really addictive and as I got into Ruin and Rising and my new series, the boards became a way to garner ideas and also to just get me back into the feel of a world or a moment in the story. Also, I'll confess that I don't share all of my inspiration images. If I find a picture that really looks like the character in my head, I often hold it back. I want to leave "casting" to the readers.
What is one piece of wisdom you know now that you'd tell yourself before you started the process of getting published?
LB: For me, the real hurdle was in writing that first book. So I'd tell younger Leigh to commit to writing a terrible first draft and just get it done. But once you write the book, so much of the publishing process is simply beyond your control. Instead of offering myself advice, maybe I'll just belt "Let it go!" and hand younger Leigh a Xanax.
If there's one thing you hope fans say after finishing Ruin and Rising, what would it be?
LB: "Brilliant! I need 400 more copies so that I may build a great book fort!" Short of that, I'll go with "She broke my heart. Let's do it again."
I know fans are anxious to read more of your work. What new projects do you have on the horizon?
LB: I'm currently working on a new fantasy novel set in the world of the Grisha, but featuring a cast of different characters and focusing on a little island nation called Kerch. It's my Oceans Eleven, Inglourious Basterds, ragtag band of misfits story.
For other YA book recommendations, reviews and mayhem, visit my blog ReadBreatheRelax.com