"My name is Bond... James Bond."
Just why are we so bonded to that line and the world's longest running film franchise sourced in the Ian Fleming novels?
SPECTRE tells us.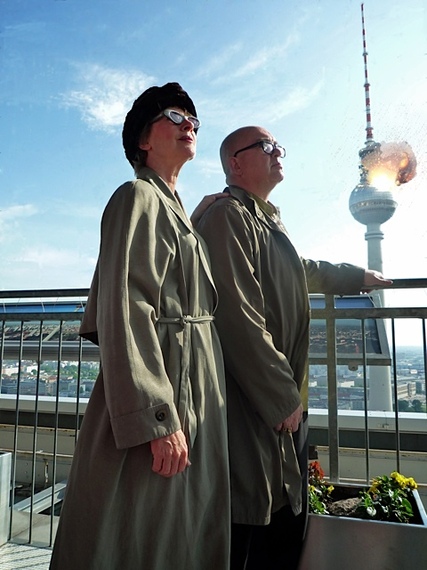 "The Big One: Laurence Rickels and Nancy Barton channel Ernst Stavro Blofeld and Irma Bunt of SPECTRE," 2010.
In the same vein as Dr. Laurence A. Rickels' brilliantly idiosyncratic I Think I Am exhuming the corpus of Philip K. Dick, SPECTRE propels Kulturindustrie theory into the 21st century with its pointed multi-layered, multi-disciplinary fun-e-really examination of the Bond nemesis via the shadow of its creator, Ian Fleming.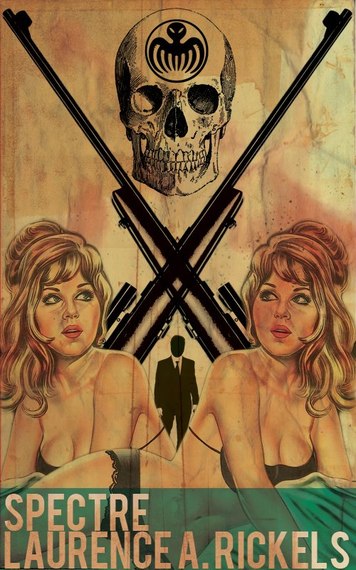 The thrill in the thriller: a book of Bond psychoanalysis from the pioneering cultural theorist Dr. Laurence A. Rickels, a professor at the progressive Kunstakademie Karlsruhe.
If we didn't realize we were missing SPECTRE's deep penetration into breasts, gadgetry, exotic locales, gender bending and other Bond signatures, then we must have been repressing it, for the collective consciousness is finally catching up to Rickels visionary endopsychic analysis tracing technological shifts with the psychological state of mourning...
"Burn bridges Burn!" declares Rickels in his acknowledgements to SPECTRE, the second release from the newly launched Anti-Oedipus Press. Like Fleming's creation of SPECTRE, Rickels' "SPECTRE" was conceived as the mourning-after (pun intended) incomplete burial: "just when I thought I had been cast out of U.S. academic publishing..." ("Portrait von Laurence Rickels, Karlsruhe 2012" by Pietro Pellini)
SPECTRE is Rickels' theoretic apparatus for his endopsychic penetration into Fleming's mourning act which served as a dark mirror for the global culture in which a third agency, run by the menacing Blofeld, destabilizes the polarization of the Cold War mentality.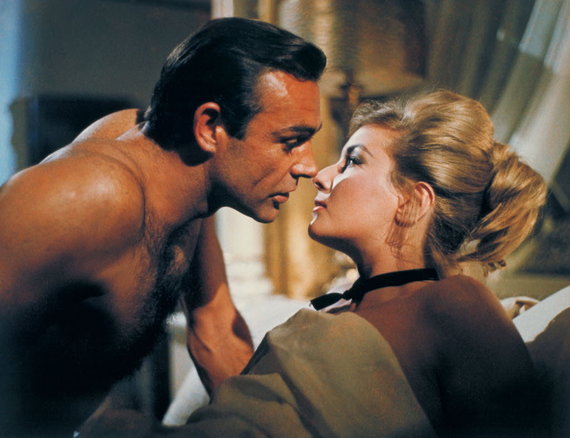 Sean Connery and Daniela Bianchi filming "From Russia with Love," which introduced SPECTRE at gaming with a Rickels' readymade, a "shaken and stirred" Bond pun via mixed metaphor: "When I came to the table I saw a spectre... the spectre of defeat. I thought your luck was on the turn." (AP Photo taken in March 1965 at Pinewood Studios, UK)
The philosopher unveils the manner in which SPECTRE (Special Executive for Counter for Counterintelligence, Terrorism, Revenge and Extortion) has been the shadow-gift that keeps giving in one dark undercurrent after another -- a graveyard of open crypts to exhume from the post-war rise of consumer gadgetry exemplified by Bond right through the Cold War polarities and into the digital universe.
The only theorist in Germany to write on Nazi psychoanalysis, Rickels won a cult following with The Case of California ...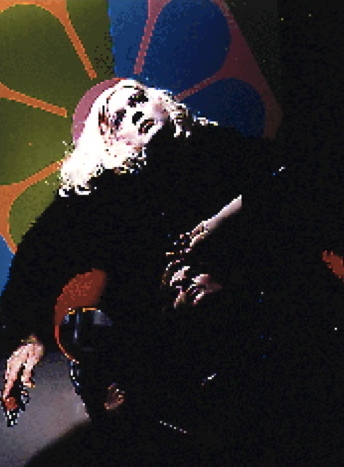 "Black Narcissus (The Case of California): Laurence Rickels and Nancy Barton." (1997)
... and his prescient The Vampire Lectures at the University of California which interpreted in advance of the collective feeding frenzy of the undead.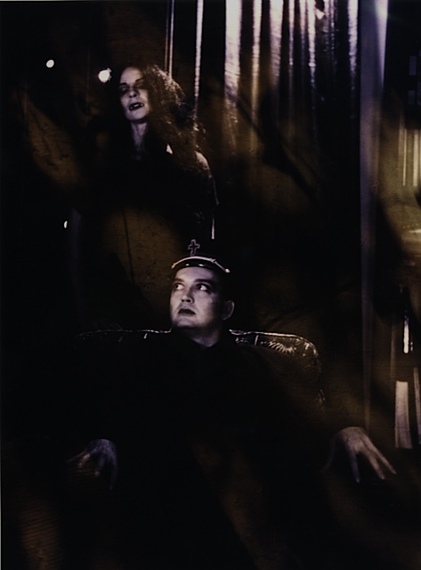 "Untitled (Ectoplasm): The Vampire Lectures with Laurence Rickels and Nancy Barton" (1996).
Along with his fellow (r)evolutionary Avital Ronell, he fires well timed missiles into academia exploding the long-repressed shadow in a bold and provocative marriage of Kulturindustrie theory with the two strains of deconstruction: biography and text.
We have now entered Anti-Oedipus territory...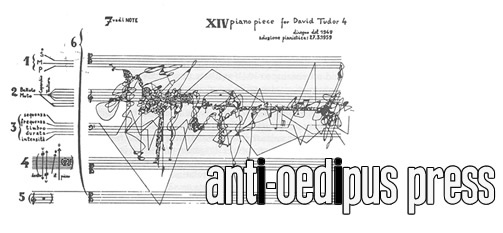 "Only the idea can inject the venom" is the publishing upstart's philosophy for connecting the cross wires loose in the culture.
... of post-patriarchal mourning...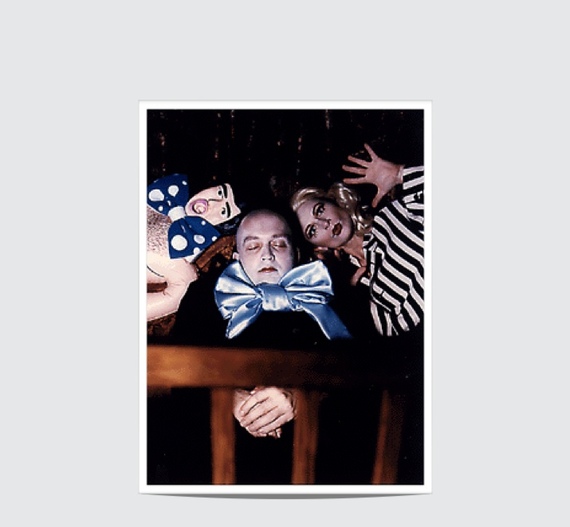 "Tot's Tomb (Aberrations of Mourning) with Dr. Laurence Rickels and Nancy Barton" (1997)
... in anticipation of Nietzsche's eternal recurrence of the Ubermensch by way of the self-devouring Ouroboros<:
"Nietzsche is something of a picaro -- according to certain modernist recyclings of the picaresque in terms of refusal to become assimilated within a collective of mourners. As he declared in Ecco Homo, Nietzsche divested himself of his biological heritage by identifying with his parents to the point of becoming what he had cannibalized: by surviving himself, he disgorged both his dead father, for example, and that part of himself which would have been afflicted or contaminated by this loss." -- Laurence A. Rickels, Aberrations of Mourning p. 41
Rickels boldly rips off the Oedipal blindfold to an endopsychic double play juxtaposing the post-Freudian Melanie Klein's case study projecting her own familial haunting with Fleming's fictional SPECTRE spooking his son, Casper, named for the friendly ghost.
Rickels penetrates the Bond Woman via Melanie Klein: "At first, the good breast alone counts; the bad or absent breast is a throwaway afterthought. But no one can leave good enough alone." (AFP/AP photo)
The provocations of Rickels' genius combustion engine -- Kulturindustrie, psychoanalysis, deconstruction, German idealism and Shakespeare -- lures us into introjection from the mindless mass media projection Sensurround riding Bond's technological wave. This way, we can claim our own ghosts while indulging in magical connections exhuming the unmourned in the culture.
Consider the notorious Bond vehicle that introduced so many children to "gadget love" (a term that Rickels was the first to theorize)...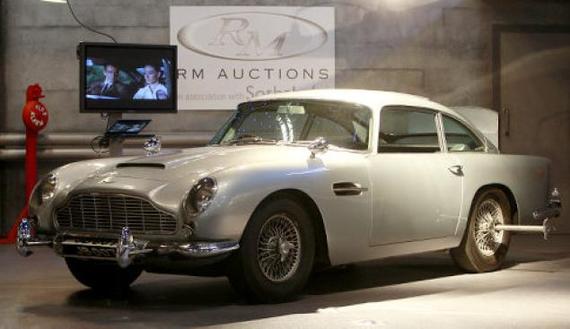 Bond's custom 1964 DB5 Aston Martin with ejector seat, machine guns, rotating license plates and other spy gear was mass marketed in miniature as a toy. (Grant/AP photo)
In 2010, the car was sold at auction for $4.6 million. And yet, it appeared as the vehicle of mourning in Skyfall, courtesy of the latest technological revolution: 3D printing.
The technology keeps evolving, but we can only propel ourselves with it, according to both Rickels and Skyfall, if we mourn our losses.
"The Big One", "Black Narcissus," "Untitled (Ectoplasm)" and "Tot's Tomb" images courtesy of the artist Nancy Barton from her ongoing series "Dr. Rickels' Cover Portraits". The series can be viewed at http://larickels.com
Pietro Pellini's portrait of Dr. Rickels courtesy of the photographer.
Lisa Paul Streitfeld is cultural theorist and Ph.D. candidate at the European Graduate School where she attended Dr. Rickel's seminar.
All images used with permission