Nothing says Americana quite like musical theater.
Despite rampant stereotypes, it's still one of the most popular entertainment venues in the country. (Just ask anyone who has stood in line at the TKTS booth in Times Square.) Many shows take place in another era, so exaggerated characters are often overlooked or snickered at by theatergoers. Others aren't so forgiving. To make outdated musicals more palatable, some groups are going so far as to 'sanitize' them. But doing so washes away all sense of history and context, not to mention artistic integrity. Altering scripts can also be downright futile. After all, how is it possible to change one character to another without offending someone else? When does sensitivity become censorship?
The Gershwin brothers are rolling over in their graves.
"Bess, you are my woman now. You are! You are! And you must laugh and sing and dance... no wrinkle on your brow... the sorrow of the past is all done. The real happiness has just begun."
Somehow, Porgy's lines just don't have the same ring to them.
A Boston area production of "Thoroughly Modern Millie" has generated quite a buzz for a high school musical that didn't even star Zac Efron. A TV program, community newspapers, blogs and several stories in the Boston Globe featured the production. One Globe article landed on the front page! Letters to the editor and online comments keep rolling in.
Any theater publicist would be jumping for joy. Except that all this 'ink' has had quite the opposite effect. Instead of showcasing the talent and dedication of the cast and crew, it has focused on Asian stereotypes. But, unlike "The Colbert Report," "Thoroughly Modern Millie" takes place nearly 100 years ago.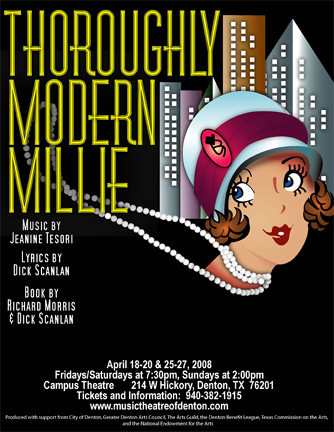 Negative rumblings in the community about an upcoming production would make most theater directors simply move on and pick another show. Happily, for the dozens of young thespians involved, good sense trumped sensitivity. The musical was performed for three nights at Theater Ink, Newton North High School's teaching and working theater. At least one of the events was sold out.
Going on with the show was the right thing to do. Here's why:
#1. Discussions began even before the first rehearsal.The school worked with the office of human rights and other groups to come up with a way to maintain the integrity of the production, while addressing concerns. Workshops about stereotypes and their impact were held throughout production. Most importantly, Newton North had faith in its students, who were considered mature enough to interpret outdated images. Not to mention how much fun they would have with the show. A large number of kids could participate, as "Millie" has a large cast to support many lines of comedic dialog and entertaining musical numbers. The musical is one of the most popular high school productions in the country and has been a community theater staple for more than 30 years.
#2. Before each performance, the director alerted the audience to an extensive production note in the program. It read, in part:
"Without question, 'Thoroughly Modern Millie' contains extreme negative stereotypes and offensive attitudes... the opinions expressed in this musical do not necessarily reflect the views of Newton North High School..."
#3. After the show's run, the school issued an extensive letter to the community. Following is a brief excerpt:
"It is our sincere hope that this production is one of both artistic integrity and one where significant learning has occurred. It certainly was never and is never our intent to offend members of our school or Newton community. The process of producing this show, and the thoughtful and sometimes challenging dialogue it has generated among staff, students, and the broader Newton community, exemplifies the program's commitment to explore, critique, and interpret how the human experience is conveyed through the arts. As the curtain went up this past weekend, we brought the constructive conversation and learning process that our school community has engaged in over these past few months to an audience of students, parents, and community members. We hope that you will choose to participate in it with the same appetite for learning that we have seen in our students - a genuine desire to understand our differences, our history, and ourselves..."
#4. The school held a public forum attended by members of the school's administration, parents and students. During the meeting, the school apologized for offending anyone in the community.
Newton, Mass., is a standard bearer of political correctness. (This is a city where schools promote a "Respecting Human Differences" campaign, hold LGBT assemblies and ban Halloween.) So the extra effort made to address concerns is not surprising for those who live there. Expected or not, the "Millie" community outreach model is public relations at its finest.
Like New Orleans Jazz and baseball, many theater productions of yesteryear help define America, although they are far from politically correct by today's standards. Some of the best loved American musicals are national treasures that will continue to provide valuable cultural lessons and stimulate discussion for generations. For goodness sake, let George and Ira rest in peace.