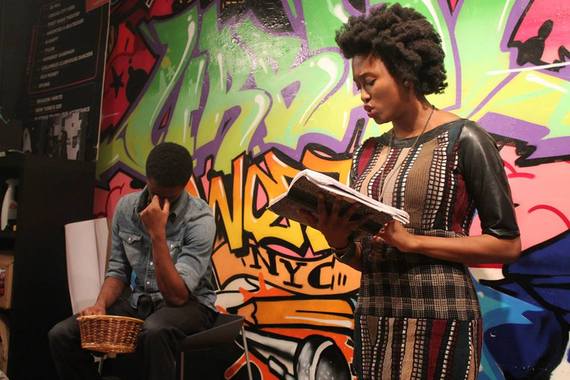 Spoken Word Poet Chanel Dupree Telling Her Story Through Poem.
Photo by Alysha Lorraine
"It has been said that next to hunger and thirst, our most basic human need is for storytelling." -Khalil Gibran
Stories are powerful. We define ourselves by the stories we tell. When they are positive, they can empower us. When they are desolate, they can make us feel insecure or question ourselves.
As a filmmaker who is responsible for capturing and telling stories of women and girls, I take my role very seriously. When I was asked to speak at the first Social Good Summit in 2010 on the panel, "The Power of Film," I publicly questioned whether I, or any other Western filmmaker was entitled to tell stories of women and girls living in extreme poverty, whose lives are so vastly different than our own. I have had conversations with high level UN media folks about whether the influx of mass media into areas of crises to cover humanitarian stories does any good for the people whose lives are directly affected by it. I pursued a career in filmmaking after personally witnessing in Kosovo and Albania how the media inaccurately and insensitively portrayed the war and the women affected by it.
The way stories of emergencies and development are told is in need of a shake up. No longer do stories that place women and girls in victimizing roles make any differences in their immediate lives. If we really want to affect change and empower women and girls through storytelling, we must address the power imbalance in how those stories are told.
I recently came across the incredible Dulwich Centre in Adelaide, South Australia, which focuses on narrative therapy and how storytelling can draw inspiration and transform experiences. According to author David Denborough of the book, Retelling the Stories of Our Lives, the stories we believe about ourselves are many times written by others. Often, stories of people's lives are told through "abusive, racist, sexist or homophobic lenses." When I think back to some of the most powerful documentaries about women and girls, I mostly think of films that highlight abuse or racism. And once the films are done and have started their distribution phase, who are the ones screening them? It's mostly middle-aged Western women usually advocating on behalf of women and girls of color.
I believe it's time for a storytelling revolution.
According to Denborough's "Charter of Storytelling Rights", Article 1 states "Everyone has the right to define their experiences and problems in their own words and terms." Article 4 states "Everyone has the right not to have problems caused by trauma and injustice located inside them, internally, as if there were some deficit in them. The person is not the problem. The problem is the problem." Denborough's six other articles articulates the rights we all have to ensure our stories are told, defended and when necessary, reclaimed authentically.
So, as storytellers and communications experts who work in the development arena, how do we ensure we are not violating the storytelling rights of those we are aiming to assist?
For me, the production process and distribution strategy of my new film ¡PODER! was the first step in revolutionizing my own approach to filmmaking and global health advocacy.
¡PODER! is a short, narrative film based on the real-life story of two indigenous girls named Elba Velasquez and Emelin Cabrera in Guatemala who transformed their community for other girls.
Creating the story from the ground up, by developing the script in collaboration with the two girl leaders and having them play themselves in their own story was an empowering process. My previous Huffpo article "Keeping Your Soul Right: Making Global Health Films About Women and Girls" tells the making of the film.
Now as ¡PODER! has its online premiere that will make the film widely accessible, I am launching a new "Film Ambassador" Club which aims to put the film as well as tools and resources (and some swag!) in the hands of girl leaders and their adult allies so they can host their own film screenings to inspire other young girls to create change in their own communities.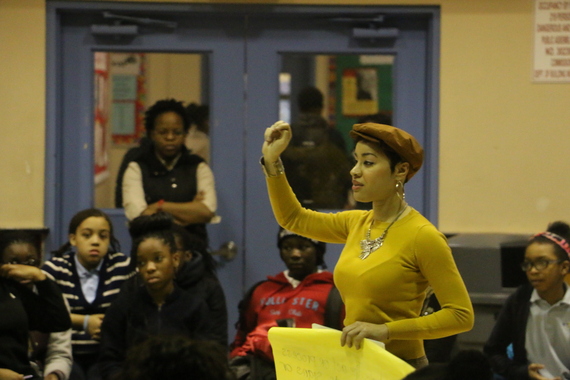 Workshop Facilitator Regine Roy, Founder of Queen Genuises Conference, facilitates a leadership workshop during ¡PODER! screening in Brooklyn, NY.
Photo: Warcheerah Said
As ¡PODER! rolls out, my goal is to ensure every screening of ¡PODER! respects the storytelling rights of Elba and Emelin and their community who entrusted me with sharing their story. I will continue to lead screenings but only in collaboration with girls-centered organizations, with girls of color, with leadership workshop facilitators and with young artists. I will no longer screen the film in ways that further perpetuate the power imbalance in storytelling. I will no longer target doing only institutional screenings but ensure girls, including girls of color, who need to hear the message of the film are my main audience.
Please support ¡PODER!, its revolutionary distribution program and the "Film Ambassador" Club by visiting www.poderthefilm.com.