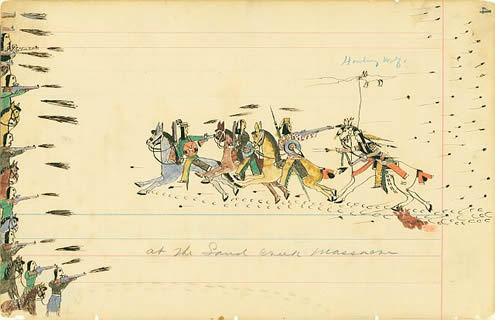 Depiction of Sand Creek Massacre by witness Howling Wolf, ca. 1875
This month Colorado marked a dark chapter on a stretch of windswept prairie: the 150th anniversary of the Sand Creek Massacre.
That event may not sound familiar, but what occurred over the span of 8 hours, back in 1864, has since come to be viewed by historians as one of the worst atrocities ever perpetrated on Native Americans.
In an unprovoked attack, more than 150 Cheyenne and Arapaho Indians, mostly women and children, were killed at a seasonal camp in eastern Colorado by a volunteer U.S. Army regiment. Body parts were paraded through the streets of Denver as war trophies. Several military and congressional investigations ensued, but no one was ever charged. No formal apology ever issued. Until now.
"We should not be afraid to criticize and condemn that which is inexcusable," said Gov. John Hickenlooper earlier this month, at the end of an 180-mile "healing run" that included direct descendants of those killed that day. "On behalf of the state of Colorado I want to apologize."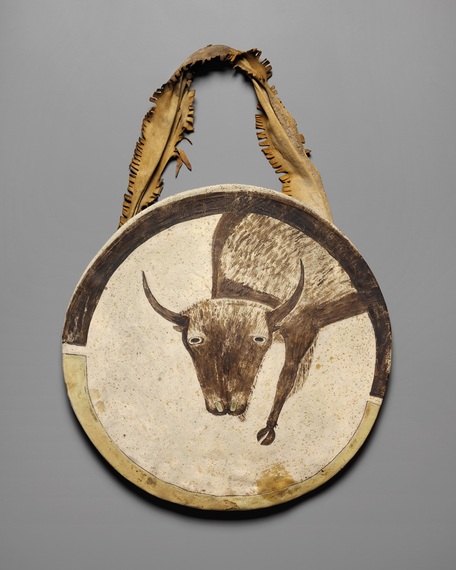 Shield, Arikara artist, North Dakota, ca. 1850
Today the Sand Creek Massacre and other incidents of its kind that accompanied the expansion of the western United States remain largely absent from history books. Attempting to correct that oversight -- and to showcase the dozens of Native American tribes, collectively known as the Plains Indians, who called the vast grasslands region from the Mississippi River to the Canadian mountains, their home -- is a groundbreaking new exhibit, "The Plains Indians: Artists of Earth and Sky," at The Nelson-Atkins Museum of Art in Kansas City, Mo.
What's so special about the exhibit? In a word, it's expansive.
The exhibit focuses not so much on warrior art -- a common feature of so many other Native American exhibits -- but on the full extent of Plains Indian artistic expression, says Gaylord Torrence, curator of American Indian Art at The Nelson-Atkins Museum of Art.
Since arriving at the museum over a decade ago, Torrence has helped move the museum -- and Native American art, specifically -- into the national spotlight, most notably with a 2009 expansion that saw a 6,000-square-foot exhibition space added to accommodate what has since been called "one of the most important collections of American Indian art," as The Wall Street Journal called it.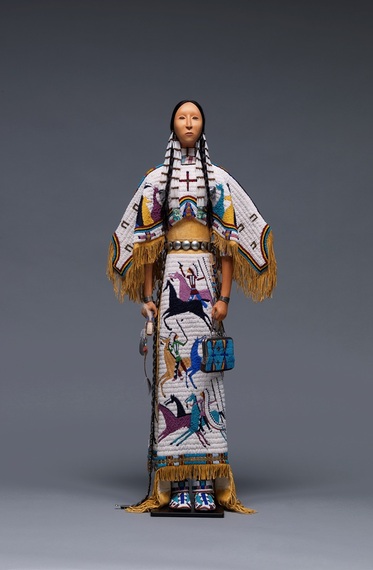 The Last Lakota Horse Raid Doll, 1991
Now comes the latest exhibit, which enlarges the usual focus on Plains Indian culture of the late 1800s to showcase artifacts ranging in time from pre-contact with European settlers to the contemporary age. Some items on display have never been showcased at a U.S. museum before; among them is a 19th-century feather headdress, on loan from the musée du quai Branly in Paris.
The indigenous arts museum in Paris, which holds artifacts collected centuries ago by French traders and travelers who visited the Great Plains in the 1700s, was actually the launching point for the current exhibit, and attracted a near-record crowd of some 200,000 visitors when it opened in the City of Light back in April.
In partnership with the Nelson-Atkins Museum, the exhibit then moved on to Kansas City, Mo., where artifacts were collected not just from the Paris museum but from collectors all over the United States, as well as from Germany, Austria, Switzerland and Canada; in all, the exhibit holds 140 artifacts brought together for the first time.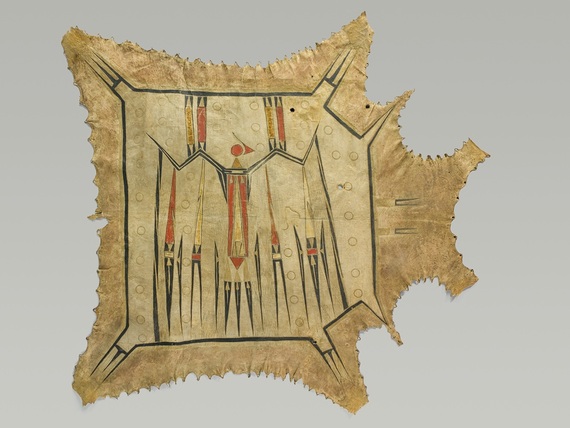 Robe, Eastern Plains artist; probably Illinois, Mid-Mississippi River Basin, ca. 1700-1740
Among the items on display are a 2,000-year-old stone pipe, painted robes from the 1700s and contemporary works from artists such as Kevin Pourier.
The exhibit runs through mid-January, then heads to the Metropolitan Museum of Art, where it will run from March 9 to May 10, 2015.
For Gaylord Torrence of Nelson-Atkins, the exhibit is a culmination of years of effort.
"From Paris to Kansas City, and finally, New York City, the exhibit showcases what has been absent up until now," he says, "and that's the view of Plains Indian artistry over four centuries to the present. These works embody a powerful sense of place -- America's Great Plains."