Swimsuit, check. Sunscreen, check. History lesson ... check? If ever there was a time to delve into Miami Beach's rich past, this is it. This spring, Miami Beach marks its 100th anniversary, and with it, visitors and locals alike are rediscovering the coastal resort city's early roots.
Long before it was ever home to Art Deco buildings, dance clubs and luxury high-rise condominiums, Miami Beach was a mangrove swamp. Take a look back at Miami Beach's early days, and some of the enterprising figures who put the city on the map.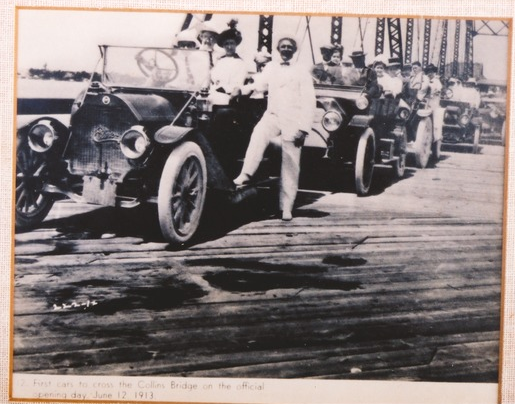 In its early days, Miami Beach was only accessible by ferry service. Then, in 1913, Collins Bridge opened, crossing Biscayne Bay to connect Miami with Miami Beach. Spanning 2.5 miles, the structure won the title of "longest wagon bridge in the world." The idea for the bridge came from American Quaker farmer and developer John Collins. The Moorestown Township, NJ, native had moved to southern Florida hoping to strike it rich in a farming venture. Instead, he became a land developer, and at the age of 75, completed the bridge, ultimately, with financial backing from fellow entrepreneur Carl Fisher. The bridge was later replaced by the Venetian Causeway, which remains in use today.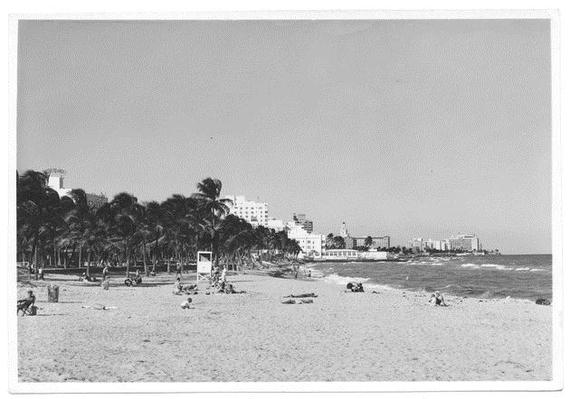 Around the same time, two Miami businessmen named the Lummus Brothers envisioned Miami Beach as a place to build single-family homes. In 1915, one of the brothers, John Newton, became the first mayor of Miami Beach. Eventually, both brothers were honored with an oceanfront park (pictured, above) dedicated in their name.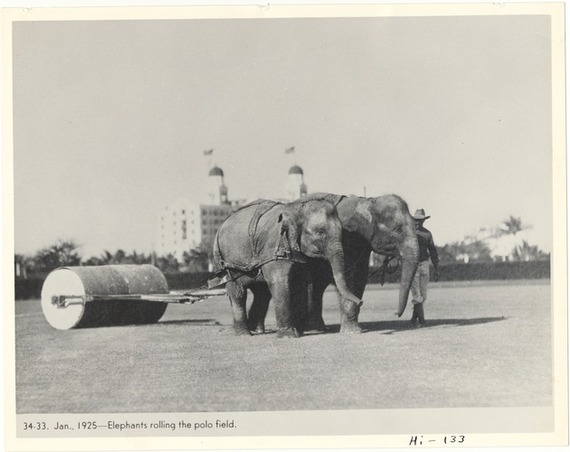 Say hello to Rosie and Baby Carl. In the mid-1920s, these two Asian elephants were recruited by American entrepreneur Carl Fisher as a unique way to keep Miami Beach's polo fields smooth. Here, they're photographed matting down the grass in between games.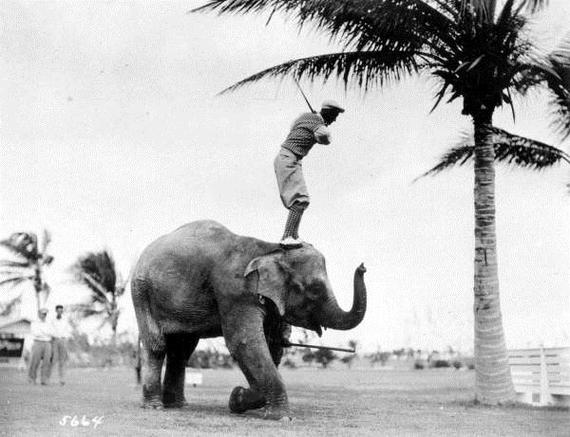 Polo wasn't the only draw to Miami Beach; its star elephant, Rosie, was, too. The novel idea came from Fisher himself. "I'm going to get a million dollars' worth of advertising out of this elephant," he said. In 1921, Rosie starred as a golf caddy for President Warren G. Harding while he vacationed on Miami Beach. Here, she serves as a golf tee for a publicity photo.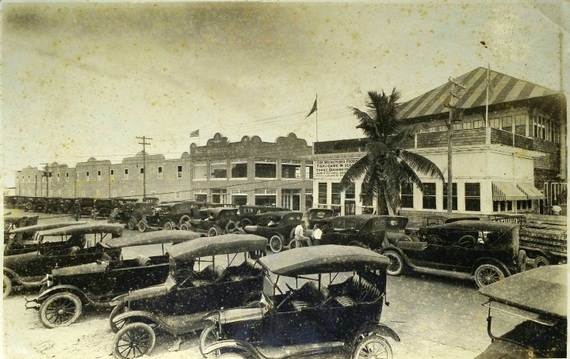 Beachfront comfort isn't new to Miami Beach. In its early days this stretch of South Florida was known for its casino baths, says historian Seth Bramson. The term "casino" simply meant "small house," and had nothing to do with gambling. Instead, the bathing casinos offered visitors a place to rent a locker, bathing suit and towel. Pictured here is the parking lot at Smith's Casino Baths in 1922.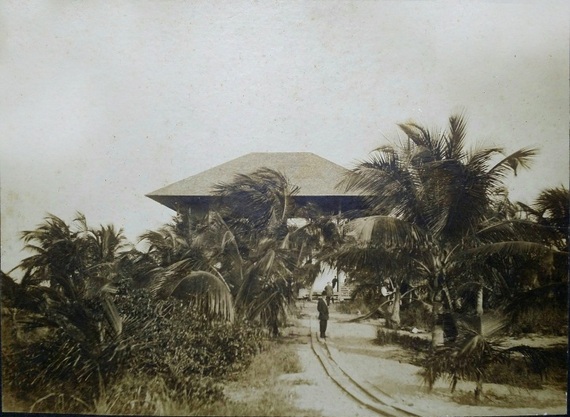 Another view of Smith's Casino Baths, the first of Miami Beach's bathing casinos. The attraction opened in 1908, and advertised itself as the place with the "largest swimming pool and largest bath house at the beach. Meet your friends at Smith's and breathe an atmosphere of cordiality." The property was named after Miami Beach settler Avery Smith, who went on to establish a ferry service on Miami Beach beginning in 1909.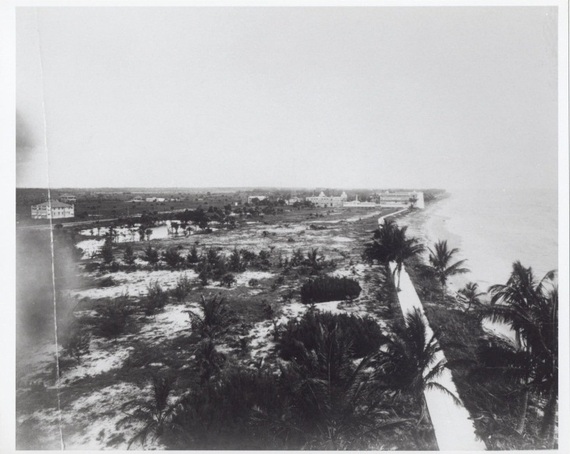 Just as Miami Beach was making a name for itself as a place you had to see to believe, natural disaster struck. In 1926, the Great Miami hurricane, as it came to be known, touched down, causing extensive damage to the Greater Miami area, as well as to the Bahamas and the Gulf Coast.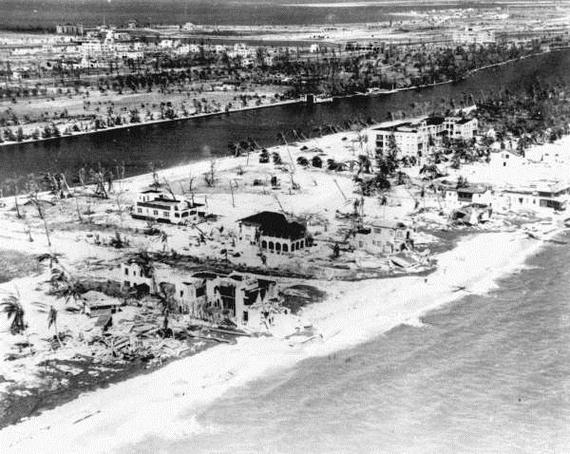 The devastating Category-four hurricane touched down during the morning hours of Sept. 18, 1926. In addition to its deadly toll (more than 300 deaths, and upwards of 800 people missing), the storm went on to rank as the costliest in U.S. history; calculated in today's terms, damage totaled $90 billion.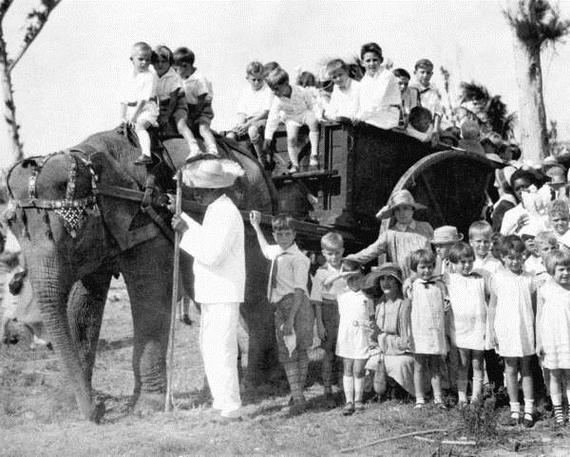 The Miami area didn't recover economically from the Great Miami hurricane until the 1940s. But that didn't stop Miami Beach's pioneers from keeping their stretch of sand as inviting as possible. Here, Rosie the Elephant entertains kids for an Easter egg hunt in 1927. Rosie's appearance in publicity photos continued to be a huge boon for Miami Beach.
These days, the resort city's elephants and bathing casinos might be gone, but Miami Beach's legacy of beachside entertainment remains. What was once a mangrove swamp has long since transformed itself into an international destination for sun, surf and sand, with many of its pioneering names now echoed in places from Collins Avenue to Lummus Park - each standing strong, 100 years into the city's founding.
(Photos courtesy: Miami Beach Digital Archive of Historical Images)