With New York Fashion Week around the corner, designer Dennis Basso offers a sneak peek at his upcoming collection for spring.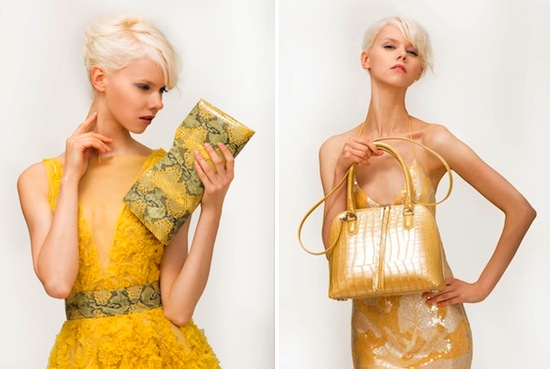 One year ago at the St. Regis Hotel, a dozen models gathered in the gilded penthouse suite. Under the twinkling chandelier, they showcased an array of lace gowns, fur capelets, and silk cocktail dresses--all with the tasteful decadence that has become Dennis Basso's signature. Season after season, Basso has proved to be a master showman as well as designer, and Spring 2014 will be no exception. On September 10, against the Lincoln Center's dramatic backdrop, Basso will unveil a striking new collection, inspired by timeless sirens of the silver screen.
"My Spring/Summer collection inspiration was the great Hollywood goddesses," the designer says, "all those stars who created the red carpet looks before it was called the red carpet." Taking cues from Ava Gardner, Jane Russell, and Marilyn Monroe, the collection ranges from delicate floral frocks to show-stopping scarlet gowns. "We are using silk organza, gazaar, cotton, and tulle," Basso reveals. "The shapes are flowing, fitted bodices [with] skirts short and flirty."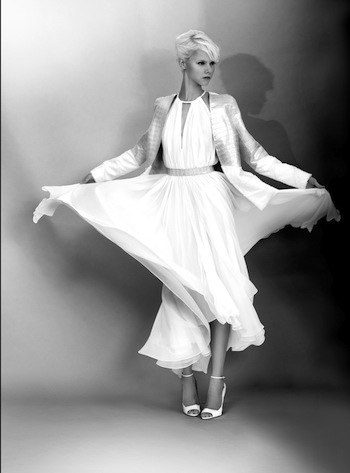 "The biggest challenge in producing a collection for Fashion Week is getting it done on time," reveals designer Dennis Basso. "Often finishing garments is done literally hours before the show."
Despite classic silhouettes and fabrics, this season speaks strongly to Basso's modern sensibilities. The collection opens, for example, with a black-and-white palette and graphic bent, complete with vibrant geometric patterns. Halfway through the show, the garments transition into bright reds and playful blues and pinks, an aesthetic echoed in the two-toned heels designed exclusively by Brian Atwood. Dennis Basso Spring 2014, after all, isn't simply a tribute to the leading ladies of the past, but rather an invitation for the generation to come: "[I hope] the collection will inspire the audience to feel good about themselves," Basso says. "Fashion is not only the fabric garment, but their emotional response to it."
The Dennis Basso Spring/Summer 2014 show will take place at the Lincoln Center on September 10 at 3pm EST. A live stream of the event will be available at NewYorkFashionWeek.com.