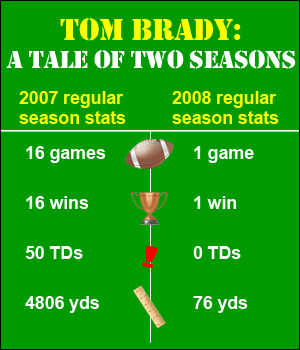 With the 2012 fantasy football draft fast approaching, you may be spending a lot of time trying to decide who to draft at quarterback. After all, making a mistake at the position could cost you the chance at competing for a fantasy football championship.
The problem, of course, is that even if you pick the top QB for that season, you could end up with a fantasy football flop in that spot. Even the best of players could end up giving you zero value in that category. Here are five recent examples of top fantasy football QB picks in the last five seasons who turned out to be busts:
1. Tom Brady, New England Patriots, 2008: Who could have been more of a sure thing in 2008 than Tom Brady as a fantasy football quarterback pick? After all, Brady was coming off an MVP season in which he threw 50 touchdowns and 4806 yards, a season that some have called the best ever. He led the Patriots to an undefeated regular season that year, and came within a David Tyree catch of beating the New York Giants of Super Bowl XLII. Yet Brady, who was the top fantasy football QB drafted that season, gave fantasy players agita when he got hurt in the first quarter of the 2008 season opener against the Kansas City chiefs. He was tackled just seven and a half minutes into the season by Chiefs safety Bernard Pollard, tore his ACL on the play, and his season was over.
2. Michael Vick, Philadelphia Eagles, 2011: Vick was the top QB pick in many fantasy football leagues that season, above stars like Brady, Aaron Rodgers, and Drew Brees. Unlike Brady, who seemed to be about as sure a thing as there is in fantasy football, some fantasy football experts cautioned against drafting Vick, citing concerns about his character (Vick spent time in prison for charges stemming from him running an illegal dogfighting ring) and his injury history. While Vick didn't get into any trouble off the field in 2011, he did miss time due to injury and ended up with just 18 touchdowns on the year, hardly worth that first-round draft pick.
3. Peyton Manning, Indianapolis Colts, 2011: Some fantasy football players - those who had Manning as their keeper pick, and those who thought that his second neck injury would not keep him out for the season - drafted Manning. Big mistake. That September, it was announced that Manning would be undergoing surgery on his neck that would end his season - and the fantasy football hopes for those who had taken a chance on him.
4. Marc Bulger, St. Louis Rams, 2007: The 2007 season was supposed to be Bulger's year. He had just signed a six-year contract extension with the Rams worth $62.5 million, and he was coming off a great 2006 season, in which he had reached 1,000 completions quicker than any other QB in history. Because of that, he was a top five QB pick in many fantasy leagues. However, he had an extremely disappointing 2008, where he missed four games due to injuries, and when he didn't miss games, he just wasn't very good, throwing more interceptions (15) than touchdowns (11.)
5. Carson Palmer, Cincinnati Bengals, 2008: Believe it or not, in many leagues, Palmer was a top five fantasy football QB pick that season, even though he had led the NFL in interceptions the year before. Thanks to a torn elbow ligament, Palmer ended up playing just four games in 2008. Even before his injury, he had thrown for just three touchdowns -- and four interceptions -- in those four games.
So what lessons can you learn from these fantasy football flops at quarterback? That in some cases -- Carson Palmer's, for one, and perhaps Marc Bulger -- you could have seen that the player was overvalued. And that you shouldn't draft high for a player with an injury history like Michael Vick's or a player who was potentially facing season-ending surgery like Peyton Manning's.
But then there are cases, like Tom Brady's 2008 season, where circumstances which could not have possibly have been predicted. All the fantasy football preparation in the world wouldn't have seen Brady being an injury risk that year. In such a case, all you can do is say, "Stuff happens."
Lisa Swan writes for a variety of sports sites, including DraftStreet.com.