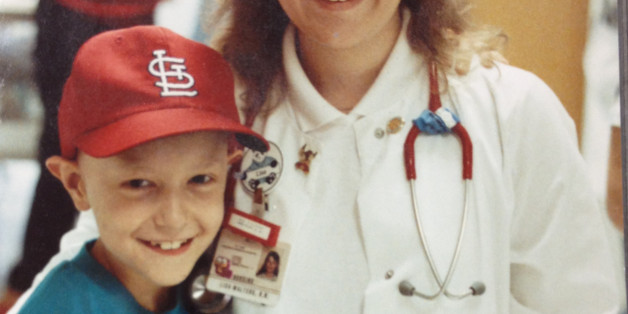 When I was growing up, I never wanted to be a nurse. My mom was a nurse, so I wanted to be something different. I wanted to do my own thing. A friend of mine, who had recently gone into the convent, called me one day and said she didn't want to be a nun anymore. She asked if I'd find out about nursing programs for her. After looking into it, I thought it really sounded interesting. "I think I want to do this," I said to myself. It wasn't my original plan, but it's been exactly what I needed to do.
I started as a nurse at St. Jude Children's Research Hospital in June 1987. I was so young. In nursing school I didn't get to work much in oncology, so everything about St. Jude was overwhelming to me. I remember being intimidated and unsure of myself. But the one thing I felt I knew how to do was comfort people.
I'll never forget Joel at age 7. It was 1988. Joel was one of my first patients. He was newly diagnosed with a bone cancer called osteosarcoma. He had broken a bone in his right arm and he was right-handed, so doing things with that hand was painful.
I took care of Joel the night before he had surgery. He was in a lot of pain, and I remember being impressed by his mom who never stopped smiling, never stopped praying, never stopped comforting him. Joel has told me that throughout his cancer treatment journey -- four months of chemotherapy, his right-arm amputation, then seven months of chemotherapy -- he remembers me on the front-line of that journey with him.
It made such an impression seeing Joel come through that journey. I think I went into it with blind faith. A few months after his surgery and more chemotherapy, Joel was able to tie his shoes with his left hand. He started playing baseball with his left hand, playing golf. He was able to do them quickly. I was proud and impressed. I still have a photo of us together from that time. That's probably the only time I was taller than Joel.
Joel and I crossed paths many times. I worked at a cancer camp back then, and he was a camper, so I got to spend a few summers with him. I got to see him be a regular kid and run around and grow up. I felt like I could tell my next patients, "I know you can do it," because I saw Joel come through it.
I've been a nurse at St. Jude for more than 25 years now, and it's never seemed like a hospital to me. People at St. Jude have hope -- and I'm a part of that. I've always wanted to be somewhere where I could make a difference. When I look back at pictures of myself and then look around now, I see some of the same nurses still working here. I see children I took care of then return as adults -- some of whom like Joel, I work with. I get a lump in my throat when I think about that, especially remembering my surprise the day I saw grown-up Joel walking on the hospital campus as an employee. I thought, "That's incredible."
I've gone back to school, and I'm now a nurse practitioner taking care of our childhood cancer survivors. The study called St. Jude LIFE brings adults in their twenties, to some older than 60, back to St. Jude where they were treated as kids -- some from the first few years the hospital was open. In addition to helping patients manage current health conditions and prevent future ones, the study provides a valuable source of research so we can learn more about the long-term effects of childhood cancer and its treatments. Working side by side with survivors, I see tangible proof why we should always have hope.
The nurse-to-patient ratio at St. Jude is unmatched -- averaging one nurse to three patients in hematology and oncology, and one nurse to every patient in the Intensive Care Unit. I get to work on a team of more than 600 nurses who inspire me every day. When I was a young nurse, the more experienced nurses took me under their wings and were right there to support me. Now I feel like I've done that for the younger nurses.
I look at the overall survival rate for childhood cancer in 1962 when St. Jude opened versus today's rate, and it's a great reminder of the little things we are doing every day that make differences in people's lives. Patients are coming back; patients are surviving. They are having families. They are going on and making generations that wouldn't be here if not for St. Jude.
I've heard Joel say, "People choose how things affect them. I'm not going to let cancer define who I am." Today he's cancer free. I get to see him for St. Jude LIFE visits and on the hospital campus.
To see people like Joel growing up, having children of their own -- those things make me happy. Those are my best days.