Imagine losing your first home to one of the most devastating storms in history, Hurricane sandy when you were only a few weeks old. Now add to that losing your second home when a family member receives a dire medical diagnosis, and on top of that, surviving another super storm, Hurricane Sandy.
Thomasina the pointer mix, was named after the Walt Disney Film The Three Lives of Thomasina. A story of a cat that winds up healing a broken family. Thomasina was only a few weeks old when Hurricane Katrina hit her and her litter mates home. The wind tore apart parts of the house, and waters flooded the bottom floor. Little Shelter Animal Rescue & Adoption Center came all the way from New York to help out all the homeless animals they could. Thomasina and her litter mates headed to New York to find her second home.
In New York, on Huntington, on a shelter in Long Island. Thomasina and her litter mates quickly found homes. Thomasina being an adorable pointer mix, with beautiful feminine qualities, along with an extremely playful personality was adopted especially quick.
Eight wonderful years went by until Little Shelter received a phone call. Thomasinas primary caretaker had just been diagnosed with a dire medical condition, that would leave them unable to take care of their loving girl. Thomasina then lost her second home, due to horrible circumstances beyond her control and wound back at Little Shelter.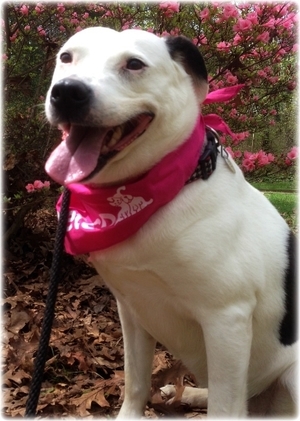 You would think that would be enough for Thomasina, still full of smiles and a playful personality, she seemed to take it in stride. However, nature was not so understanding, a second super storm was barreling up the east coast, hurricane Sandy. The shelter braced for the storm to hit, but that night, a colossal tree was knocked down by the wailing winds, and landed on the kennel in which Thomasina and 11 other dogs were sleeping.
Myself and a few other extremely brave employees rushed into the kennel, the roof was destroyed, rain and wind belting us and the animals around, but somehow we managed to get everyone out and no one was hurt. Thomasina and the others were put in extra kennels around the shelters property.
Thomasina is what I like to say in her third life now, somehow escaping those two horrible storm situations. Now 9 years old, Thomasina is still as playful as she was as a puppy, running around the shelter with toys in her mouth, scouring for any squeaky toy she can find, and constantly smiling. She is one of the happiest dogs to ever come to the shelter, she doesn't claim to be perfect however, she prefers the solitude of being an only pet.
She needs her third and final home, life has been tough enough for this optimistic girl, will you give this beautiful playful pointer mix the home she truly deserves? Call Little Shelter Animal Rescue & Adoption Center at 631.368.8770 extension 21 or visit littleshelter.com to see more about adopting her.