 Crispy, crunchy and addictive, it will be nearly impossible to eat just one of these Kale Chips with Black Roasted Sesame Seeds. If you've never tried kale chips before, you are missing out.
From the minute they hit the oven, the rich and luscious scent of sesame oil will fill your kitchen before you've even taken your first bite. As an added bonus, the fat from the sesame oil actually helps boost the absorption of iron, calcium and other nutrients found in kale. For even more flavor and texture, the whole batch is tossed with black roasted sesame seeds before serving.
Get creative and use your favorite oils, spices and flavor enhancers. For example, roast the kale with extra virgin olive oil then finish the chips with freshly grated Parmigiano-Reggiano. For an extra kick, add a teaspoon of red chili flakes. The warm chips will provide just enough heat to melt the cheese and release the oils from the chili flakes.
The options are endless and so are the health benefits. Whether you're looking for an easy afterschool snack or a guilt free solution to the late-night munchies, you can't go wrong with these addictive kale chips.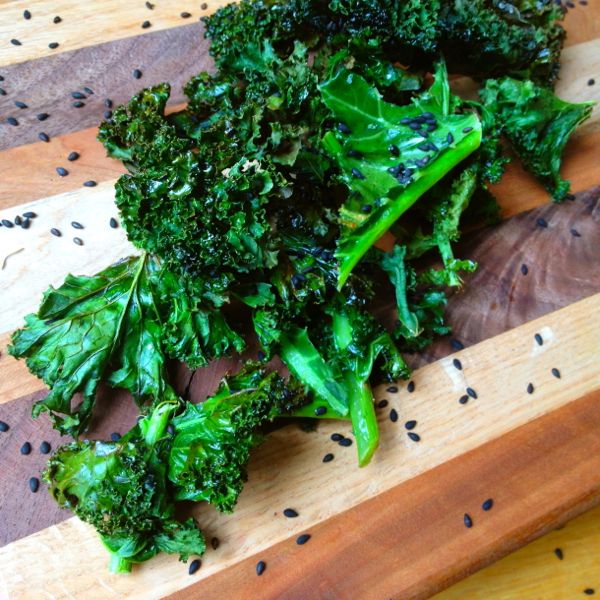 Crispy Kale Chips with Black Roasted Sesame Seeds
12 cups raw kale - torn into bite-sized pieces
2 teaspoons sesame oil
ᅡᄑ teaspoon kosher salt
ᅡᄐ teaspoon pepper
2 tablespoons toasted black roasted seeds
Pre-heat oven to 350 degrees and spray two baking sheets with non-stick spray.
In a large bowl, massage kale chips with sesame oil, salt and pepper. Scatter kale evenly between two baking sheets in one even layer.
Bake until crispy, about 12-15 minutes.
Sprinkle chips with black roasted sesame seeds before serving.
Note: By using two baking sheets, you prevent the kale from over-crowding helping result in crispy chips.

Nutritional Information (per serving): 169 calories; 8.2 g fat; 1.1 g sat fat; 0 g trans fat; 0 mg cholesterol; 378 mg sodium; 22 g carbohydrate; 5 g fiber; 7.8 g fat. Excellent source of Vitamin A, Vitamin C, Iron and Calcium
Liz Della Croce is the author of The Lemon Bowl, a healthy food blog full of delicious recipes made with real ingredients that just so happen to be good for you.