If one had a thousand eyes - O the things we could see! Useful, they would be, when visiting "What's the Story", the current group show up at Freight + Volume with Cesare DeCredico, Black Lake, Peik Larsen and Max Razdow. Concentrating on the "The Nebula Series" by Max Razdow, an epic, book length series of drawings, (the quality of a solo exhibition) gives back indefinitely in the process of viewing. Located in the inner reaches of the gallery space, feel free to put your watch away and enjoy the ride.
"The Nebula Series" was first started in 2008, whose title suggests one point of entry -- as if looking from the vantage point of a shooting star or through the portal of thought in a distant stratosphere... Reasonably, we try to make our way through the labyrinthine of portals, passages and entry points in each drawing, without even a Virgil to accompany us. Reason as a guide, can only take us so far, and soon find, (as if the drawings each possessed his own archetypical Trickster figure), up very quickly becomes down, and what one would believe to be a road, is not a road at all. It's accepting how things switch places, appear and recede, say one thing and the other simultaneously, that we're able to relax into it and keep faith. The figure in Ruin 10 seems to act as an interior guard to a curious doorway below. He lures us in, and spits us out somewhere else in the drawing. We'll move through that vortex in the sky and come right back, crouching, for real entry this time. Is that an ancient pyramid or a depiction of a holographic image of the Tower of Babel? Constantly off balance, we're in a better mood for keeping awareness present.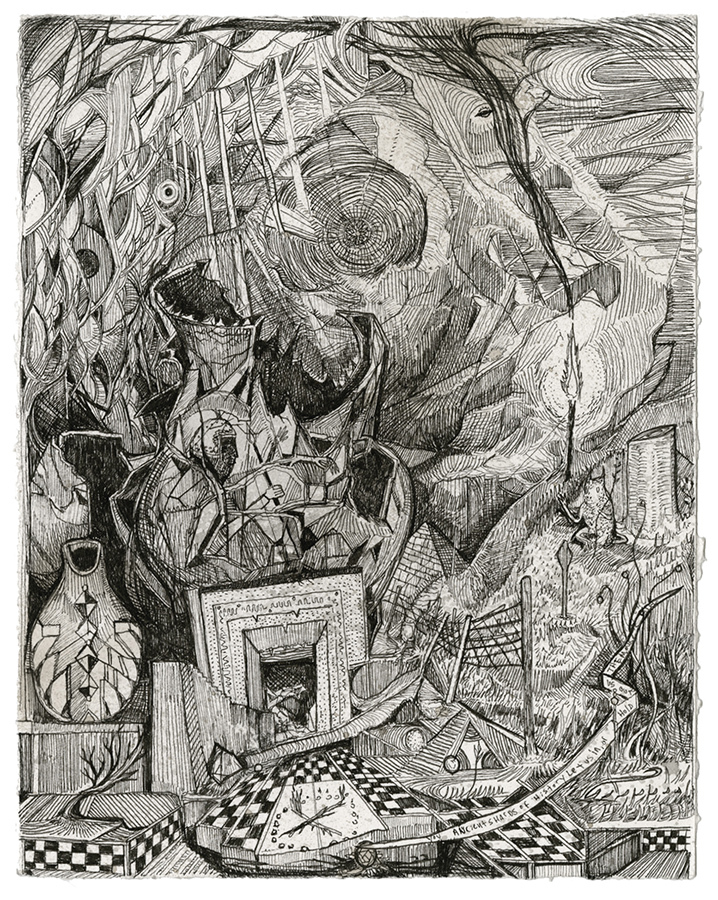 Max Razdow, Ruin 10, 9 x 7, pen ink and Xerox transfer on paper, 2012, Courtesy of the Artist and Freight + Volume
It's not exactly a dark place, even in the deepest recesses of the works, shards of light white space cut through the black deep, break it up and let fall the eyes someplace else.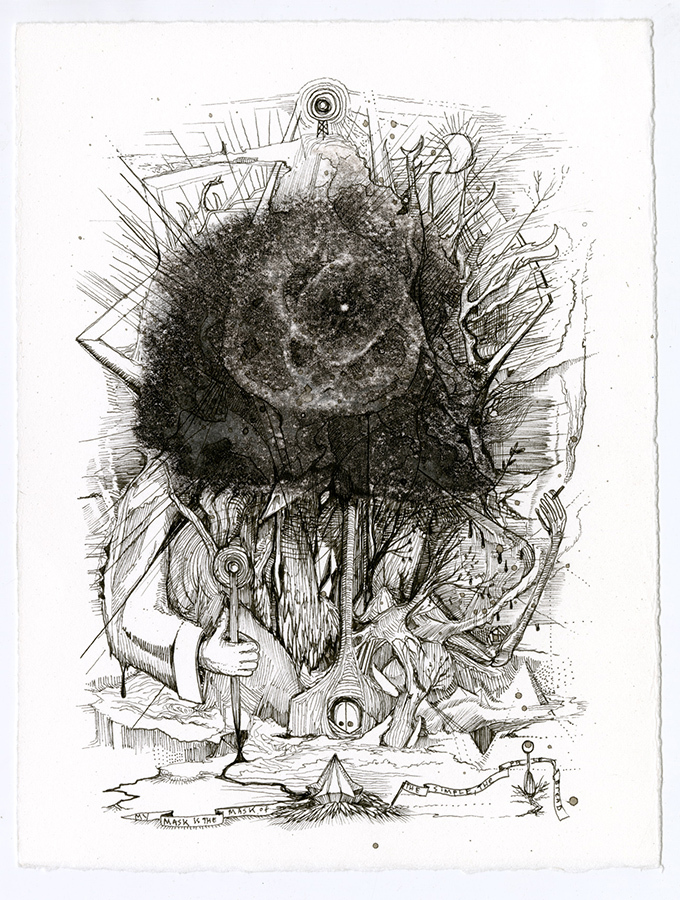 Max Razdow, Nebula 6, 9 x 7, pen, ink and Xerox transfer on paper, 2008, Courtesy of the Artist and Freight + Volume
Sometimes the drawings conjure up a voice, one whose tone seems just on the tip of encouragement. (The artist stated that by continually working on the images, subjective voices emerged from the works themselves).
Ruin 3 speaks:
"Oh to be the apotheosis of the unnamable in the castle of the american night."
I had forgotten we were on earth and that vision is a temporary home. This is only a reminder that myth can become a tangible entity at any given moment, and if myth were matter it would move through solid, liquid and gas effortlessly all the way through the ether.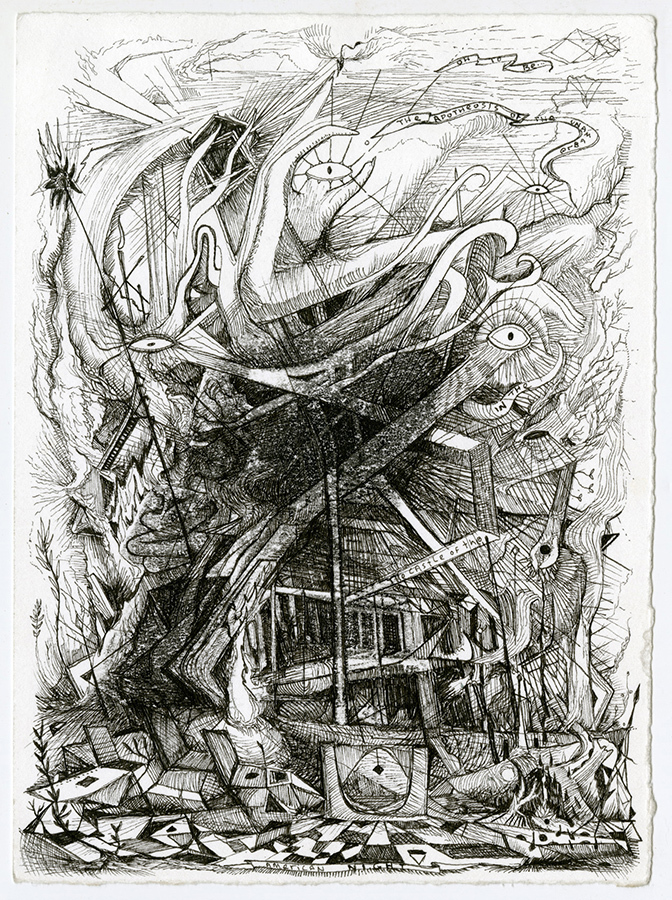 Max Razdow, Ruin 3, 9 x 7, pen, ink and Xerox transfer on paper, 2009 Courtesy of the Artist and Freight + Volume
Or in Mist 6:
"A bane a cherub a building,
these hands
this feeling
eye sigh for the factioning
eye want for the empty wind".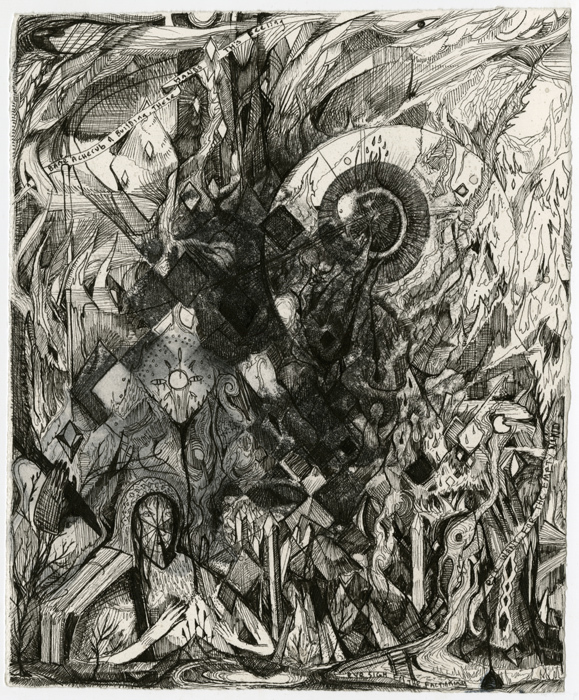 Max Razdow, Mist 6, 9 x 7, pen, ink and Xerox transfer on paper, 2010, Courtesy of the Artist and Freight + Volume
O! We are human? Have we a three-dimensional probing light of a spirit in the aftermath of deconstruction, real or imagined post apocalyptic confusion (for future lives), in a superficial numbed out world of murder, sin, betrayal and glory? Yes.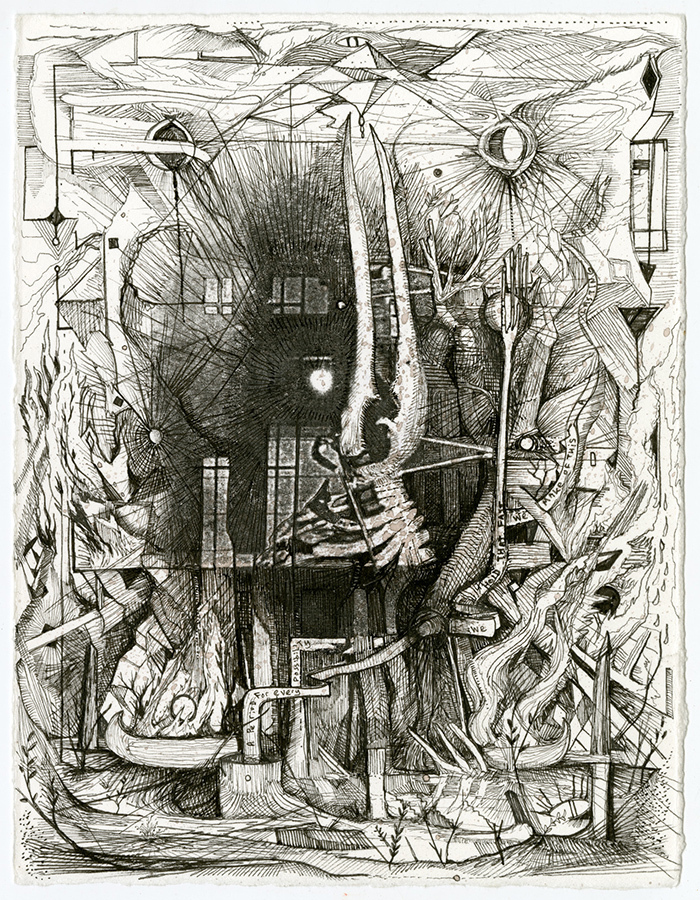 Max Razdow, Crystal 1, 9 x 7, pen, ink and Xerox transfer on paper, 2009, Courtesy of the Artist and Freight + Volume
http://www.freightandvolume.com/