Founded in 2013 by Stephanie McCullough Vlcek, Chicago's Music Improv NighT (MINT) takes place each Wednesday at 7 p.m., at Studio Be. The show features three teams of MINT improvisers plus a guest artist (this week's guests are STACKED -- All Female Music Improv). Vlcek, a longtime performer and teacher in the Chicago improv scene (iO, Second City, ComedySportz) describes the founding of MINT:
Over the last several years the most common conversation I would have with any former student of mine would be, 'I miss doing musical improv so much. I wish there was a place to do it now that I'm done with my training.' But not until this past January did I imagine I'd be the one to try and produce an event to address this need.

Then while on a road trip with MANSICAL this past January, performer Michael Girts enthusiastically shared his experience with "Musical Megawatt" at NYC's Magnet Theater, and a beaming light bulb suddenly lit my heart. I went straight back to our hotel that night and started writing down all the elements that provided the foundation for MINT.
Vlcek has created an improv experience that is unique among many in Chicago.
The vast majority of my experiences working on shows are in the context of venues where performers are hoping to be 'discovered.' I've given a lot of thought to how that factor alone can impede a student's performance. Pure joy and celebration is deeply good for a show, no matter how it occurs. Having MINT take place outside of our standard institutions of improv -- great as they are in so many ways -- is an important gift for me to give to my MINT performers.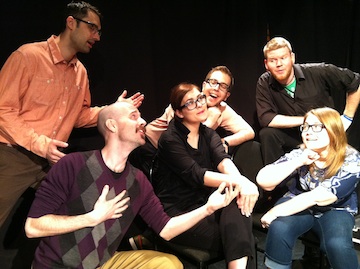 Andi Sharavsky is a MINT performer who couldn't agree more:
In Chicago, we love to talk about the loving embrace of the comedy community, but tensions obviously still run high as we all work and compete for the same opportunities. MINT truly is all community and no ego. It actually feels like we're all here to have fun, support each other, and get better together. To me, it's a weekly reminder why we all love this work.
Aaron Graham , coach of The Mint Juleps, notes that MINT gives audiences and performers the benefit of an eclectic mix of backgrounds and approaches to music improv:
MINT provides a wonderful opportunity for building additional community within the improv scene in Chicago. It's special because it's not based on any one curriculum or training program, but rather it's a more casual environment where music improv nerds can come together from all over town and have a great time together. Performers get the opportunity to play with people they may not normally play with and watch performers they may not otherwise get to see. It's a lovely opportunity for audiences to be a part of a fun, relaxed night of comedy while also getting to see the next generation of professional music improvisers work on their chops.
MINT is new to the Chicago improv scene, but already attracting a vibrant audience that continues to grow each week. Vlcek knew it would be a hit:
Anyone who loves comedy, loves musicals, and spontaneity comes away from MINT with such fulfillment and winds up bringing friends back the next week. If the current success of Book of Mormon here in Chicago says anything about the kind of live entertainment people are seeking, then there should be lines out the door at the few unscripted musicals, like MINT, being improvised in this city each week.
I've got to agree, MINT is fresh must-see improv. Every Wednesday night at Studio Be in Chicago, magic is happening. It's not so much slight-of-hand, and I don't think any ladies in boxes have been sawed in half (is this true? I can't positively confirm... ). It is the other kind, the kind we Chicagoans make together everyday. It is the magic that we love so well and need so much. It is the magic of making it up as we go, with what we've got, where we are. And because we've got style, and a "sky's-the-limit" mentality, the magic is musical.
Chicago, I'm here to tell you that you've got to see this magic. The world we hope for most -- the one where we build something incredible out of nothing but each other -- is available for the taking every Wednesday. I don't want you to miss it.