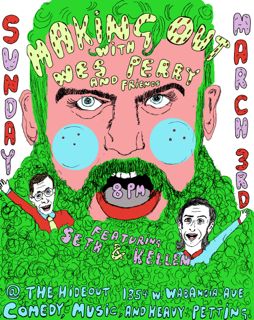 Fans of "Making Out With Wes Perry and Friends," rejoice! And get ready! Because on March 3, the popular underground comedy show with a queer twist migrates from it's usual monthly post at Andersonville treasure Upstairs Gallery to The Hideout for one night only!
This not-to-be-missed event will feature performances by Seth & Kellen (Ned Talks, Holy F*ck Comedy Hour), TV SCREAMS (Kill All Comedy), Superhuman (iO, The Annoyance), as well as burlesque performer Mister Junior, actor and voguer Nic K, alternative drag artist Jüdi Blüüm, The Queer Choir, and more! Swaguerilla (Chances Dances, Salonathon) will DJ before and after the show. Shine up those dancing shoes (and then put them in your bag so you can wear your boots there, because, you know, it's March in Chicago), get your tickets, and prepare yourself for an evening of fun, and funny performance that will lovingly wake you up out of your seasonally affected slump. Or conform that you're dead inside. At least you'll know, right?
As if this stellar lineup weren't enough, the show is hosted by Wes Perry! A writer and performer who, with the help of a live band, uses his background in improvisation and sketch to create solo pieces that blend storytelling and music. Original, honest, and absurd, Perry will have you laughing in the most satisfyingly genuine way. His performances have been lauded as a "triumph" and "an eminently enjoyable journey of great comic timing and reflection" by The Windy City Times and a "nifty slice of underdog theater" by Time Out Chicago. Gapers Block declared Making Out "One of the Five Great Comedy Shows of 2012" All of this without even mentioning my mushy feelings after having first seen Making Out.
So c'mon. Be that hip Chicago audience member you want to be! Your rent is so expensive! And gas! Don't even get me started on gas! What's the point of paying to live in the middle of it all if you're not taking advantage of this quintessentially Chicago show? And I'd like to suggest that "Making Out With Wes Perry and Friends" at The Hideout on March 3 is sure to deliver the Chicago you came for and then some.
Sunday March 3 at 8pm, doors open at 7pm, tickets are $5 online or at the door
http://www.hideoutchicago.com/event/224965
The Hideout, 1354 W Wabansia Ave, Chicago, IL 60642
https://www.facebook.com/makingoutwith
http://wesperry.tumblr.com/