The United States is home to Shujja, a very special disabled dog whose name means "Brave One."
Shujaa's story starts in Jordan where dogs are shot and left for dead (something I just learned about). A very special woman was driving down the street in Jordan and noticed a dog lying in a ditch on the side of the road. She picked him up and brought him home. She reached out to a very special group called Let's Adopt Global (LAG) and they made plans to get Shujaa into Israel for veterinary care. In the midst of politics and issues regarding crossing boarders, Let's Adopt Global accomplished the impossible and got Shujaa into Israel.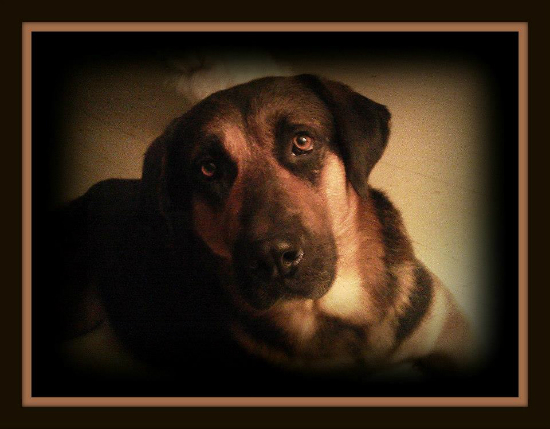 Shujja the brave
Shujaa was paralyzed. He had been shot multiple times and had to have a bullet removed from his spine. After having the bullet removed, he recovered with a great foster mom and the second phase of his rescue was being planned.
I was contacted by LAG, and as the president of Glen Wild Animal Rescue I have been very involved with rehabilitation work, especially with injured dogs. Shujaa needs to have a full assessment in addition to being fostered in a place where he can relax and receive physical therapy.
On Friday, August 24th, Shujaa arrived at our home in beautiful Cherry Valley, NY. What a stunning dog! He was so happy to say "hello" to all of my dogs -- especially little Naja -- who greeted Shujaa and welcomed him into the pack. Alana, whose life prior to Glen Wild Animal Sanctuary was one of abuse as a bait dog, keeps a close eye on Shujaa, just like a mom would. Alana's nickname is Alana Momma, and she waits with Shujaa to make sure he is ok.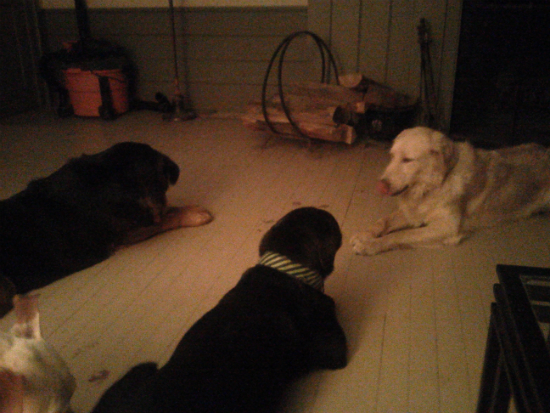 The gang
Shujaa takes each day in stride. Imagine all that he has been through in a short time -- first he was injured, then he had surgery, then a new home, then a long flight to the U.S., then another new home, and more to come. Shujaa has faith in people and love for all humans and animals. He holds no grudges, no anger, no fear; he is a very courageous dog. He knows that he is loved and being helped. His disability does not stop him from playing; he loves to be in the middle of the action. He even tries to impress the ladies, especially one in particular -- Cheeks, an American Eskimo who once lived as a stray on the streets of Queens, N.Y. Shujaa is winning her over slowly.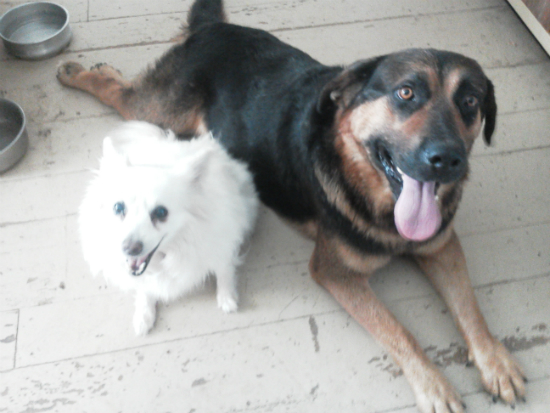 Shujja and Cheeks
Then there is Naja , the dog who was abused in a Harlem elevator . Naja just can't stop wagging his tail every time he goes near Shujaa. Desi, another one of my dogs, was also a victim of abuse prior to coming to Glen Wild -- he had an embedded chain in his neck. Desi was also helped by Let's Adopt Global. Desi wants to play with Shujaa, but he is just not sure how to do that yet. Desi looks to me for approval after he visits with Shujaa.
These dogs all share a common bond: they have been abused, they have suffered trauma, but they are all survivors, love life, and have a safe and loving environment to thrive in. The best part of my day is watching this group of dogs interact, play, relax, cuddle, and give kisses. They bring so much joy into my life!
The definition for the word rescue is to set free, to save. I am set free every day I spend time with these amazing dogs. I learn from them and they show how much they love and appreciate what I do. I hope that more people get the opportunity to spend time with shelter animals, as we can learn many amazing things from them if we just take the time to understand them and offer help.
After a very thorough exam by our veterinarian, Dr. Fassett, we were informed that Shujaa has feeling in his rear legs, so we are praying for a miracle -- that he may walk again. Keep Shujaa in your thoughts and we will do all we can for him. Shujaa is a brave dog who has melted the hearts of many worldwide.
You can help an animal in need by adopting, fostering, volunteering, or donating. Find out how at AnimalAllianceNYC.org.