One of the best moments I shared with Ken Greene, founder of Hudson Valley Seed Library, was when he confessed, "I really don't care that much about eating, I love collecting the seeds." There it was in a nutshell, the difference between us. Seeds are a delicious, if not essential, part of many of my meals, while for Ken, it is the preservation of seeds that feeds his passion.
The Hudson Valley Seed Library (HVSL) began in 2008 after Ken had worked for four years at the Gardiner Public Library where he turned his librarian skills and a passion for preserving heirloom seeds into a part of the lending system; take a seed, return a seed. After four years, it was time to make this a full-time business and HVSL was launched with his professional and life partner Doug Muller.
I went to Accord, New York, to visit the legendary farm and seed-packing center. It is a transitional moment in the lives of the HVSL as they prepare to move into a "real" office before month's end from the makeshift trailer and other ad hoc structures. Nestled in a few acres at the foothills of the Catskill Mountain, formerly a site of a Ukrainian Summer Camp, I met the crew who takes orders, packs seeds, prepares the art, tends the fields and grows the company.
HVSL is not a typical seed company. Aside from its mission to preserve and promote heirloom seeds and undertake breeding projects for new seeds utilizing the traditional methods of plant breeders and open-pollination, the packaging of the seeds is entirely unique as well. There is an annual outreach to the artistic community for submissions of artwork in diverse media whereby 20 applicants are selected "to produce a unique work for a new variety." These original artworks interpret the new varieties with exquisite style.
It is completely possible that you will purchase HVSL seed packs for the artwork on the package as I did, falling in love with the engaging packages, ignoring the seeds. Whatever the hook, it is the undeniable link between art and agriculture -- two sides of the same coin -- that HVSL embodies. HVSL is about body and soul, with great tasting authentic food, and evocative and stimulating artwork.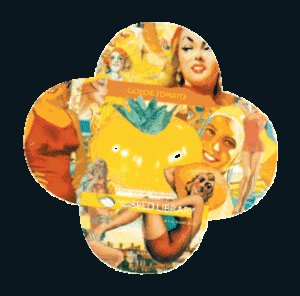 One of the artfully designed seed packets from the Hudson Valley Seed Library
Ken took me on a tour of his farm, where some of the seeds are cultivated. The first plot is filled with white zinnias, called Polar Bear, naturally. It is far from the brilliant red ones, to discourage cross-pollinating. In this business, it is more than the beautiful flowers that matter. Each and every flower and vegetable are scrutinized closely for selection of the fittest. Looking at the center of their big heads (where the seeds live), I start to get the idea that this is a very different kind of farm. It is an interesting moment -- I harvest lettuce when the fully formed heads are at their peak. Ken lets them go to seed, something a seed farmer must do, and watches for traits throughout the growing cycle that lead him to select some seeds over others. The overgrown lettuce heads (reaching a height of a few feet) resemble Christmas trees, and zucchini are left to grow as big as possible and then rot before the seeds are harvested. It is a time in the growing cycle when the plant puts its energy into the seeds and not the leaves or fruit.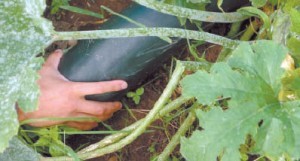 Farmers for the Hudson Valley Seed Library keep the zucchini on the vine and let it rot in order to allow more developing time for its seeds.
I loved hearing about a variety of tomatoes like the New Yorker, which have been bred to withstand conditions other tomatoes cannot. They are more resilient, faster growing and obviously well-named. Also for urban dwellers, there is a varietal of dwarf sweet corn, Jade Blue, perfect for limited backyards or terraces. There is an ancient corn varietal that is being cultivated for wider use, as well as other vegetables Ken is growing from virtually lost heirloom seeds sent to him for breeding, like the Upstate Oxheart from a Dutchess County family.
According to Ken, one-third of their New York state gardeners are from New York City, which was one of the biggest surprises. Fans include community gardens, rooftop gardeners and farmers, and urban folks with containers and sunlight. Last year, the HVSL was invited to showcase their seeds in city Greenmarkets where they "fielded a ton of city gardening questions."
"Popular varieties in the city run the gamut. Small space selections like our Little Gem Lettuce Mix, Tiny Tim Tomato, and Ultimate Salad Bowl were big sellers at the markets along with culinary herbs that grow well in pots like Gigante D'Italia Parsley, Basil Bouquet, and Cilantro," Ken said. "But our number one seller in NYC is... can you guess... New Yorker Tomato. The pack features a reimagined map of the city with tons of tomato dots representing community gardens taking over!"
A seed is a miraculous thing. Its tiny form holds the DNA for a new life complete with fruit as well as the seeds of the next generation. I continue to be astonished each season at Katchkie Farm as a new batch of seeds are germinated, then planted, yielding such incredible and delicious abundance. How does such a tiny thing contain so much power?
Seed activities for children:
1. Seed hunt at home. Over the course of a week or two, encourage kids to find the seeds around you. It might be at snack time when cutting an apple or an orange into wedges. Preparing a meal will yield discovery when slicing peppers, tomatoes or squash. A meal of beans or peas is a delicious learning moment.
2. Imagine together how seeds travel -- for example:
a. On the wind
b. Stuck to the fur of an animal
c. In animal dung (a topic sure to yield good squeals)
d. Traveling in water
e. On the garbage truck
f. In their pockets
3. Germinating at home:
a. "Find" the avocado seed and plant it!
b. Peas are easy to geminate and their small greens are tasty.
c. A cup of herbs from seed is a wonderful window plant.
4. Explore the range of edible seeds.
a. Experiment with sunflower seeds -- try drying an actual sunflower head at home. Late summer is a good time to find one past its prime.
b. Pumpkin seeds are the best part of pumpkin carving. Roast them and see how quickly they are devoured.
c. Corn -- dried Mexican corn kernels or "quicos" (corn nuts)
d. A strawberry! The seeds are the little dots on the outside.
As Ken says, "Seeds teach us that small can be powerful" -- a perfect message for today's times.
This piece was originally published in Our Town.