The new American hero maybe not as dreamy as a vampire, but they surely put new flavor into every bite -- our local famers.
We embarked on a tribute to the farmers of Columbia County, NY, with a myriad of motives. We love our own farmer -- Farmer Bob Walker (now known as Mr. October, explanation below) and would do anything to garner the recognition he so deserves. Then, there are his friends -- fellow farmers who form a rural brotherhood. They share tractors, seedlings and expertise; and pitch in to raise greenhouses, herd sheep and solve problems. Did we mention that they are not your grandmother's farmer?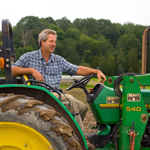 This new crop of small local farmers is different. While some of them are from multi-generational farm families, others have found their path to the fields via professions as diverse as academia, rock 'n' roll or the arts.
And isn't it about time the firemen had a little competition?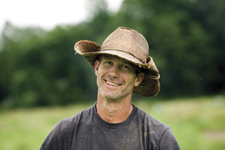 Don't get me wrong, I want to show my face in the county for the next several decades. The last thing I was going to suggest was a cheesecake calendar (though that has never stopped anyone else and I was tempted). Somewhere in the kernel of an idea for a calendar was the recognition that these boys are hunks - and who wouldn't want to have them hanging on the wall? They are certainly more interesting than a year of dogs, cats, barns, sunsets, owls or even sweet piggies.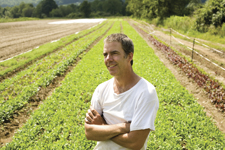 Then there is the mission -- getting the word out about local farming. While this is not news to seasoned greenmarket or CSA patrons/junkies like us, most urban dwellers do not think about where their food comes from or the agricultural universe that rings our city. Mention 100 Mile Menu, and most people think - where is that restaurant?
So what better way to entice the urban folk to bond with their farmer brethren than to borrow an alluring motif in a time honored vehicle and produce the pin-up farmer's calendar? Put real faces and vibrant personalities on the movement with stories that resonate.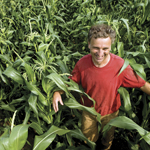 For days this August, we went from farm to farm. This was a new experience for our subjects -- and though they agreed to be photographed, what were they really thinking? That anyone would spend valuable time taking farmer photos for a calendar was a frivolous city thing.
And as we talked and asked questions and listened to their stories, they relaxed. Walking us around the fields, nibbling veggies, snipping herbs, sampling the local apple cider vodka (called CORE), and tasting fruits pocked by June hail yet still juicy, and we were hooked. Some asked why we were not including partners and spouses (the women). Just men this time we repeated. It was necessary for the impact and attention.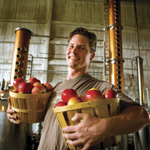 What fun -- learning about their passion for farming; the things that make them each unique; catching their farms in early morning light or full sun; seeing the varied terrains and farm animals and pets; and feeling the richness of their environments and lives. The project just kept growing on us.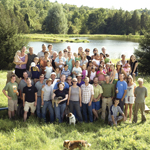 Back at the Big Apple and through the design stages and onto the press. 7,500 copies with cause marketing incorporated. Mr. January rocketed to #1 spot. Mr. March, the vodka farmer, took Manhattan.
So who wants to sell Farmer Calendars? (Who wants to buy a Farmers Calendar?)
Everyone, we thought before a dose of reality intruded. Not for most bookstores, and we were 14 months too late for the B+N selling machine. And who was prepared for what came next? A small choir of women wondering where were the farmwomen. We said next year, or the year after. Or maybe let someone else champion that perspective. (They weren't wrong, we just followed our passion and are satisfied with the results.) One by one, the calendars are going to homes and offices. We are counting on modern day technology (the power of the internet) to propel a contemporary promotion of a timeless profession.
The farmers have embraced their new identities and local fame -- I heard they refer to each other by their monthly designations. In the end, we have all enjoyed this little project, each learning a little about each other's worlds. The perfect holiday gift. Field to town and back again.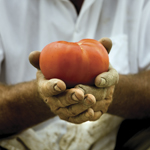 Photography by Roey Yohai
www.greatperformances.com