In a year when nothing really should surprise us anymore... after the earthquake, tsunami, Middle East upheaval, hurricanes, international bankruptcies, congressional gridlock, nascent national protest movement... what's a minor blizzard in October? Try as I might to be shocked or outraged at Mother Nature's bold foreclosure on autumn, I merely shrugged. It is but one more unprecedented event that is simply a part of the new normal.
But in my blasé reaction, I realized that this was actually an opportunity to chronicle something different for a private project I have been working on for several years. Let me share it with you, at last.
There is a pair of nearly identical trees that stand on the east side of Central Park's Great Lawn; l named them the Sister Trees. I love these trees and to me, the notion that they are intertwined, like sisters, has endeared them to me. After all, I have two sisters (one a year older, the other two years younger) who I love. So for almost 10 years, I have been watching them. I visit and photograph them throughout the seasons, attempting to capture their personalities and their relationships to the city around them.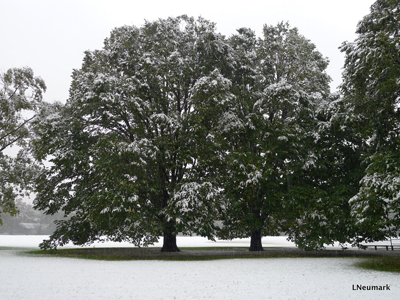 The position of the sun shifts with the season, casting them in light that varies. The starkness of the winter is a remarkable contrast to the warmth they exude in summer months, when life unfolds around them. The feeling of rebirth in the spring as they evolve from pale green to dark and deep green is always miraculous. The gentle turn from summer into autumn is gradual and brings with it a chill, blustery winds, the footsteps of hundreds of marathon runners, and the slow transition into the cold, gloom of winter.
But not this year. Before the leaves were even fully turned -- and you know, the city is always weeks behind the rest of our region as though we are in a bubble -- a nor'easter dumped several inches of snow on the city and surrounding environs. I walked through the park on Saturday and it was eerie. The sound of a cracking branch's followed by the swoosh of falling limbs was repeated over and over as I went to visit the Sister Trees on this landmark weather day. It was creepy -- apropos Halloween creaks and scary sounds. The trees were still green with a full circle of green grass at their base. And it was snowing furiously.
After photographing my trees for years, trying so hard to portray them in a new light and a unique angle, I was finally able to capture something completely new -- the October blizzard!
And after the trees and I visited, and they posed for me on this historic day, I went to check on another unique encampment and unprecedented occupation -- the souls braving the elements in their tent city in Zuccotti Park. And though I am deeply conflicted about their actions and goals, I am intrigued and touched by their intensity. Of the dozens of sentiments they espouse, surely there are at least two or three that I can agree with. I wanted to see how they were faring in this weather.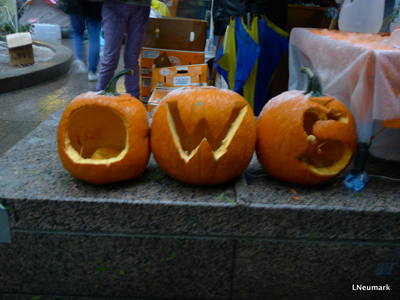 Tarps have been replaced with tents. Where there were active social gatherings, performances and marches, yesterday -- there were far less and fewer visitors. The tents were occupied -- it was a 'stay indoors' kind of day. Walking through the plaza, one could hear conversations from inside the tents as well as the occasional question -- "What time is it?" directed to anyone walking by.
The media tent was covered with layers of tarps and seemed to have successfully found a power source to stay connected and dry. The other hub -- the kitchen -- was more exposed though busy. There was a plethora of organic bananas being offered. I was between meal periods and don't know what was being contemplated for dinner, though I did see a pizza delivery arrive. I was happy to pay a short visit and head home to four solid warm walls.
It was a day of firsts -- a day of adjustment and of shrugging our shoulders, wondering what will come next.
PHOTO GALLERY
A Snowman for Halloween (?!!)