Making the headlines yesterday were the season opener for the New Amsterdam Market (NAM; the market we need and deserve) and the annual summer Fancy Food Show. And with those 2 destinations, it is mouthful after mouthful of samples, tastes and nibbles.



I had been longing for NAM, its vibrancy, artisanal food, quirky vendors and beauty - the kind of beauty that comes from raw ingredients, lovingly transformed into something more than food. With every bit or sip, you taste the love. I fell in love with the lobsterman from Maine. "Do you like NY" I asked, and he sighed. Of course he never gets away from the fish or the market table. So we crafted a new slogan: Buy my lobster so I can get out and see the town! And from the little morsel I tasted, there is no reason why he shouldn't be sold out early.

Finally, I tried and loved, a cup of Kombucha. Previously relegated to the space I reserve for tofu and other food turnoffs, this Raspberry flavored, tapped from the keg brew, was delicious. Not weird or funky, but flavorful, refreshing and worth drinking again. It is made in Brooklyn, of course. Here he is with his fiancée who proudly showed me her engagement ring. The diamond is from Arkansas, like him, and is unpolished (the diamond that is - the groom is not a hick). He found it himself, and like the Kombucha, it was handcrafted and is completely unique. A July 31st wedding is planned back home.

There was a table of sweets so wickedly delicious it should be illegal. And the baker, a seductive merchant of handmade goodies, spread her wares that were nothing short of irresistible; Salty Burnt Caramels for starters, exquisitely marinated goat cheese (the healthy alternative?) and Walnut Shortbreads hand tied in little bundles that shouted - take me home!

Kudos for Alice Walton, the new Farm to City Gal for Katchkie Farm as she debuted at her first NAM, assisted by spirited co-workers Cynthia and Wendy. The addictive house made beet chips did their magic and the KF veggie sandwiches were a welcome meal for vegetarians searching for an alternative to pork, lobster, pork, duck and more pork.

There were beautiful fresh veggies, the product of an early growing season attributed to our ample rain and warm temperatures. I saw corn (OMG) as well as a rainbow of bounty, including an intertwined couple of carrots (grown at Stone Barns of course), which should be preserved as the poster child for this food love fest.



I met grillachef.com - a culinary entrepreneur who was there ready and willing to dispense free advice. "I'm not making any money" he shared (well, yeah). To pay the rent, there are small catering gigs. I think he needs to work on the profitability model, which puts him in great company (I'm thinking Twitter etc).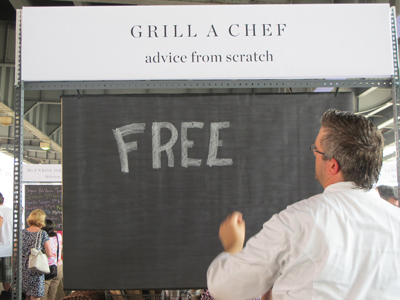 The Bread Pavilion, was a tribute to the art of bread making. And though I carefully avoid ever eating any bread, there are clearly millions in the city who do - because these craftsmen displayed a dazzling array of sizes, shapes, flavors and ingredients. I buckled, sampled, savored and sighed. I also thought to myself, perhaps not so bad to be a little more full bodied.


The Popsicle People, unintended heroes of frozen treats, back for another season with intriguing new flavors and awesome t-shirts, were busy shaving a block of ice you wished you could lie down and cool off on. Sour Black Cherry for me, thank you. And which t-shirt do you prefer?




Which got me thinking.... who had the best t-shirt of the day; so I did a quick survey. Please vote for your favorite:
It took every last bit of my shattered willpower to leave the Seaport market and head over to the Javits Center where I had an enlightening and engaging afternoon.
Because of my interest in farm branded products, I started there. With Katchkie Farm products, we always grow our main ingredient - I was curious to see what exactly was in other products that conveyed a 'made on the farm' feeling. No surprise, farm branding is ubiquitous and everyone wants to sell that 'authentic' taste of small farm USA.
My first discovery was Farm fresh vodka; a new spin on a product that owes its very existence to a lowly and ancient vegetable or grain. This re-imagined organic, corn based, certified kosher vodka "is the result of a unique partnership between a fifth-generation distilled spirits company and a co-op of over 900 Minnesota farmers..." The first vintage, 2007, yielded 29,000 cases. (www.phillipsdistilling.com). It was partnered with Tillen Farms, a creation of Tim and Helen Metzger in Washington's Yakima Valley (www.tillenfarms.com), and based on a partnership begun by the Hogue family and local growers over 40 years ago. This is a chic looking line of pickles, but there is no Tillen Farms farmer. The connection to the vodka? In addition to tempting bar snacks, they make great stirrers. Cool.

Root Cellar Preserves has a great story - and when asked the difference between their line and their many neighbors, the response was "we have heart." Agreed. Lorne Jones, Chief Pickle Officer explained the 3 core principles: 1) recreating traditional pickle recipes, 2) products are made by local small scale manufacturers and 3) a portion of the profits support local preservation efforts, like the old farm house on their label. Their run, about 100,000 cases per year. "Purposefully driven," I think making great pickles is a worthy cause all by itself. But I could taste the love here.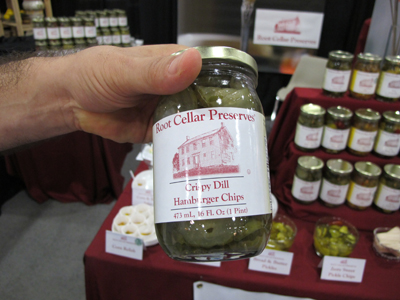 I was drawn to story after story - which I will share another day. I arrived not knowing what I would find, only to discover passionate food entrepreneurs who took a different route - seduced by the legitimate desire to sell more products through increased outlets. But to grow a business means you need volume product on a schedule, something that is both difficult and costly when you are growing it all yourself, as we have learned. Our product motto, "When we run out, we wait till next year", a slogan that doesn't sit well with some buyers. (I think we will keep it small, at least for now.)
Hence the farm becomes a symbol, witness Cascadian Farms on one extreme (www.cascadianfarms.com). I liked some of the partnerships that developed between growers and manufacturers, and if we are to continue to support farmers, while legitimately trying to provide 'farm fresh' food, these relationships are critical. They need to be transparent and honest as well - not manipulative marketing ploys.


Nowhere was the desire to capture farm wholesomeness more evident or amusing, then with a very tasty line of peanut butter and peanut products: Sweet Ella's, is a product of the Koeze family (www.koezecompany.com) in Grand Rapids. "Koeze Company makes old-fashioned peanut butter (just peanuts and salt) as we have since 1925. Our Cream Nut Brand natural peanut butter is made from Virginia peanuts on traditional equipment that my grandfather, Albertus Koeze, would have viewed as obsolete. We use the same equipment to make our Sweet Ella's organic peanut butter, which we craft from organic Spanish peanuts."
Ella, is off to college this fall, heading to Chapel Hill, NC and a change of climate, landscape and wardrobe.