Oh, to be a woman in white, in a sea of white; one of a thousand, though it is never my style to follow a crowd or be in a crowd, except today.
How exciting to be invited to come to the White House, see 'the garden' (new meaning to the term pea-green with envy) as the fabulous first lady drafted us all into the service of our country's children to ensure their healthy future.
I love a march on Washington, and the few times that I have done so, it was in protest of foreign policy and thoroughly stirring. But to descend, as a group of culinary professionals, in uniform, was something I don't think I would have ever imagined doing. And though the group was equally represented by old and young, male and female, there was a throwback quality to it, almost a reunion of old hippies (a movement I missed entirely) inspired by the belief that there is strength in numbers and that we can empower ourselves to make a change in the world.
And to attend a gathering to agitate for change in FOOD POLITICS, what could have been better than to protest the inequality that symbolizes the schism in our American Dream - the haves vs. the have not's; the overfed vs. the hungry; the phenomenon of hunger and obesity existing side by side, in one family. To be in a sea of like-minded people, dedicated to making these changes a reality was transformative.
Brilliant Ms. Obama - I salute your creativity, innovation and passion. After engaging in the effort to "inspire children to eat well" (the motto of Sylvia Center) since 2007, this level of unqualified support is long overdue. After years of being asked to prove the outcome of healthy eating for kids, it is about time someone said, "... of course, what our children eat effects how they perform."
Oh, the things I learned today.
Like the origins of the school lunch program: 1946 when the military determined that the nations children were too thin and not getting enough nutritious food. Where else to fatten them up but a place they ate at daily - school. Fast-forward 60 years and the military claims that 1 in 3 of our nation's children are obese and we have to change their eating habits once again to make them suitable for military service.
The day began with an 8 am breakfast at the JWMarriott, sponsored by Share our Strength and an interesting line up of corporate underwriters, the "good food" guys including: Campbell's, ConAgra, Birds Eye - (owned by Pinnacle Foods who produce frozen foods, condiments, packaged meat etc/ and are owned currently by Blackrock), Quaker (a division of Pepsi), Mission Foods (owned by Gruma, makers of tortillas and snack foods), Weight Watchers, the Got Milk Council and Amex. Hey, school lunch, though skimpy on the $ per meal, multiply by millions of students and it's big business. But for change to occur, the grass roots agitators need to get the ear of the industrial food manufacturers and push. As dollars for school food are scrutinized, the corporations respond.
And pity the poor Hotel executive chef who had to turn out a meal - healthy, hot, tasty and attractive - for a ballroom filled with professional chefs! He passed, it was a good meal. It was also a busman's holiday and my mantra is - if I am not cooking, then I am grateful to be fed!

Though 95% of the chef coats were white, there was one outstanding tie-die number, several pinks and numerous "hot" dark blue or black (not cool in 90 degree Washington heat). We were all handed toques as we cleared the final security hurdle, but as they offered no shade, like a ball cap, they seemed a little silly and superfluous. Perhaps their only functionality was to carry a message, printed on a strip of paper pasted around the base of the hat. (Who had to paste all those pieces on?)
And one fact I was eager to establish was the gender make up of the group. As we all know, bring together a group of high-level professional chefs and prepare to see a male dominated crowd. Not the case today, as the group seemed balanced 50-50. Though there were many illustrious male and female chefs present, this was a gathering of caring food industry professionals galvanized by social issues, manifested in the culinary arena. It was about food but more about the people who eat it and the hearts of those who cook it. It was about feeding people but more about the health ramifications of a meal and not the sensory pleasures derived from the experience. Does that result in a more gender balanced group - I guess so. There were parents and educators, writers and volunteers - all brilliantly sharing their knowledge.
Over and over again the speakers referred to the chefs as heroes and rock stars - the chef coat being a superhero uniform (have you seen the movie Kickass??) unable to leap from buildings with a single bound, but powerful enough to change the eating habits of children.
It was a hot sunny day and we were outside for several hours. I was reminded of being out in the sun at the farm and coming home with a farmers tan - arms browned, but t-shirt line mid-shoulder and face shielded by ball cap. Today I learned what a chef's tan is: ¾ sleeves, so tanned wrists only - and if you put the toque on, a really weird tan line across the forehead. Is a typical beach tan ever in my future?
Finally, watching the sea of chef-jacket clad individual's covering the walkways and streets I was reminded of a funny sight last December in lower Manhattan. It was a Santa-com, when hundreds upon hundreds of costumed Santa engaged in a bar crawl from the Battery to Midtown. Wishful thinking for a moment - but our jackets are our uniforms and to betray the respect the coat has earned would be very disappointing, especially in light of the First Lady faith in the chef heroes of the school lunchroom.
There were a zillion photo ops; on line, at the gates, on the lawn, in the garden, at the podium - and we emailed shots to home and office, tweeted and posted on Facebook (in fact, the pre-event info assured us that electronic communication from the lawn would not be in violation of national security.) Don't forget, when we go to work, we enter through the kitchen entrance, getting ready to feed the VIP guests. Coming in the front door felt like royalty.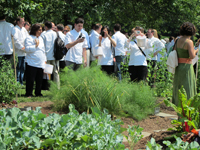 The growing season in Washington is ahead of ours in NYC. I was a bit jealous to see the field tomatoes so much further along. However, I share a side-by-side view of a WH field tomato and a Katchkie Farm greenhouse tomato. Now, we need to get a bunch of kids and do some taste testing of our vegetables.......
White House Garden:


Katchkie Farm: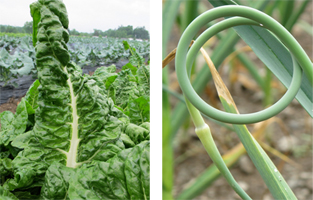 White House Garden:


Katchkie Farm: