There is nothing quite as therapeutic as a night in the country, most specifically, Columbia County within close proximity to Katchkie Farm. A cold brisk night, the promise (more accurately, threat) of snow, is the perfect tonic to an intense workweek characterized by unending great food. It is an occupational hazard that at times requires participation, while other times, a spectator sport.
And a sport inspired celebration was the 'kick off' this week as we were honored to participate in feting the triumphant NY Giants. Our part in this team effort was to prepare and present the pre-parade 'breakfast of champions' for the players, friends and family. In keeping with the spirit of the game, we scrambled local eggs for a homemade local cheddar frittata wrap up (sounds like a play from Coach Coughlin's game book) along with Cortland Apple Turnovers (something our Giants don't do but love to eat), mini carrot muffins and zucchini loaves (everyone is eating healthy and local) and fresh fruit. To quote the NYT Sports headline from Feb. 5, "Enduring Under Pressure... Showing a toughness that his critics thought he lacked" -- this is the essential ingredient New Yorkers embrace and embody.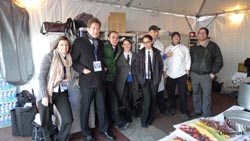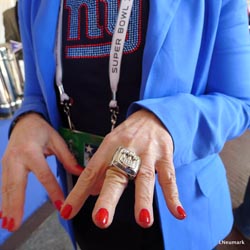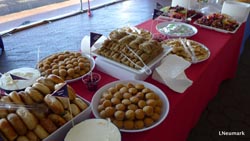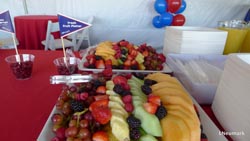 Wednesday and Thursday were the third and final rounds of tastings for our new Spring Menu, which began two weeks ago with hors d'oeuvres and first course selections. This is a triathlon -- testing culinary prowess and self-discipline for the tasters, and the culmination of weeks of work for the culinary team who have dreamed, tested, tasted and tweaked menus and recipes over and over again. Can you imagine serving a large group of professional event planners who excel at examining every detail of a catered meal?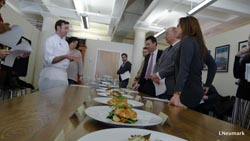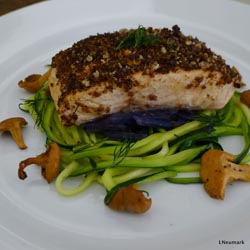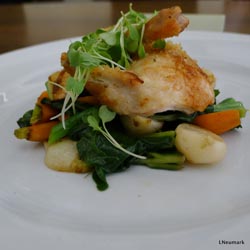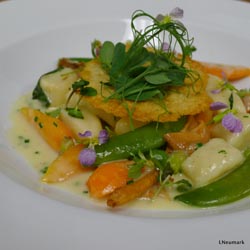 There were 11 entrees; fish, chicken, beef, lamb and vegetarian, each paired with appropriate vegetables and sides. Yes, you may mix and match. And yes, after we dutifully and joyfully tried everything. There were desserts to be tasted and evaluated. Everyone walked away vowing never to eat again for at least a week or at least till after a grueling workout or more accurately, a rigorous afternoon at the computer followed by an evening at yet another catered event.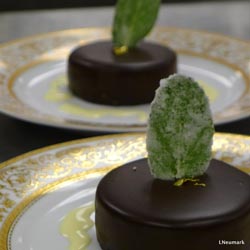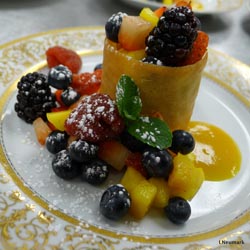 Friday was a special day as we gathered at lunchtime to say goodbye to our long time pastry chef, Newton Pryce, who is leaving to become the next Donut Mogul, and no doubt he will succeed. In tribute to his inspirational roots, we served a Jamaican feast. More great food lovingly prepared and happily consumed. A colleague relocating to Maryland gets a menu shout-out with chowder bisque. Now I vow never to eat again. In fact, there were no snacks in the car up the Taconic and no stops along the way to allow for temptation as we headed up to country late Friday to unwind and escape.
Morning skies are grey with light snow falling. There is the lightest dusting, enough to highlight tire tracks in the muddy farm driveway. The day is filled with the promise of activity from a long walk in the fields to a hilarious session in the chicken coup. Gathering eggs, a 5-minute project turns into an hour of silliness with screeching roosters and hen's riveting shenanigans. I am dreaming of all the wonderful ways to cook eggs and wondering how I will ever get the caked-up coop-muck off my boots.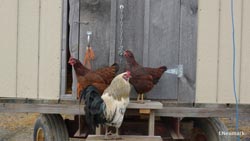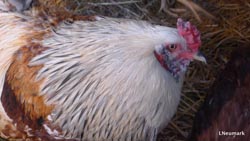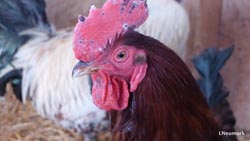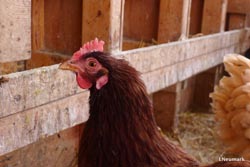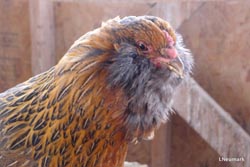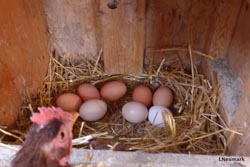 Then it's off to the Chatham Food Co-op for a special winter food tasting featuring The Chef's Consortium, a grass roots organization whose mission is to raise awareness and support for local agriculture, in the Capital District and Hudson Valley -- "through the creation of dynamic events, market and cooking demonstrations, culinary and sustainability education, seed to table initiatives, farm to school programming, and work with regional food pantries and other deserving organizations."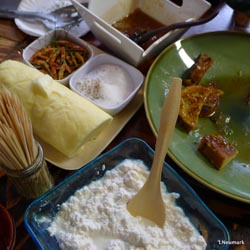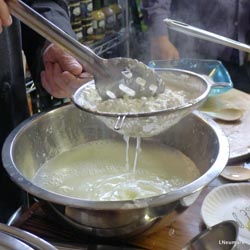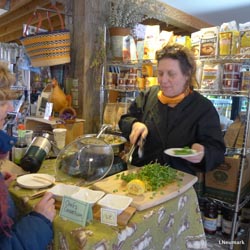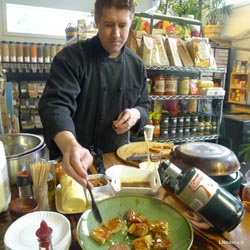 It was the best homemade French toast I have ever tasted, followed by Indian potato mashers and a ricotta making demonstration. Some of the locally sourced ingredients included -- Ronnybrook milk, Grazin' Angus chorizo, Hawthorne Valley Farm yogurt, Little Seeds Gardens winter greens and pea shoots, and M Grimaldi and Sons eggs. There are 14 pages of recipes on the website. This is a group worthy of attention and support.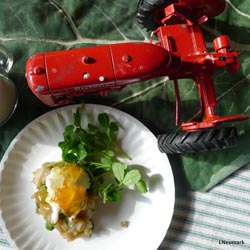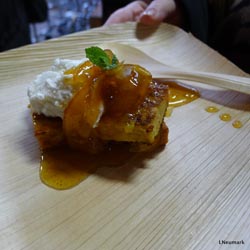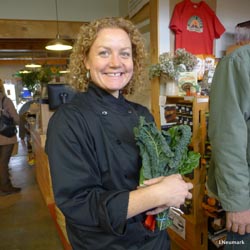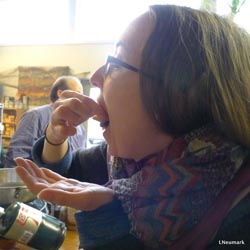 Almost time to head home -- but not before the missing piece of the week -- a home cooked meal with friends. I could not have topped the flavors or hospitality at the table that afternoon. With full stomach and heart, digesting the week and the memory of dozens of meals, I headed home. And it's only February!