With the precision that comes with years of experience, the bus tour to the work sites of the 2012 Sloan Public Service Award winners, left Hudson Square promptly on March 14, headed to Brooklyn. This is the annual "Oscars of Public Service" organized by The Fund for the City of New York, under the leadership of Mary McCormick and her talented staff, with inspiration from Selection Panel Chair Reverend Joseph Sullivan, and funded by the Alfred P. Sloan Foundation for the past 27 years.
This was my second pilgrimage through the boroughs as we traveled from Coney Island to northern Manhattan. There are close to 300,000 public service workers who educate our children, patrol our streets, protect the elderly, the homeless, the hungry, handle garbage, put out fires, and maintain our bridges and streets and infrastructure -- and so much more. The Sloan Awards put a personal face on who makes our town tick.
The first stop is appropriately the East New York Bus Depot to honor Jefrick Dean, a bus operator for 22 years. Consider the task -- driving through the clogged streets of NYC for eight hours each day, dealing with the public face to face. Sounds stressful, yet Mr. Dean spoke about loving people and doing the job wholeheartedly. "Celebrate one another, not tolerate," he says, along with "Grow through life, don't go through life." There are people we see everyday who are almost invisible to us -- bus drivers included. Imagine the dedication of one man who has found a way to see riders as individual customers, learning how to greet them in over a half dozen languages, transforming his landscape to a personal route through a small town. How does he do it?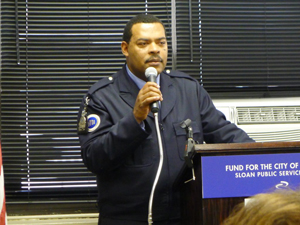 Our next stop was Coney Island Hospital to honor Donna Leno Gordon, director, Behavioral Health Nursing and Palliative Care Services. This is where we started to hear the echo of the refrain "How does she (he) do it?" In over 20 years at the hospital, she has been an innovator in care standards for the mentally ill and pioneered the hospital's first palliative care unit. What is so unusual about her? Her commitment to patient focused care before it became the standard; words like kindness and courage, dedication to patient value and dignity; being a lifelong learner, and embodying a deep spirit of caring for human beings -- all define who she is and why she has been a successful pioneer. In her words: "Public service gives us the opportunity to work with the best of ourselves -- caring for people in need is a privilege; to be able to improve people's lives."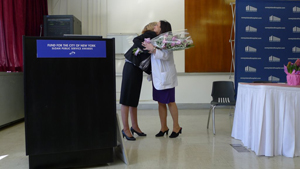 Principal Phil Weinberg, at the High School of Telecommunication Art and Technology greets his students daily at the subway, walks the halls, makes sure they are in class and most critically, ensures that all his 300 seniors go to college. How does he do this? In the 45 minutes we spent at the school, there were many clues. The building is gleaming reflecting an inner pride we felt in everyone. This school is a vibrant environment where teaching and learning are intertwined with students and teachers on both sides of a never-ending experience. "This is not an individual honor," he said, "this belongs to a community." The ability to inspire the staff who teach the 1,300 diverse students is connected to his baseline philosophy -- "How can we make a meaningful life." We didn't want to get back on the bus... we wanted to go back to class.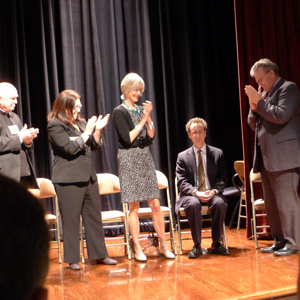 It was amazing to visit the high tech offices of OEM (Office of Emergency Management) in their new downtown Brooklyn headquarters. I kept waiting for someone to tell me to put my camera away. I learned a lot about how our city is kept safe, and about Jim McConnell, Assistant Commissioner for Strategic Data. It is about the maps of our city -- GIS -- Geographic Information Systems, he envisioned for NYC before 9/11, and became critical in its aftermath to assist in rescue and recovery. Geo-spatial data and communities, not something we think about in our daily lives, yet Jim created a department dedicated to just that. Every plan and response now begins with a map -- snowstorm, fireworks, infrastructure, power outages, hurricane -- and the collection of data from dozens of departments and sources is itself an art. Judge Robert Keating framed Jim's role humorously "Firemen are our bravest; police are our finest; OEM is our most anxious." We are grateful for that.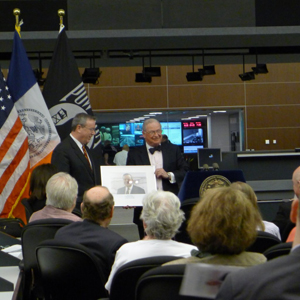 Far from the front lines of health care, education or even emergencies, the Landmarks Preservation Commission is dedicated to preserving the past and protecting the future. Balancing these ideals with development and entrepreneurial New Yorkers is what makes headlines -- and yet, Sarah Carroll, director of preservation, has made it an art, overseeing about 10,000 applications annually. Helping architects, builders and owners navigate landmark rules and regulations, is what she does with exceptional skill and fairness. Yet it seemed slightly esoteric until Michael Arad explained it: NYC is a city of neighborhoods. The buildings are an ensemble, creating the fabric of a place, forming a neighborhood. How do we keep it vibrant? That is the duty of preservation and how local (relevant) it is.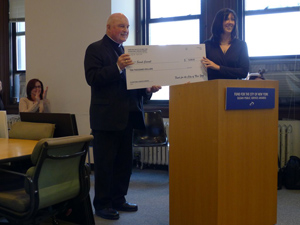 Last stop -- City College and Ruth Stark, Ph.D. -- distinguished professor of chemistry and acting dean of science. Her academic accomplishments are outstanding for any scientist but especially for a woman starting out over 30 years ago. I don't think Dr. Stark ever felt disadvantaged. In fact, she is exceptional in her dedication to mentoring women and men of diverse backgrounds. Her bio reads like a manuscript with scientific concepts I will never begin to understand. Her prolific brilliance (95 highly-cited scientific papers), her success in teaching, research, mentoring and administration are not what you think when you watch or listen to her. And she is committed to the diversity in our city. All this excellence wrapped up with the utmost humility.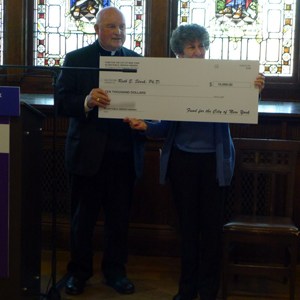 In a time when government services come under attack for being mismanaged, unyielding and inefficient, a bus ride through our neighborhoods presents a different perspective. We work for our paychecks, for our families, for personal goals. These individuals show us that you can also work for others, restoring dignity to the simple words: public service.